APPLY FOR THIS OPPORTUNITY! Or, know someone who would be a perfect fit? Let them know! Share / Like / Tag a friend in a post or comment! To complete application process efficiently and successfully, you must read the Application Instructions carefully before/during application process.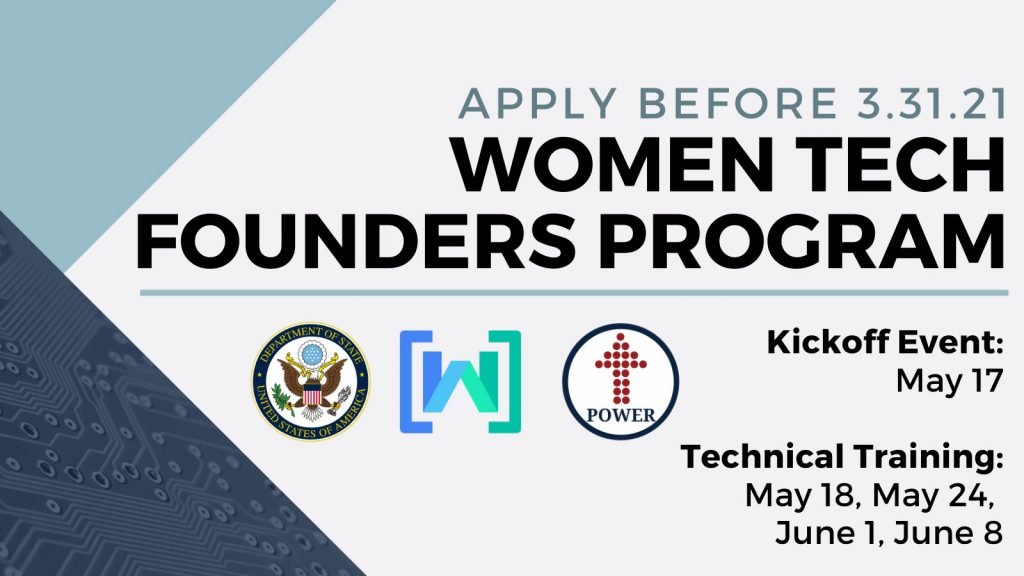 The U.S. Department of State, through the Providing Opportunities for Women's Economic Rise (POWER) Initiative and Embassy Abu Dhabi, has partnered with Google's Women Techmakers to host the Women Tech Founders Program. This program will provide women tech entrepreneurs from across the Middle East and North Africa region technical skills training from Google's tech and start up experts, and help build a network of future tech changemakers in the region. Across four days, participants will receive training on a series of tech and business development concepts including but not limited to Design Thinking, Machine Learning, product development and Objective-Key-Results (OKR) workshops. Sessions will be tailored to participants' skillsets to enable them to leverage technology in expanding their businesses, connect with counterparts in the United States, and collaborate with other leading women in tech in the region and the United States. The program will be facilitated in English and will draw applicants mainly from Egypt, Bahrain and the UAE. In addition, a select number of applicants from the region, outside of Egypt, Bahrain and the UAE, will also be selected as Women Tech Founders ambassadors to participate in the program and serve as tech changemakers in expanding the program to the Middle East and North Africa region.
Applications are now open until March 31st. Click here for more information and to apply.
About Google Women Techmakers
Women Techmakers is dedicated to helping all women thrive in tech through community, visibility and resources. Our Women Techmakers community is made up of more than 200,000 women across 190 countries with 900 Ambassadors committed to sustaining gender equity in tech. Our vision is to build economic opportunity for women through technology. Learn more at womentechmakers.com.
About the POWER Initiative
Providing Opportunities for Women's Economic Rise (POWER) Initiative works with the private sector and utilizes diplomatic resources in support of women's economic participation. Led by the U.S. Department of State's Bureau of Economic and Business Affairs, POWER has reached women in over 20 countries and engaged dozens of U.S. private sector entities. Learn more at: https://www.state.gov/womens-economic-empowerment/
Application process
Applicants should apply via the Google Form (see above). Applications will open March 8, 2021 and close March 31, 2021 at 11:59 p.m. Eastern Standard Time. Finalists will be announced in April 2021.
Timeline
Please join us on May 17th, 2021 for the launch event with guest speakers from the private and public sectors. The event is open to the public. Registration information forthcoming.
Selected finalists will be invited to participate in technical training sessions that will run through the month of May. See session dates below:
Session 1: May 18th, 2021 (Finalists Only)
Session 2: May 24th, 2021 (Finalists Only)
Session 3: June 1st, 2021 (Finalists Only)
Session 4: June 8th, 2021 (Finalists Only)
For more information please open this link
https://www.state.gov/women-tech-founders-program/
How to Stop Missing Deadlines? Follow our Facebook Page and Twitter !-Jobs, internships, scholarships, Conferences, Trainings are published every day!