APPLY FOR THIS OPPORTUNITY! Or, know someone who would be a perfect fit? Let them know! Share / Like / Tag a friend in a post or comment! To complete application process efficiently and successfully, you must read the Application Instructions carefully before/during application process.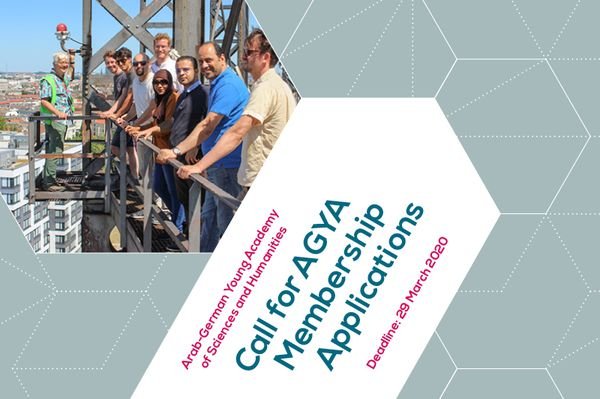 The Arab-German Young Academy of Sciences and Humanities (AGYA), based at the Berlin-Brandenburg Academy of Sciences and Humanities (BBAW) in Germany and the Academy of Scientific Research and Technology (ASRT) in Egypt, is pleased to announce its Call for Membership Applications 2020. AGYA promotes research cooperation among outstanding early-career researchers from all disciplines who are affiliated with a research institution in Germany or any Arab country. The academy supports innovative interdisciplinary projects by its members in various fields of research, science policy and education. AGYA members from currently 14 countries have realized joint projects and initiatives on topics such as Arab and German Education; Common Heritage and Common Challenges; Energy, Water and Environment; Health and Society; Innovation; and Transformation.
BENEFITS
AGYA offers its members a unique opportunity to take an active part in the life of the interdisciplinary research academy and supports them in implementing their own ideas, visions and creative projects in the framework of Arab-German research cooperation.
AGYA membership is granted for up to five years followed by lifelong membership in an alumni network of excellent researchers. AGYA connects its members and facilitates collaboration opportunities with outstanding research institutions in Germany and Arab countries, granting them exclusive access to an academic network of excellence.
AGYA provides the funding to realize innovative research projects within its interdisciplinary working groups and in joint projects between Arab and German members.
Members meet regularly to discuss, develop and implement joint research initiatives on cutting-edge issues, with travel expenses for AGYA workshops and conferences covered for all members.
AGYA offers a range of training opportunities to enhance its members' academic careers as well as interdisciplinary and intercultural skills. AGYA actively promotes its members as ambassadors of science and culture.
REQUIREMENTS
Successful candidates are expected to have a proven record of research excellence in their field of specialization.
Candidates with strong potential for academic leadership will be given priority.
Membership requires active engagement. As AGYA is a
Call for Arab-German Young Academy of Sciences and Humanities (AGYA) Membership Application 2020
plopandrew.blogspot.com
How to Stop Missing Deadlines? Follow our Facebook Page and Twitter !-Jobs, internships, scholarships, Conferences, Trainings are published every day!