APPLY FOR THIS OPPORTUNITY! Or, know someone who would be a perfect fit? Let them know! Share / Like / Tag a friend in a post or comment! To complete application process efficiently and successfully, you must read the Application Instructions carefully before/during application process.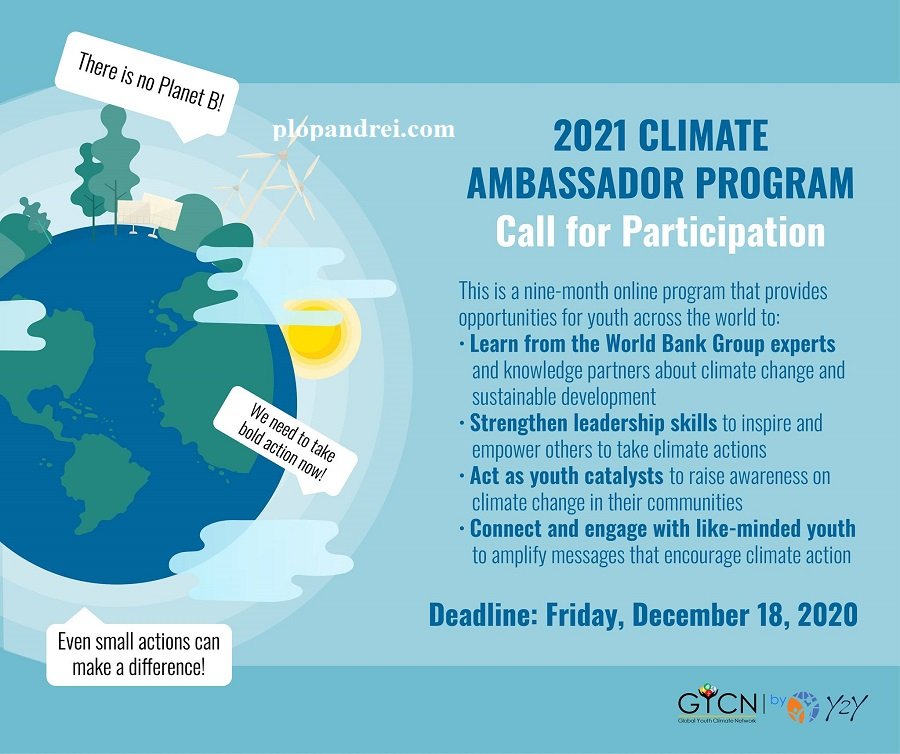 Posted by: YP2LE Communications
Deadline: 
Updated: December 16, 2020
There is no Planet B! If you want to amplify your message, scale-up climate action, and impact your community, apply for the 2021 Climate Ambassador Program!
Global Youth Climate Network (GYCN), an initiative of the Youth-to-Youth (Y2Y) Community of young professionals at the World Bank Group, is looking for motivated young leaders across the world to join the 2021 Climate Ambassador Program!
Why become a Climate Ambassador?
There is no Planet B! Climate change is the defining issue of our generation and we need to take bold action now. We are calling on youth around the world to amplify awareness and take action. Climate Ambassadors have the opportunity to act as youth catalysts throughout the world, working together on initiatives that raise awareness and mitigate climate change.
The Climate Ambassador Program is a nine-month online program that provides an educational and leadership opportunity for young leaders to tap into the WBG global knowledge on climate change and sustainable development, deepen understanding of climate change complexities in a rapidly changing global environment, learn how to design and implement various climate actions and effectively lead initiatives to mitigate climate change and tackle the most pressing issues in their communities. Furthermore, the program provides an excellent opportunity for young leaders to connect and amplify their message and scale up climate action!
Who can be a Climate Ambassador?
You are 18-35 years old (at the time of application and through the end of September 2021)
You are a dynamic, creative, and innovative changemaker who inspires and empowers others
You are passionate about climate change and sustainable development
You are motivated to design and lead climate initiatives and impact your community
You have a proven track record in youth empowerment and community engagement and have the ambition to grow to your full potential
If these characteristics describe you and you are ready to make a difference with us, then fill in the form to apply for the Climate Ambassador Program NOW!
What does it mean to be a Climate Ambassador?
Commit ~3 hours per week to act in their role between January through September 2021.
Attend the opening orientation and closing sessions (at the beginning and at the end of the program), and biweekly online sessions on climate knowledge and leadership (two online sessions per month).
Complete at least three climate-related actions in their communities.
Actively participate in GYCN social media campaigns.
For further details about the program, how does it work, what is the timeline and selection process, please follow the link: http://y2ycommunity.org/gycn-climate-ambassador-program-2021/
Questions? Contact the GYCN team at gycn@worldbankgroup.orgRegion:Global, Africa, Asia and Pacific, Latin America / Caribbean, Europe and Eurasia, Middle EastCountries:Global, Bangladesh, Cambodia, Colombia, Congo, Democratic Republic of the, Kenya, Kosovo, Liberia, Malawi, Dominican Republic, Somalia, Zambia
https://forms.gle/tBAq5rrLJ53WRkKWA
For more information please open this link
https://www.youthlead.org/funding/call-participation-global-youth-climate-network-2021-climate-ambassador-program
How to Stop Missing Deadlines? Follow our Facebook Page and Twitter !-Jobs, internships, scholarships, Conferences, Trainings are published every day!