APPLY FOR THIS OPPORTUNITY! Or, know someone who would be a perfect fit? Let them know! Share / Like / Tag a friend in a post or comment! To complete application process efficiently and successfully, you must read the Application Instructions carefully before/during application process.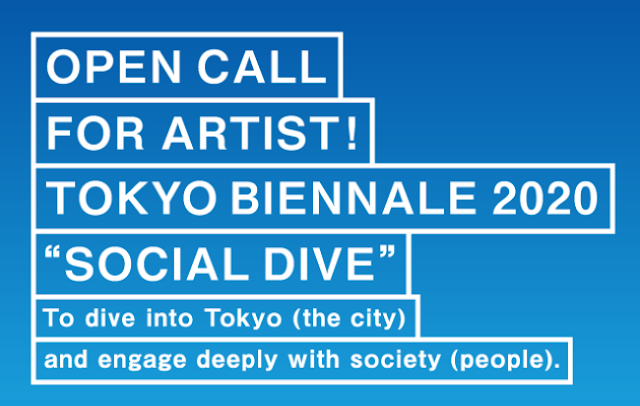 Deadline: 15 December 2019
Residents will receive:
Travel expenses (within limits).
Accommodation.
Coordination of venue for presentation.
Support fee for project development.
Interpretation and translation support.
Tokyo Biennale 2020 project, "Social Dive", starts its open call for overseas artists to join in AIR projects!
As an artist-in-residence program, participants will be offered accommodation in Tokyo during their project period.
By staying and creating at the heart of Tokyo, this program offers artists the once in a lifetime chance to present their resulting work as part of the Tokyo Biennale 2020.
Please find program details outlined below.
We look forward to receiving your applications!
———————-
Tokyo Biennale 2020 "Social Dive"
Dive into Tokyo, Engage with the People!
Open Call for Artist-in-Residence Projects
Application Guideline [September 2019]
General Non-Profit Incorporated Organization Tokyo Biennale Executive Office
==============
"Social Dive" involves artists diving into the different areas of Tokyo as part of an art project aimed at discovering both the unique traditions, as well as new values held by the people who live there. The project calls for artists whose practice deals with socially engaged art through a wide spectrum of ideas and methods of expression or action; whether it be fine art, design, performance, media art, film, architecture, academic research, social action, economic-related – all fields are welcome.
Especially concerning overseas applicants, we wish to support projects that capture through a unique lens the beauty of Japanese traditions or the diversity existing in its contemporary culture; as well as the creation of artworks that shed light on a universality existing on earth through the connections made between Tokyo localities and outside cultures.
■Statement
"Go Beyond! Dive in! Tokyo Biennale!"
What are we afraid of? What are we holding on to?
Change won't wait for us. We have only now to go beyond. Things only keep changing, so we must always go beyond. Go beyond memories, history, politics, school, rules, design, architecture, dance, fashion, games, the media, yourself, and of course, art!
Whatever awaits you in the unknown future, dive Calling for Overseas Artists to Dive into Tokyo! Apply to Create an Artist-in-Residence Project with Tokyo Biennale 2020!!
plopandrew.blogspot.com
How to Stop Missing Deadlines? Follow our Facebook Page and Twitter !-Jobs, internships, scholarships, Conferences, Trainings are published every day!