APPLY FOR THIS OPPORTUNITY! Or, know someone who would be a perfect fit? Let them know! Share / Like / Tag a friend in a post or comment! To complete application process efficiently and successfully, you must read the Application Instructions carefully before/during application process.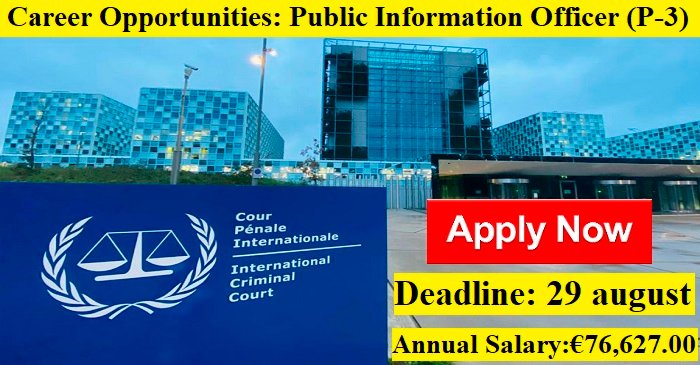 | | |
| --- | --- |
| Deadline for Applications: | 29/08/2021 (midnight The Hague time) |
| Organizational Unit: | Immediate Office of the Prosecutor, Office of the Prosecutor (OTP) |
| Duty Station: | The Hague – NL |
| Type of Appointment: | Fixed Term Appointment |
| Post Number: | E-8786 | E-2276 |
| Minimum Net Annual Salary: | €76,627.00 |
| Contract Duration: | For initial appointments, the Court offers a two-year appointment with the possibility of extension (six month probationary period). |
A roster of suitable candidates may be established for this post as a result of this selection process for fixed-term appointments against both established posts and positions funded by general temporary assistance (GTA).
Organizational Context
The Immediate Office of the Prosecutor (IOP) provides assistance and advice to the Prosecutor in the day-to-day fulfilment of his functions in toto and in the overall management and quality control of the Office's work. IOP processes, prepares and reviews for the Prosecutor's final approval all correspondence, speeches, reports, specific category of Office filings and other documents; facilitates senior management meetings and related records and archiving; manages inter-organ matters and Court-wide initiatives on behalf of the Prosecutor; manages and supports the public information activities of the Office to ensure effective and strategic information dissemination and public relations; facilitates the Office's participation in inter-organ activities; and liaises with all components of the Office to ensure a consistency of standards and approach in line with the Prosecutor's vision.
Duties and Responsibilities
The incumbent will serve in the Immediate Office of the Office of the Prosecutor (OTP), reporting to the Prosecutor, and is responsible for the following:
Advise, manage, and draft different communication strategies of the Office, ensuring that such strategies are designed to maximize media exposure; identify priority media in anticipation of key events;
Contribute to Court wide communication strategies;
Manage, coordinate and strategically advance media activities within the OTP by drafting media releases, statements for review and arranging interviews with media;
Manage the OTP Internet and Intranet websites and train OTP staff who speak to the press for better engagement with the media;
Manage, develop and expand press contacts, especially in situation and preliminary examination countries and other target areas;
Monitor and analyze media coverage of ICC related issues and relevant media information from diverse sources and produce press reviews following major events; contribute to efforts to better inform and engage journalists and professionals in the work of the OTP;
Manage, coordinate the planning, preparation and organisation of major events such as press briefings and interviews, and respond effectively to major developments in the area of public information;
Produce audio visual and other materials for maximum impact of coverage of OTP events in the media and coordinate OTP involvement in public information external projects;
Liaise with the Public Information & Outreach Section of the Registry and coordinate social media activities;
Perform any other duties as required.
Essential Qualifications
Education:
An advanced university degree in Journalism, Public Information, Law, or a related field is required. A first level university degree in combination with two additional years of qualifying experience is accepted in lieu of the advanced university degree.
Experience:
A minimum of five years (seven years with a first level university degree) of relevant professional experience in communications, journalism, public information, dealing with the media, preferably within an international context, is required;
Prior experience in a judicial environment would be considered a strong asset.
Knowledge, skills and abilities:
Knowledge of workings of national and international media, communications planning models, media relations techniques, etc.;
Excellent written and verbal communication skills, ability to effectively and accurately disseminate and present information;
Discretion, ability to apply sound judgement and respond quickly to changing circumstances;
Strong planning and organisational skills, with flexibility and ability to adjust in a highly dynamic environment;
Good diplomacy and negotiation skills, ability to interact effectively with senior officials and media representatives;
Ability to work effectively under strict deadlines;
Excellent project management and supervisory skills;
Media, audio visual and web content management skills;
Demonstrated ability to work in a multicultural, multi-ethnic environment and to maintain effective working relationships with people of different national and cultural backgrounds;
Ability to keep strict standards of confidentiality;
Professional integrity.
Knowledge of languages:
Proficiency in one of the working languages of the Court, English or French, is required. Working knowledge of the other is considered as a strong asset. Knowledge of another official language of the Court (Arabic, Chinese, Russian, Spanish) would be considered an asset.
ICC Core Competencies
Dedication to the mission and values
– Acts consistently in accordance with the mission and values of the Organisation;
– Maintains confidentiality, acts with integrity and shows respect for diversity;
– Shows commitment to the organisation;
– Presents a positive image of the organisation during external discussions.
Professionalism
– Applies professional and technical expertise;
– Keeps abreast of organisational issues;
– Produces workable solutions to a range of problems.
Teamwork
– Listens, consults and communicates proactively;
– Handles disagreements with tact and diplomacy;
– Recognises and rewards the contribution of others.
Learning and developing
– Identifies development strategies needed to achieve work and career goals and makes use of developmental or training opportunities;
– Learns from successes and failures;
– Seeks feedback and gives feedback to others to increase organisational effectiveness;
– Seeks opportunities for improvement of work;
– Has an open mind and contributes to innovation.
Handling uncertain situations
– Adapts to changing circumstances;
– Deals with ambiguity, making positive use of the opportunities it presents;
– Plans activities and projects well in advance and takes account of possible changing circumstances;
– Manages time effectively.
Interaction
– Expresses opinions, information and key points of an argument clearly;
– Handles contacts with diplomacy and tact;
– Communicates in a transparent and open way with internal and external contacts while complying with confidentiality requirements.
Realising objectives
– Accepts and tackles demanding goals with enthusiasm;
– Keeps to agreements with others;
– Focuses on client needs;
– Takes responsibility for actions, projects and people;
– Monitors and maintains quality and productivity.
– In accordance with the Rome Statute, the ICC is committed to achieving geographical representation and gender equality within its staff as well as representation of the principal legal systems of the world (legal positions). Nationals from the list of non-represented and under-represented States are strongly encouraged to apply. In addition, applications from women are strongly encouraged for senior positions at the Professional (P) and Director (D) levels. Posts shall be filled preferably by a national of a State Party to the ICC Statute, or of a State which has signed and is engaged in the ratification process or which is engaged in the accession process, but nationals from non-state parties may also be considered, as appropriate.
– The selected candidate will be subject to a Personnel Security Clearance (PSC) process in accordance with ICC policy. The PSC process will include but will not be limited to, verification of the information provided in the personal history form and a criminal record check.
– Applicants may check the status of vacancies on ICC E-Recruitment web-site.
– The Court reserves the right not to make any appointment to the vacancy, to make an appointment at a lower grade, or to make an appointment with a modified job description.
Apply Here
https://career5.successfactors.eu/career?career_ns=job_listing&company=1657261P&navBarLevel=JOB_SEARCH&rcm_site_locale=en_GB&career_job_req_id=20818&selected_lang=en_GB&jobAlertController_jobAlertId=&jobAlertController_jobAlertName=&browserTimeZone=Europe
How to Stop Missing Deadlines? Follow our Facebook Page and Twitter !-Jobs, internships, scholarships, Conferences, Trainings are published every day!