APPLY FOR THIS OPPORTUNITY! Or, know someone who would be a perfect fit? Let them know! Share / Like / Tag a friend in a post or comment! To complete application process efficiently and successfully, you must read the Application Instructions carefully before/during application process.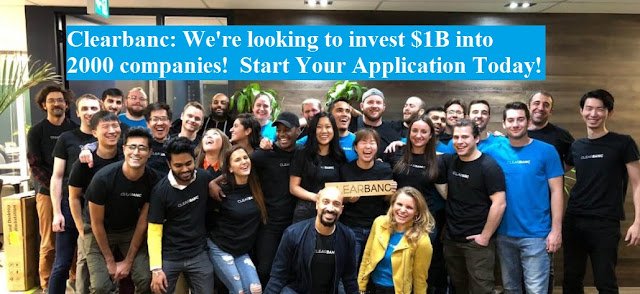 What Would You Do With An Unlimited Marketing Budget? 
Clearbanc's mission is to help founders grow their business with fast, and affordable growth capital.
We don't take equity, there are no personal guarantees, and no financial covenants. We are true investors, we are in this with you. 
Clearbanc is democratizing capital by taking the bias out of our investment decisions. This strategy has helped us fund 8x more female founders than traditional VCs and invest in companies in 43 states this year.  
 FOR MORE INFORMATION PLEASE OPEN THIS LINKStart Your Application Today!
Get Growth Capital Fast
Clearbanc uses data and machine learning algorithms to underwrite your business fast. No meetings, no flights, no business plans, no pitching. 
The Founder Challenge
Building a business is hard — ideas, early customers, first employees are all huge challenges. But finding the right funding option to fuel growth is even harder. It takes a long time, is full of risk, and is emotionally taxing on a founder. There are an overwhelming amount of options for capital out there, but all come with a cost.
Traditional Funding Options
Raising VC risks giving up control of your company. If you go to a bank you risk losing your house. If you decide to bootstrap with credit cards you're risking your credit score. If you do nothing, you risk losing market share to your competition.
Revolutionizing Investments
Clearbanc is the fastest, most affordable way for founders to fund their business without giving up equity or risking personal assets. We've invested $10K – $10M in thousands of companies using data science to identify high-growth funding opportunities in less than 24 hours.
 FOR MORE INFORMATION PLEASE OPEN THIS LINKStart Your
Clearbanc: We're looking to invest $1B into 2000 companies! Start Your Application Today!
plopandrew.blogspot.com
How to Stop Missing Deadlines? Follow our Facebook Page and Twitter !-Jobs, internships, scholarships, Conferences, Trainings are published every day!