APPLY FOR THIS OPPORTUNITY! Or, know someone who would be a perfect fit? Let them know! Share / Like / Tag a friend in a post or comment! To complete application process efficiently and successfully, you must read the Application Instructions carefully before/during application process.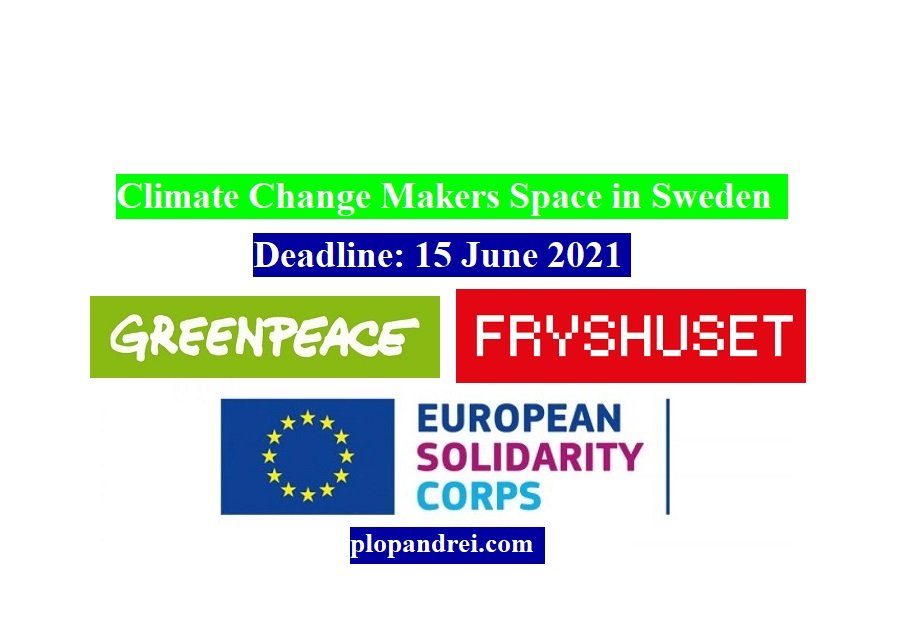 Climate Change Makers Space in Sweden
Stiftelsen Fryshuset
Stockholm, Malmö, Torsås, Sweden
ACTIVITY DESCRIPTION
Are you passionate about climate change? Have experience in sustainable development and want your voice will be heard? Fryshuset is looking for you! Fryshuset with support of Greenpeace, Postcode Lottery and European Solidarity Corps create the new opportunity for youth! We are hiring volunteers for #ClimateChangeMakerSpace in Fryshuset for 1 year. We want to support young people's environmental and climate commitment. What can you do? (here can be more tasks) • Create activities for young people who are involved in or worried about the climate and environment today (locally). • Meet young people who want to make a positive change in their local community. • Together create events about climate change and sustainable development goals. • Define what challenges and issues young people meet, analyze and report it. • The projects can vary from environmental protection to social challenges. It is up to you which project you will choose!
ACCOMMODATION, FOOD AND TRANSPORT ARRANGEMENTS
All costs are covered! Location: Fryshuset Hammarby Working language: English Start of the project – August – September 2021
TRAINING DURING THE ACTIVITY
We'll provide opportunities for the following trainings of volunteers during their stay: introduction for new volunteers on Fryshuset history, organisation and work incl. IT, tools and need to know Fryshusets youth leadership training as a support to create and implement their own projects possibility to take part in course such as Swedish language courses for Swedish participants we also provide a workshop on unemployment insurance Fryshuset also ensures that the volunteer receive full ESC training and evaluation cycle;
PARTICIPANT PROFILE
Project leading volunteers Time: 1 year Age: 20 -29 y.o. Language: Swedish, English, other languages are really welcome! Education: project management, sustainable development (not only formal education). Requirements: Basic understanding of climate and environmental issues, sustainability, activism, SDG Agenda 2030 etc. Project management experience. Local volunteers Time: 1 year Age: 20 -29 y.o. Language: Swedish, English, other languages are really welcome! Education: project management, sustainable development (not formal education).
ACTIVITY DATES
A total of 52 week(s) during the period 02/08/2021 to 01/08/2022
---
ACTIVITY LOCATION
Mårtensdalsgatan 2 – 8, 120 30 Stockholm, Malmö, Torsås Sweden
---
LOOKING FOR PARTICIPANTS FROM
Albania, Armenia, Austria, Azerbaijan, Bosnia and Herzegovina, Belgium, Bulgaria, Belarus, Cyprus, Czech Republic, Germany, Denmark, Algeria, Estonia, Egypt, Greece, Spain, Finland, France, Georgia, Croatia, Hungary, Ireland, Israel, Iceland, Italy, Jordan, Lebanon, Liechtenstein, Lithuania, Luxembourg, Latvia, Libya, Morocco, Moldova (Republic of), Montenegro, North Macedonia, Malta, Netherlands, Norway, Poland, Palestine, Portugal, Romania, Serbia, Russian Federation, Sweden, Slovenia, Slovakia, Syrian Arab Republic, Tunisia, Turkey, Ukraine, United Kingdom, Kosovo * UN resolution, British Antarctic Territory, Anguilla, Aruba, Saint Barthélemy, Bermuda, Bonaire Sint Eustatius and Saba, Canary Islands, Curaçao, Falkland Islands, French Guiana, Greenland, Guadeloupe, British Indian Ocean Territory, Cayman Islands, Saint Martin (french part), Martinique, Montserrat, New Caledonia, French Polynesia, St Pierre and Miquelon, Pitcairn, Réunion, Saint Helena, Turks and Caicos Islands, French Southern and Antarctic Territories, Virgin Islands (British), Wallis and Futuna
---
ACTIVITY TOPICS
Environment and natural protection
Education and training
Creativity and culture
---
DEADLINE FOR APPLICATIONS
Application deadline: 15/06/2021
For more information please open this link
https://europa.eu/youth/solidarity/placement/27181_en
How to Stop Missing Deadlines? Follow our Facebook Page and Twitter !-Jobs, internships, scholarships, Conferences, Trainings are published every day!