APPLY FOR THIS OPPORTUNITY! Or, know someone who would be a perfect fit? Let them know! Share / Like / Tag a friend in a post or comment! To complete application process efficiently and successfully, you must read the Application Instructions carefully before/during application process.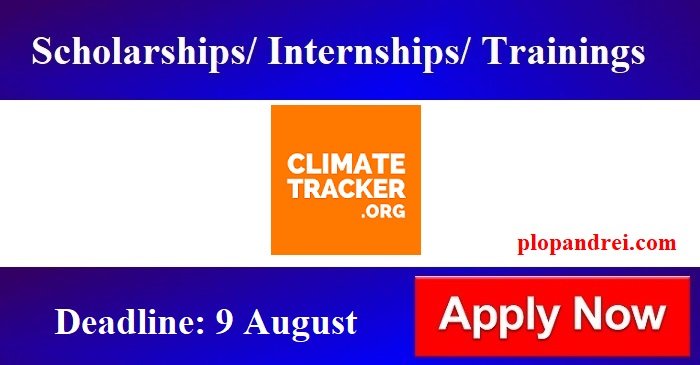 We're excited to announce the newest cycle of our global media mentorship programme!
Get your pitches ready! This is one of our best mentorship opportunities yet!
THE OPPORTUNITY
It's all-encompassing and engaging. We'll be welcoming a new cohort of 6 young journalists eager to produce climate stories and learn in the process. Between August and November 2021, this diverse group will cover the climate crisis from the frontlines, producing exclusive stories for Climate Tracker.
But the fun does not stop there. Through the fellowship period, each storyteller will receive mentoring from our experiences team, as we work alongside them to strengthen their knowledge of climate change reporting.
We'll be challenging each fellow to experiment and use new media techniques, formats, and platforms to tell their stories. Selected fellows will also get a chance to create contact and collaborate with other international journalists.
Our online training programme will see 6 young journalists from around the world dive into a paid programme that benefits them in a tremendous way!!
As a selected participant, you will be challenged and supported to publish stories (individually and collaboratively), produce newsletters, engage in podcast production, and participate in social media content creation!
Your stories will be shared and promoted throughout our channels and networks. Our aim is to make you famous for the awesome climate messages you produce. Exciting, right?!
A great chance to sharpen your new media skills to amplify your journalism and boost your marketability.
Deadline to Apply: Monday 9th August, 2021
YOUR COMMITMENT AS A SELECTED FELLOW 
Once selected, we will get the ball rolling really quickly! Here's a taste of what you'll be jumping straight into:  
1 "short" article
1 feature article
Depending on our selection, you might move on to do a collaborative story or a long form individual story
Newsletter adaptations of your stories / Podcast contributions about your stories / Instagram Live interviews
Not only is this a great opportunity to build your network around the world and engage with journalists beyond your country/region, it's a fantastic chance to gain hands-on experience.
OKAY, YOU'VE GOT ME! WHAT'S NEXT?
APPLY! APPLY! APPLY!
We're reviewing applications as you read this, so make haste and apply TODAY!
SOME PITCHING ADVICE
Climate policy: we're interested in stories that fiscalize the implementation of climate policy, in areas like science, energy, adaptation, transport, conservation, etc.
Impacts: Has climate change impacted local communities in your country? How? Could these impacts have been prevented? What role did authorities play? Make sure there's a strong link between your story and the climate crisis.
Covid-19 pandemic: Has the pandemic affected climate plans in your country? Is your country investing in renewables or in fossil fuels for its recovery strategy?
Solutions: Have communities in your area implemented new environmental solutions? Are they related to a larger framework such as NDCs, carbon credits, etc? What limitations do they have?
WHAT ARE WE LOOKING FOR IN OUR FELLOWS?
Ideal candidates will:
Be 18-35 years old
Have 1 year of journalism experience min
Have a hunger to improve as journalists – this is a learning experience
Have proven history of writing quality climate stories
The clock is ticking and we're excited to review your submission!
If you have any questions or experience any difficulties with your application, feel free to contact Dizzanne Billy, from our Outreach Team, at dizzanne@climatetracker.org.
All the best!
For more information please open this link
How to Stop Missing Deadlines? Follow our Facebook Page and Twitter !-Jobs, internships, scholarships, Conferences, Trainings are published every day!