APPLY FOR THIS OPPORTUNITY! Or, know someone who would be a perfect fit? Let them know! Share / Like / Tag a friend in a post or comment! To complete application process efficiently and successfully, you must read the Application Instructions carefully before/during application process.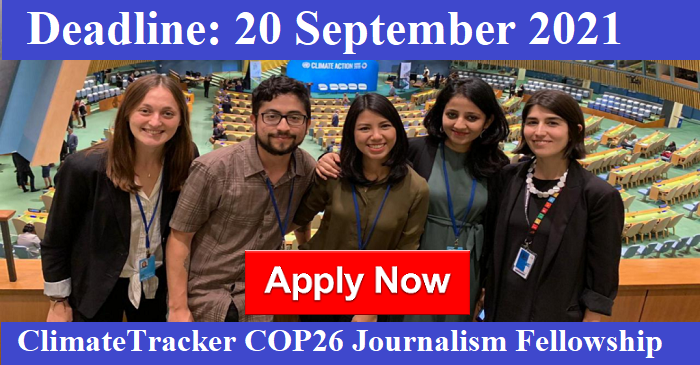 COP26 is being hailed as the most critical UN negotiating session since Paris in 2015. This is with good reason. Not since 2014, has China, the US, Europe and most of the world's major economies been able to align their climate pledges. With buy-in from East Asian powerhouses Japan and South Korea, and the UK investing heavily in its diplomatic influence across the Commonwealth, it is right to project that COP26 could indeed be a turning point for the global climate movement.
In spite of all this, there are far too many hurdles to jump over for journalists from the Global South to be represented at the climate negotiations. From low vaccination levels to travel restrictions and skyrocketing airfares, the obstacles are multifaceted.
This is why, this year we're working to bring 5 young journalists from the Global South residing in Europe or the UK to this year's climate negotiations.
YOUR COP26 OPPORTUNITY
Our in-person fellows will include a small team of 5 highly experienced journalists from the Global South who will be able to assist in providing training to an external team as well as support a wider global network of 20 online writers to publish stories.
Both the in-person and online teams will be supported by a dedicated member of Climate Tracker's remote team.
Deadline to Apply: Monday 20th September, 2021
YOUR COMMITMENT AS A COP26 FELLOW 
Once selected, we will get the ball rolling really quickly! Here's a taste of what you'll be jumping straight into:  
Publishing at least 3 stories during the COP26 session
Participating in a training session on the climate negotiations for an external team
Providing updates and relevant information on the proceedings to the global team of 20 onlines reporters also covering COP26
Not only is this a great opportunity to build your network around the world and engage with journalists beyond your country/region, it's a fantastic chance to gain hands-on experience at the largest climate negotiation sessions in the world.
OKAY, YOU'VE GOT ME! WHAT'S NEXT?
You've got to apply!
We're reviewing applications as you read this, so make haste and apply TODAY!
WHAT ARE WE LOOKING FOR IN OUR FELLOWS?
Ideal candidates will have:
Be 18-35 years old
1 year of journalism experience min
A hunger to improve as journalists – this is a learning experience
A proven history of writing quality climate stories (show that you've published a climate or environmental story in the past 3 months)
The clock is ticking and we're excited to review your submission!
If you have any questions or experience any difficulties with your application, feel free to contact Dizzanne Billy, from our Outreach Team, at dizzanne@climatetracker.org.
All the best!
How to Stop Missing Deadlines? Follow our Facebook Page and Twitter !-Jobs, internships, scholarships, Conferences, Trainings are published every day!