APPLY FOR THIS OPPORTUNITY! Or, know someone who would be a perfect fit? Let them know! Share / Like / Tag a friend in a post or comment! To complete application process efficiently and successfully, you must read the Application Instructions carefully before/during application process.
Firma de afaceri contemporanã este consideratã ca fiind celula de bazã a economiei. Orice economie nu existã decât în mãsura în care existã un ansamblu de întreprinderi care produc bunuri şi servicii destinate unui anumit segment de piaţã, în vederea satisfacerii anumitor nevoi sociale şi economice.
Definirea conceptului de întreprindere a generat, în timp, mai mult de 100 de definiţii:
• Peter Drucker – consideră că firma reprezintã "o maşinã de maximizat forţele umane". Drucker afirmă cã, dacã un individ competent în probleme de producţie, dar ignorant în cele de management, dacã acesta lucreazã singur, nu va putea rezista mult timp. În schimb, aflat în cadrul unei firme, acest specialist va putea fi perfect utilizabil, iar lacunele sale nu mai au nici o importanţã, pentru cã vor fi anihilate de cunoştinţele altor persoane specializate în problemele respective.
• Alain Cotta – susţine că întreprinderea este "un ansamblu de factori de producţie reuniţi sub activitatea unui individ sau a unui grup, cu scopul obţinerii unui profit bãnesc (câştig), ca urmare a producerii de bunuri şi servicii destinate pieţei, vânzãrii cu profit". Această definiţie se numără printre cele mai remarcate, pentru cã se referã la factorii de producţie (input-urile) şi la ieşirile de bunuri şi servicii (output-urile).
Input FIRMA Output
Resurse umane, Bunuri
materiale, şi
financiare servicii
Informaţii
How to Stop Missing Deadlines? Please Follow our Telegram channel https://t.me/PlopAndreiCom ( @plopandreicom)
• Victor Beretta – aseamãnã firma cu "un sistem deschis, de tip biologic, care transformã resurse variate în vederea atingerii abiectivelor esenţiale şi existând în simbiozã cu mediul sãu ambiant".
• Gyorg Wőhe – defineşte întreprinderea ca fiind "o unitate economicã pe deplin organizatã, în care factorii de producţie sunt combinaţi raţional, în scopul producerii de bunuri materiale şi de a pune la dispoziţie servicii destinate pieţei".
• Întreprinderea reprezintã o unitate economicã, producãtoare, de bazã, ce se caracterizeazã prin:
– un gen specific de activitate, funcţionalitate şi organizare tehnologicã;
– capacitatea de a produce anumite bunuri, de a se conduce şi autogestiona;
– autonomie financiarã.
• François Perroux – consideră că întreprinderea este "un microcosmos al economiei de piaţã moderne; ea este inima producţiei, schimburilor şi repartiţiilor".
• O definiţie aparţinând americanilor susţine cã: "Firma reprezintã o entitate socio-economicã care desfãşoarã o activitate lucrativã pe cont propriu şi plãteşte impozit".
Plop Andrei/ Lucrarea de master/ – Rolul mass-media în reflectarea conflictelor geopolitice. Studiu de caz: Mass-media în Federaţia Rusă/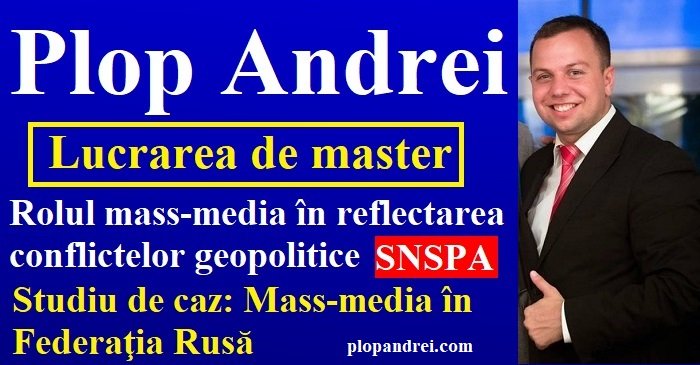 Plop Andrei: Update/ De ce are Moldova de o mobilizare generală și de o armată profesionistă! Maia Sandu este AGENTUL de influență al Kremlinului?!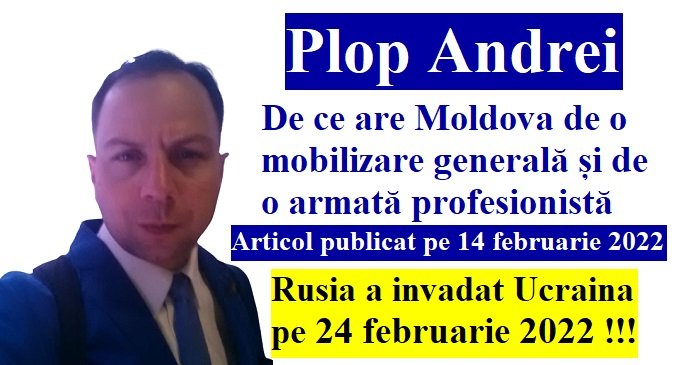 How to Stop Missing Deadlines? Follow our Facebook Page and Twitter !-Jobs, internships, scholarships, Conferences, Trainings are published every day!