APPLY FOR THIS OPPORTUNITY! Or, know someone who would be a perfect fit? Let them know! Share / Like / Tag a friend in a post or comment! To complete application process efficiently and successfully, you must read the Application Instructions carefully before/during application process.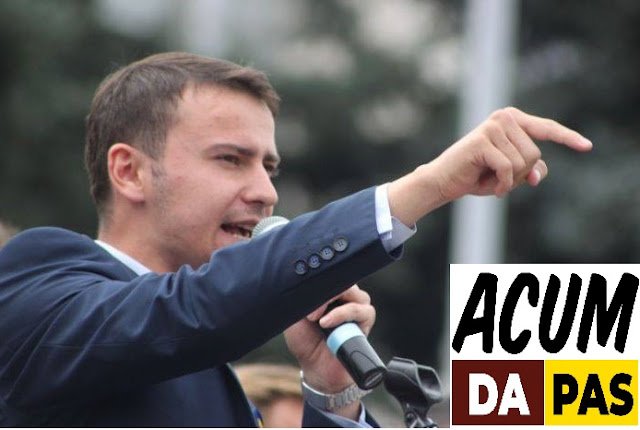 Astăzi, Dinu Plîngău – candidatul opoziției din blocul ACUM DA PAS pentru circumscripția nr. 3, Edineț – a depus și o plângere la Procuratura r. Edineț pe marginea inacțiunii polițiștilor ce nu au intervenit prompt după ce acesta fusese agresat fizic duminică în fața comisariatului de poliție din Edineț de față cu angajați ai MAI. Incidentul a avut loc imediat după ce Dinu Plângău a încheiat transmisiunea în direct prin care anunța că este persecutat și filat de angajații

MAI. Candidatul opoziției la Edineț a mărturisit că trei indivizi l-au bătut, i-au sustras temporar și deteriorat telefonul ce înregistra atacul, l-au amenințat cu răfuială fizică și l-au îndemnat să părăsească localitatea. Potrivit acestuia, un număr de polițiști au fost vădit martori ai atacului, însă aceștia nu au încercat să intervină, ci, dimpotrivă, i-au lăsat pe agresori să plece.
În după-amiaza zilei de ieri, Dinu Plîngău, în vârstă de 24 de ani, a fost transportat la un spital din apropiere pentru a determina gravitatea leziunilor corporale. Acesta a depus ieri o plângere la poliție împotriva celor trei agresori, iar ofițerul de presă al IP Edineț a confirmat cazul, declarând că poliția ar fi pornit deja acțiuni de urmărire penală și măsuri de investigație pentru identificarea agresorilor. Martori oculari spun că un automobil ce ar aparține lui Oleg Sîrbu – candidatul PD pentru aceeași circumscripție – a fost văzută la spitalul în care a fost dus Dinu Plîngău. Jurnalistul Vasile Năstase a declarat că un număr de indivizi cu numere de înmatriculare din Briceni se aflau în acel moment în preajma spitalului.
Tot astăzi, 28 ianuarie, Dinu Plîngău a fost înștiințat că inspectoratul de poliție s-ar afla, mai nou, în reparație, motiv pentru care camerele de supraveghere nu funcționau în momentul incidentului de duminică. "Solicit o întrevedere cu încă comisarul-șef al r. Edineț, Alexandru Rusu, pentru a fi informat despre examinarea cauzei."
Dinu Plîngău a anunțat că a fost atacat imediat după încheierea transmisiunii în direct pe o rețea de socializare, în jurul orei 12.25. Ulterior, acesta a revenit cu detalii despre identitatea agresorilor săi: "Numele unuia dintre agresori este Vlad Nepeivoda, sportiv, băiețaș din banda fostului deputat PD, Oleg Sîrbu. Tatăl acestuia este Igor Nepeivoda, vice-președintele Organizației Teritoriale a Partidului Democrat de la Edineț. Chiar dacă poliția cunoaște foarte bine cine sunt agresorii, până în momentul de față nu au întreprins nici o măsură." Dinu Plîngău l-a somat pe candidatul PD la o discuție fără intermediari, adăugând că "organizația criminală de la nord va fi desființată, iar responsabilii – trași la răspundere. Oleg Sîrbu nu are nici o șansă să mai ia un mandat de deputat."
În cadrul transmisiunii în direct de ieri, candidatul ACUM DA PAS, totodată președinte al organizației Tinerii DA și membru fondator al Platformei DA, a spus că poliția încearcă să-l intimideze, cât și pe susținătorii Platformei DA, amenințându-i la teleon și fotografiindu-i deschis pe cei care vin la sediul de campanie al acestuia. El susține că nu poate să-și desfășoare campania electorală în siguranță și că a înștiințat observatorii naționali și internaționali care monitorizează situația. Dinu Plîngău califică aceste acțiuni drept o încercare de "a-mi împiedica activitatea politică și a mă determina prin amenințări și agresiuni fizice de a-mi retrage candidatura de concurent electoral."
În încheierea transmisiunii în direct de ieri de pe pagina sa de Facebook, Dinu Plîngău a declarat că va continua investigațiile despre grupurile de crimă organizată de la nordul țării, în special în regiunea Edinețului, de unde este originar. După ce prima investigație a fost difuzată la Jurnal TV în Decembrie, 2018, Dinu anunță că automobilul cu care se deplasează în perioada electorală este urmărit, bănuiții fiind oameni apropiați partidului de guvernare PD.
Blocul ACUM DA PAS condamnă cu vehemență atacul asupra lui Dinu Plîngău și cere "demisia imediată a comisarului-șef Alexandru Rusu, precum şi prinderea şi pedepsirea cât mai urgentă a agresorilor". Andrei Năstase, primarul-ales al capitalei și președintele Platformei DA, susține că el și colegii lui vor continua să țină la curent observatorii internaționali, misiunile diplomatice acreditate la Chișinău, partenerii și presa străină, pe care îi îndeamnă să monitorizeze și mai minuțios ultimele evoluții din Republica Moldova, și să facă tot ce le stă în puteri pentru a opri orice amenințare la siguranța fizică a candidaților electorali, a echipelor de campanie și a susținătorilor acestora.
How to Stop Missing Deadlines? Follow our Facebook Page and Twitter !-Jobs, internships, scholarships, Conferences, Trainings are published every day!