APPLY FOR THIS OPPORTUNITY! Or, know someone who would be a perfect fit? Let them know! Share / Like / Tag a friend in a post or comment! To complete application process efficiently and successfully, you must read the Application Instructions carefully before/during application process.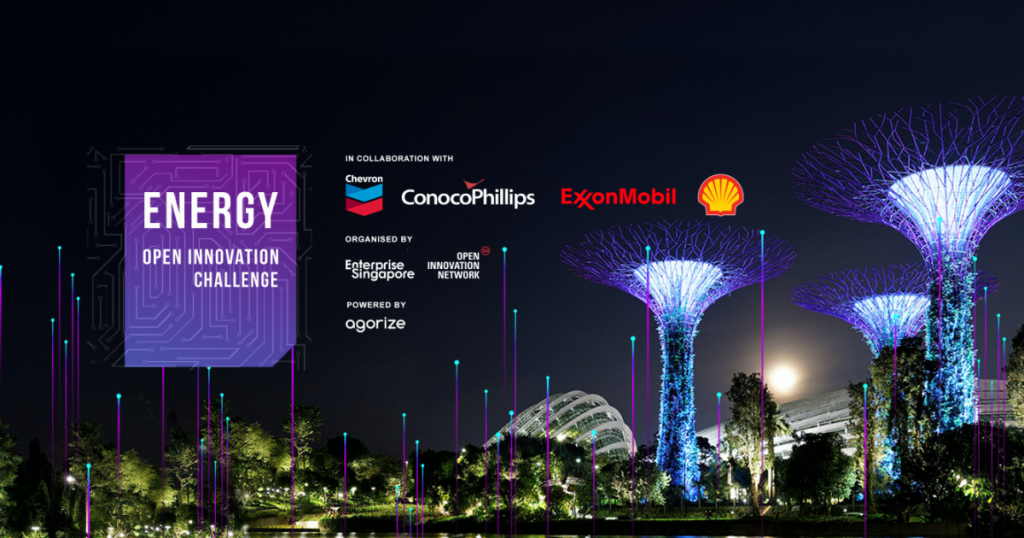 WELCOME TO
THE ENERGY OPEN INNOVATION CHALLENGE!
Are you ready to take on a challenge by using the best technology and a unique approach?
Over the past century, the energy sector has been one of the significant contributors of industrial growth, fuelling our rapidly growing global economy. Singapore has developed an extensive and integrated value chain that spans refining, crackers, petrochemicals, and specialty chemicals manufacturing that is supported by R&D and innovation. The demand in Asia for energy, chemicals, and products with specialty chemical components will remain strong over the next 5 years.
Enterprise Singapore (ESG), in association with energy company partners, government agencies, and innovators, is launching The Energy Open Innovation Challenge with the mission of boosting innovation in the global energy industry.
We are calling for local and international startups and small-and medium-sized enterprises (SMEs) to improve the energy sector and provide solutions to four key industry needs. Participants are welcome to submit multiple entries to tackle various problem statements.
Take this opportunity to collaborate and cross-develop your new solutions with a pool of innovative companies and energy industry experts. This is your chance to showcase your unique solutions to global energy companies and establish new business opportunities!
04 CATEGORIES 19 PROBLEM STATEMENTS
The energy industry faces these four major issues. Will you rise to the challenge?!
FUNDING & INCENTIVES
Successful entries will be eligible for several of the following prizes:
Up to S$1M of funding support and S$100K of Startup SG Grants
Access to leading energy companies' leading R&D expertise
Corporate deals with participating energy companies
Mentorship & Industry Network
Industry Exposure
ESG will support eligible* and selected companies with up to S$1 million of funding through grants for product development per problem statement;
4 startups from across all problem statements will win S$25,000 Startup SG Grants each (More details to follow soon.)
*Refer to the rules for more information.
TIMELINE
OPEN CALL3 Sep to 6 Nov 2020, 12:00 PM GMT+8Participants to register and submit their proposal
DEEPENING PHASE18 to 27 Nov 2020Up to 50 companies will be shortlisted and invited to 1-1 meetings with energy companies
VIRTUAL PITCHING DAY7 to 11 Dec 2020Online final pitching sessions and next steps for implementation!
Virtual Pitching Day
During the week of SFFxSWITCH 2020
7 to 11 Dec 2020
The Energy Open Innovation Challenge is fully virtual. Pitch from the comfort and safety of your own home and office! Then, be a part of an exclusive audience and watch like-minded startups and SMEs pitch their unique solutions to the participating energy companies. Remember to stay tuned as the results will be announced after the pitching concludes. Watch this space for the latest updates.
For more information please open this link
https://energy.innovation-challenge.sg/en/challenges/energy-2020
How to Stop Missing Deadlines? Follow our Facebook Page and Twitter !-Jobs, internships, scholarships, Conferences, Trainings are published every day!