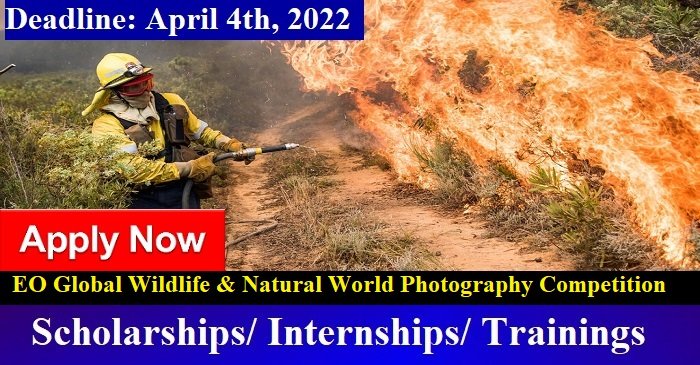 This is your opportunity to have your work showcased to the world, and win one of three prizes worth USD $1500.
Earth.Org invites explorers, adventure travellers, professional photographers and photographers working on the front line of wildlife conservation across the world to submit their photographs for the following categories:
WILDLIFE IN PERIL
HUMAN IMPACTS ON THE ENVIRONMENT
6 of the best photos from the two categories will be judged for the Overall Winner
Overall Best Environmental Photo
ENTER YOUR PHOTOS NOW
Get noticed! The best submissions will be published on the Earth.Org Instagram, with the photographer's own Instagram tagged.
How to Enter
To enter The EO Global Photography Competition 2022, entrants must submit their best 3 photographs for each category (e.g max 6 altogether) by completing the online Entrance Form below by April 4th, 2022. Please use the following format for submitting your photos: "Category_Name". 
If you are after inspiration, come check out our Facebook, Instagram, or the website!
We look forward to receiving your Competition Entry submission. Good Luck!
2022 Prizes
The Winner of the Earth.Org "Overall Best Environmental Photo" 2022 will be awarded with $1000 USD.
The Winners of the two sub-categories Earth.Org "Wildlife in Peril" 2022 and Earth.Org "Human Impacts on the Environment" 2022 will be awarded with $250 USD each.
All entries must be received by April 4th, 2022.
All Winners will be invited to take over the Earth.Org Instagram for a week each.
All Winners will be interviewed for Articles on Earth.Org and given the chance to showcase their work on our website or in our articles.
Winners will be announced on our website and notified via email by June 22nd, 2022.
All winners will have their photos featured on all of Earth.Org's Website, Social Media platforms, including Facebook, Instagram, Twitter, as well as newsletters and more. The photo will also be used as a cover image for an Earth.Org article.
World Renowned Judges
Judges will value the unusual, the dramatic –  viewpoints not seen before; so originality will play a vital part in the way judges will view your submission. There will be one Winner in each Category, and an overall winner.
The next 20 best photos selected from all participants will be invited to join our network of Official Earth.Org Photographers and invited to curate Earth.Org's Instagram page. Their work will be published, credited and tagged across all of our social media platforms that reaches a passionate audience and raises the entrants' profile as wildlife or environmental photographers globally.