APPLY FOR THIS OPPORTUNITY! Or, know someone who would be a perfect fit? Let them know! Share / Like / Tag a friend in a post or comment! To complete application process efficiently and successfully, you must read the Application Instructions carefully before/during application process.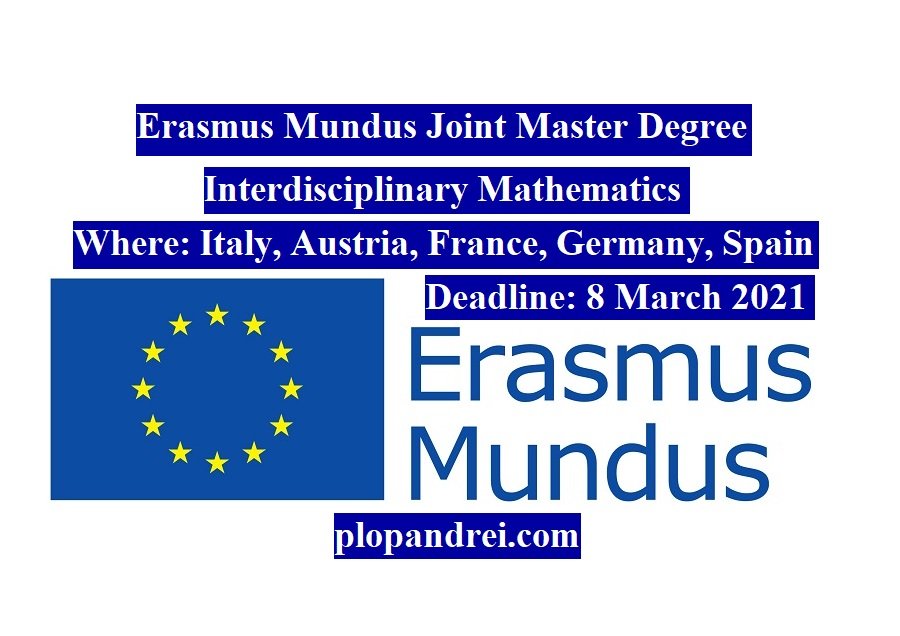 Years: 2;
Credits: 120 ECTS;
Where: Italy, Austria, France, Germany, Spain;
Study mode: full-time;
Degree type: Erasmus Mundus Joint Master Degree;
EMJMD Scholarships
No.: 20;
Type: Full scholarships;
Contribution: up to 49,000 EUR;
Deadline: 8 March 2021 at 1 pm;
"InterMaths – Interdisciplinary Mathematics" is a 2-Year full-time Erasmus Mundus Joint Master Degree in Mathematical Modelling and Simulation with interdisciplinary applications, with a special focus on biomedical Sciences and industrial engineering. It is run by five European Universities:
"InterMaths" prepares for a career in research as well as in private enterprises, in particular in industrial engineering, manufacturing, pharmaceutics, biomedical industry. Our study plans develop mathematical skills that are relevant to a broad range of interdisciplinary fields:
Mathematical modelling,
Scientific computing,
Control and optimization,
Stochastic modelling,
Image processing methods.
Our programme is designed to meet the demand of advanced research in European enterprises and provides – at the same time – a unique, integrated, European advanced joint programme in Applied Mathematics in line with innovative domains in science and technology.
The "InterMaths Consortium" made up of the above five Universities has been awarded the Erasmus Mundus label by the European Commission for the 2020-2024 period.
Applying for InterMaths Erasmus Mundus Joint Master Degree
Our 2-year Erasmus Mundus Joint Master Degree Programme in Interdisciplinary Mathematics begins every September. If you are interested in joining the forthcoming intake, all you have to do is read the information below and submit your application via our online tool (sorry, but applications submitted via email or post won't be taken into account).
Note that wewon't charge you any fee to take part in the application process.
Every year we offer a number of full scholarships through the Erasmus Mundus Joint Master Programme (EMJMD) worth 49,000 EUR (maximum). Note that:
To apply for an EMJMD scholarship, you won't need to submit a separate application
By submitting your application before the set deadline for scholarships (1 pm Italy time 8 March 2021), your application will automatically be considered for EMJMD scholarships, too.
If you submit your application after such a deadline (i.e. from 1 pm 8 March to 1 pm 30 April 2021) instead, you'll be applying to join the InterMaths EMJMD as a self-paying student.
Other funding opportunities and reduction on administrative/tuition fees are available in that case, as sketched below.
Apply Here
https://www.intermaths.eu/erasmus-mundus/apply
EMJMD Scholarships
EMJMD scholarships are offered to the most talented candidates who will be full-time enrolled in the InterMaths EMJMD programme. The EMJMD scholarship will include student participation costs (including the tuition fees, full insurance coverage and any other mandatory costs related to student participation in the course), a contribution to student travel and installation cost and a subsistence allowance for the entire duration of the EMJMD study programme. Details on the EMJMD student scholarship amounts are sketched below.
Partner-Country Student
Programme-Country Student
Number of scholarships
17
13+4
 targeted
regions
3
Contribution to participation costs
18,000 EUR
9,000 EUR
Contribution to travel and installation costs
7,000 EUR maximum
Contribution to subsistence costs
24,000 EUR
What's a Programme Country?
Programme Countries
Member States of the European Union + North Macedonia, Iceland, Liechtenstein, Norway, Serbia, Turkey
What's a Partner Country?
Partner Countries
are all the countries of the world that are NOT listed below: EU Member States + North Macedonia, Iceland, Liechtenstein, Norway, Serbia, Turkey.
01
Contribution to participation costs
including tuition fees and mandatory insurance coverage. The InterMaths Consortium directly deducts such a contribution from the scholarship.02
Contribution to travel costs
1,000 €/year for a scholarship holder residing in a Programme country, or
2,000 €/year for a scholarship holder residing in a Partner country less than 4,000 km from L'Aquila, the coordinating institution, or
3,000 €/year for a scholarship holder residing in a Partner country 4,000 km or more from L'Aquila, the coordinating institution.
03
Contribution to installation costs
1,000 €, for scholarship holders residing in a Partner country only04
Contribution to subsistence costs (living allowance)
1,000 €/month for all scholarship holders. However:
scholarship holders studying in their country of residence will not receive the subsistence allowance during that period;
a scholarship holder from a Partner country cannot receive the subsistence allowance for more than 3 months when studying in any Partner country.
Targeted regions
In addition to the standard EMJMD scholarships, there is a number of additional scholarships (4 for the 2021 intake) available for students from targeted regions of the world. These additional scholarships are offered to respond to the external policy priorities of the EU with regard to higher education and take into consideration the different levels of economic and social development in the relevant Partner Countries. The application procedure is the same as for the regular EMJMD scholarships.
Such scholarships are available for the following regions, 1 for each group
Western Balkans (Region 1)
Albania, Bosnia and Herzegovina, Kosovo, Montenegro
South-Mediterranean countries (Region 3)
Algeria, Egypt, Israel, Jordan, Lebanon, Libya, Morocco, Palestine, Syria, Tunisia
Asia – Least Developed Countries (Region 6)
Afghanistan, Bangladesh, Bhutan, Cambodia, China, DPR Korea, India, Indonesia, Laos, Malaysia, Maldives, Mongolia, Myanmar, Nepal, Pakistan, Philippines, Sri Lanka, Thailand and Vietnam
African, Caribbean and Pacific countries (Region 11)
Angola, Antigua and Barbuda, Bahamas, Barbados, Belize, Benin, Botswana, Burkina Faso, Burundi, Cameroon, Cape Verde, Central African Republic, Chad, Comoros, Congo, Congo – Democratic Republic of the, Cook Islands, Djibouti, Dominica, Dominican Republic, Equatorial Guinea, Eritrea, Ethiopia, Fiji, Gabon, Gambia, Ghana, Grenada, Guinea, Guinea-Bissau, Guyana, Haiti, Republic of Côte d'Ivoire, Jamaica, Kenya, Kiribati, Lesotho, Liberia, Madagascar, Malawi, Mali, Marshall Islands, Mauritania, Mauritius, Micronesia- Federated States of, Mozambique, Namibia, Nauru, Niger, Nigeria, Niue, Palau, Papua New Guinea, Rwanda, Saint Kitts And Nevis, Saint Lucia, Saint Vincent And The Grenadines, Samoa, Sao Tome and Principe, Senegal, Seychelles, Sierra Leone, Solomon Islands, Somalia, South Sudan, Sudan, Suriname, Eswatini, Timor Leste – Democratic Republic of, Tanzania, Togo, Tonga, Trinidad and Tobago, Tuvalu, Uganda, Vanuatu, Zambia, Zimbabwe.
Entry requirements
Are you eligible?
Application is open to students of any nationality. But before deciding about your eligibility, we need to look through all the required documents. So, if you want to be taken into consideration for our next intake, first check if you meet the minimum academic requirements, then fill in our on-line application form to submit all the required documents. Within a month after the deadline, your application will be evaluated along with all the others received, and a selection list will be published on this page – see below for detail.
Academic Requirements
Bachelor's Degree in Mathematics, Applied Mathematics, Physics, Engineering or other similar field with a very strong mathematical background (BS, BSc, SB, etc. or a degree at the same level of an academic Bachelor's Degree, e.g. its equivalent from a college, university, or technical school of high standing, or 180 ECTS credits in the European system)
Language requirements
All applicants are required to prove an advanced level of English (CEFR B2/C1 level), certified by any of the following tests:
IELTS Academic: overall band score of 6.0 or above;
TOEFL iBT: overall score of 80 or above;
PTE Academic: 56 or above overall;
C1 Advanced (formerly known as Cambridge Advanced English): overall score of 169 or above;
or equivalent to the above.
Certificates cannot be older than 4 years.
Applicants who have conducted their undergraduate degree or secondary school studies in an English-speaking institution may just provide evidence that English is the medium of instruction in such institutions (even via a self-declaration form).
Documents required
To be submitted as PDF files via our online application tool 
Photo
ID-size photograph: around 300×400 pixel, taken in front of a plain white or off-white background and in full-face view directly facing the camera, with a neutral facial expression and both eyes open
 CV
Your detailed CV/resume. Only use the Europass template available here: https://europa.eu/europass/en or in our Downloads section
 Passport/ID Card
ID card (for Europeans) or Passport (for non Europeans).
Has your passport expired or haven't you got one yet? You are allowed to temporarily submit an old one or an equivalent ID document (valid in your country to prove your identity) as long as you enclose to it a receipt of a request for passport.
 English certificate
Advanced level of English (CEFR B2/C1), certified by:
IELTS Academic: overall band score of 6.0 or above;
TOEFL iBT: overall score of 80 or above;
PTE Academic: 56 or above overall;
C1 Advanced (formerly known as Cambridge Advanced English): overall score of 169 or above;
or equivalent to the above.
Certificates can be simply uploaded through our online application tool (saved as .pdf) or sent via ETS (our ETS score recipient code is 3676, institution name: University of L'Aquila). Certificates cannot be older than 4 years.
Applicants having conducted their undergraduate degree / secondary-school studies in an English-speaking institution may just provide evidence that English is the medium of instrucion in such institutions (even via a self-declaration form).
 Transcript of Records
Transcript of records related to your undergraduate studies: your full academic transcript with records for each attended course and with the list of courses to be attended to get your Degree.
If you wish to provide detail on any further qualification (e.g. postgraduate studies), you may refer to it in your CV.
 Course description
A file containing a description of the attended courses you consider relevant for your application, especially courses related to Mathematics and Physics. Only use this template. Applicants have to fill in such a file by themselves as a self-certification if their university cannot issue any document like that.
 2 Reference letters
Two academic reference letters, to be submitted by two different referees through our online application tool.
 Intent Letter
A letter of intent (also known as motivation letter), describing your interest in the subjects related to the proposed fields of study. The letter can be addressed to the InterMaths Consortium. There is no particular template to follow, but you must not exceed one page, as extra ones will not be evaluated.
Other additional documents might be submitted only if closely related to the proposed field of study.
For all the above documents, in case they are not written in English, please upload an official English translation, or a translation provided and signed by the Institution awarding your previous degree.
Consortium Scholarships
Partner-Country Student
Programme-Country Student
Number of scholarships
TBD
Contribution to participation costs
18,000 EUR
9,000 EUR
2,800 EUR (700/semester)
For the 2021 intake, in addition to the EMJMD scholarships detailed above, the InterMaths Consortium will offer a so-called Consortium Scholarship to a (TBD) number of eligible students from the waiting list who won't be awarded an EMJMD scholarship.
The Consortium Scholarships will grant the students partial waiver of the participations costs, as detailed in the chart.

Please note that participation costs include the tuition fees, full insurance coverage and any other mandatory costs related to student participation in the programme.
Selection procedure
Please note that you won't be charged any fee to take part in the whole application and selection process.

In the period 9 March – April 15 2021 the Evaluation Committee will evaluate all the applications successfully submitted by 1 pm 8 March 2021 and will draw up an Absolute Ranking List (ARL-A). Please note that this is the only ranking list that will be used for the awarding of EMJMD scholarhips.

Selected students will receive notification and will have to send confirmation of acceptance within 3 days from notification.
In the period 2 – 31 May 2021 the Evaluation Committee will evaluate all the applications submitted from 1 pm 8 March 2021 to 1 pm 30 April 2021, and will draw up another Absolute Ranking List (ARL-B). Note that such a ranking list will NOT be used for the awarding of EMJMD scholarhips.

The evaluation committee will then merge the two ranking lists (ARL-A and ARL-B) to draw up a final absolute ranking list, which will be used to award consortium scholarships or apply for other funding opportunities.
The Evaluation Committee will then meet again in mid-August o finalize the pre-enrollments and to remove from the list the students who will not have certified the accomplishment of their bachelor's degree (or equivalent).
#The InterMaths profile
A professional scientist with interdisciplinary skills;
The "InterMaths" graduate is a professional scientist equipped with advanced and innovative skills in mathematical modelling and scientific computing, who's able to translate challenging real-world problems into complex models, to solve them in a reasonable time and at reasonable cost, and to apply them in specific practical situations in a team with scientists coming from other disciplines.
InterMaths is directed to students with a wide range of previous Bachelor studies such as Engineering, Mathematics, Physics, Computer Science and the like.
InterMaths addresses innovation as a major task. We cover newly developed mathematical methodologies in Biomedical Sciences and Industrial Engineering, two seemingly unconnected disciplines which can however be approached by similar mathematical modelling techniques. We provide advanced training in deterministic and stochastic methods, advanced scientific computing, advanced optimization, stochastic methods. Our syllabi touch keywords at the edge of high level modern mathematics research such as optimal transport, multiscale modelling, control theory, parallel computing, and uncertainty quantification.
A group of private enterprises are associated to our Consortium as "industrial partners". Our students have the opportunity to develop their Master thesis in collaboration with them, taking advantage of their strong links with our reference research groups. The application of mathematical modelling skills to real-world problems arising from our industrial partners during the thesis semester will also require the development of advanced skills in computer programming, statistics and data analysis, intelligent systems and logistic systems. Our interdisciplinary training covers topics from bio-medicine and industrial engineering. During the thesis semester our students will also develop transversal skills such as communication, team work, and leadership.
#Programme Structure
Our mobility scheme: 6 specializations on modern societal challenges
InterMaths students follow the following mobility path:01
Semester 1
A first semester common to all student on Foundations of Applied Mathematics in L'Aquila02
Semester 2
A second semester on Numerical – Modelling Training, either in Hamburg or in Vienna02
Year 2
A second year of Interdisciplinary training in one of the five partner universities, devoted to one of our six specialization tracks:
These specialization paths have been designed on grounds of the fields of expertise of the five reference groups, often with links with groups in the same institutions from other applied disciplines. Most importantly, they address innovative methodologies and deal with societal challenges in nowadays society, in particular in medicine and in industry.
The mobility paths are assigned to the new cohort students at the beginning of the 2-year period. We try as much as possible to satisfy the students' preferences. The mobility scheme is sketched in the following section.Find out more about the Programme Structure
#Our Teaching Staff;
The "InterMaths" Consortium is the outcome of decades of networking in applied mathematics research, higher education joint programs, and interplay with industry. Our reference groups feature decades of collaborations in academic networking at EU-funded level, coordination of joint degrees, double degrees, Erasmus Mundus programs, as well as transfer of knowledge with non-educational stakeholders, both at local and international level. Our researchers are primary actors in research teams of outstanding level involving world leading figures and Fields medalists.
The coordinating group at L'Aquila features outstanding research record in mathematical modelling with applications to biology and medicine. The group is in charge of the first semester teaching focused on fundamentals of advanced applied mathematics (real analysis, ordinary and partial differential equations, continuum mechanics, control systems). The programme coordinator, Prof. Corrado Lattanzio, is a prominent figure in the mathematical theory of fluid-dynamical models in biomedical and social sciences. The group features among others Marco Di Francesco (Deputy Coordinator) and Bruno Rubino (Vice Rector for international affairs at the University of L'Aquila), as well as collaborations with world leading researchers in partial differential equations at CISCAMM – University of Maryland, KAUST (Saudi Arabia), University of Oxford.
Two groups are in charge of the second semester, focused on advanced scientific computing (in particular finite element methods and parallelization) and other modelling skills (stochastic analysis, numerical optimization, variational calculus). The group at Vienna – run by Prof. Anton Arnold, a widely acknowledged expert in kinetic and transport partial differential equations – features experts in finite elements methods such ad Dirk Praetorius, Jens Markus Melenk, and Joachim Schoeberl. The group at Hamburg, led by Prof. Anusch Taraz, features experts in scientific calculus such as Marko Lindner, Armin Iske, and Ingenuin Gasser. This group is in close interplay with the University Medical Center Hamburg-Eppendorf (UKE, Germany), more precisely the research group on mathematical modelling in medicine, image processing, and computer tomography led by Prof. Tobias Knopp. Our programme also benefits from the teaching offers at the two technical universities in Hamburg and Vienna, complementing the applied mathematics courses with applied modules from internationally acknowledged groups in computational fluid dynamics and biomedical imaging.
The group in Nice counts on Prof. Francois Delarue, an applied mathematician with outstanding research record on stochastic methods, as well as on the interplay with the NeuroMod Institute led by Prof. Patricia Reynaud-Bouret with expertise on mathematical modelling in neuroscience and neurocognition. The group at UAB Barcelona is led by Prof. Susana Serna, an applied mathematician who is also member of the education board of ECMI (European Consortium of Mathematics in Industry). The group features a longstanding tradition on mathematical methods in optimization and operations research with applications to industry.
Programme Detail
WHAT IS AN ERASMUS MUNDUS JOINT MASTER DEGREE (EMJMD)
Erasmus Mundus Joint Master Degree is one the Erasmus+ programmes funded by the European Commission.

An Erasmus Mundus Joint Master Degree (EMJMD), is a prestigious, integrated, international study programme, jointly delivered by an international consortium of higher education institutions.
EMJMDs award EU-funded scholarships to the best student candidates applying under annual selection rounds.
Study take place in at least two of the universities involved.
How to Stop Missing Deadlines? Follow our Facebook Page and Twitter !-Jobs, internships, scholarships, Conferences, Trainings are published every day!