APPLY FOR THIS OPPORTUNITY! Or, know someone who would be a perfect fit? Let them know! Share / Like / Tag a friend in a post or comment! To complete application process efficiently and successfully, you must read the Application Instructions carefully before/during application process.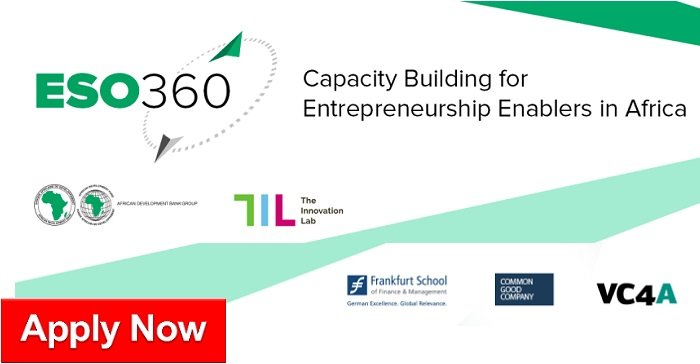 Are you running a business incubator, accelerator or fund that supports businesses to start up and grow? Are you interested in growing your entrepreneurship support organization to the next level? Do you want to boost the quality of your programs, engage more effectively with your community, and sustain your work and impact?
Then this unique (and free!) capacity-building opportunity is for you!
---
Introduction
Announcing the launch of the ESO360 Program to strengthen entrepreneurship support organizations (ESOs) across Africa. We invite eligible business incubators, accelerators and fund managers to apply for this capacity development and support program.
ESO360 is an initiative of the African Development Bank's (AfDB) Innovation Lab, and is implemented by The Frankfurt School of Finance & Management, Common Good Company and VC4A. This first phase of the program will focus on ESOs in Côte d'Ivoire, Egypt, Ghana, Kenya, Nigeria and South Africa.
ESO360 works with your ESO to strengthen organizational sustainability and the quality of entrepreneur support services you offer. The Program uses a unique and tailored approach, that considers the development of your ESO from multiple angles through a 360-degree assessment and support, for the holistic growth of your organization. We first understand the needs and priorities of your ESO, and then develop and deliver a combination of training workshops, guidance, and best practices as needed.
Our purpose
As an initiative within AfDB's Jobs for Youth in Africa Program, ESO360 will support 20 business incubators, accelerators and fund managers. Our purpose is to develop ESO capacity to:
Be prepared for growth opportunities,
Respond better to the needs of their respective communities and contexts, and
Sustain their work and impact in the long run by supporting more and more ESOs and/or startups.
Our offering
Through the Program, you will:
Self-assess – Assess your strengths and capacities in entrepreneurship support service delivery
Strengthen your support to entrepreneurs – Strengthen and improve entrepreneurship support and BDS services and skills; training topics could include but are not limited to: Investment readiness (for entrepreneurs and ESOs), business planning, developing fundraising programs, etc.
Get certified – Certification provided by Frankfurt School of Finance and Management.
Improve your fundraising strategy – Assess your strengths and capacities in organization sustainability, communications and fundraising.
Individualized growth planning and capacity development – Leverage the Hub Collective to develop your own growth plan to boost your ESO's communications and fundraising preparedness and capacities. Training topics could include but are not limited to: Grant fundraising strategy, revenue and income source planning, donor and private sector engagement, etc.
Gain experience – Gain practical experience and best practices through tailored support and active engagement with other ESOs.
Leverage the VC4A startup academy – Use top business courses of the VC4A Startup Academy for blended learning sessions within your startup support programs.
Gain access to VC4A partner tools – Be onboarded and get access to VC4A application and selection tools to manage your venture pipeline in a smart way.
Eligibility Criteria
Applicants based in Côte d'Ivoire, Egypt, Ghana, Kenya, Nigeria or South Africa
At least two years of business activities and audited accounts
Having grown to a team of 5+ full-time employees (including founders)
At least two finalized incubation/ acceleration programs implemented with at least 20 supported and/ or 10 companies invested in
At least one member of the executive team is available to participate for virtual training and support between April and June 2022
Selection Criteria
Management and Leadership – 30%
– A strong team that has the skills, knowledge and capacity to participate fully in the Program and implement learnings
– Robust management and governance principles including adherence to financial management best practice
Sustainability and Aspirations – 30%
– A clear mission, vision, and program alignment
– A strong business model with a clear approach to scale and financial sustainability with justification
Programs and Impact – 25%
– A clear description of current programs and how they link to objectives and impact with attention to the youth demographic where applicable
– A clear approach to increase access to finance for SMEs
– A clear description of how progress and impact is tracked, measured, reported and incorporated into program development
Community and Communications – 15%
– A clear understanding of target groups and their value proposition to each of them
– Awareness of the local community as well as stakeholders in the wider ecosystem
Applications will be scored according to the list of criteria above and weighted accordingly. Final decisions on successful applicants are made by Frankfurt School, Common Good Company and VC4A.
Background
ESO360 is part of The African Development Bank's Jobs for Youth in Africa Program. One of the key objectives of the Program is to strengthen and enable more vibrant ecosystems for entrepreneurship support and growth, that can in turn develop and sustain job creation for youth.
With a growing workforce across Africa, demand for jobs far outnumbers available job opportunities, resulting in high unemployment rates among youth. Diverse entrepreneurship and business support organizations work to address this by supporting business and start-up growth that can generate youth employment. Ultimately, the objective of ESO360 is to support ESOs in creating more impact for the entrepreneurs they serve, who in turn create more jobs for youth in Africa.
ESO360 is implemented by:
Frankfurt School of Finance & Management is Germany's leading private business school and advisory institute with more than 60 years of experience in consulting, qualification, and training services in all areas of banking, finance, and management – in Germany and worldwide. Since starting our international advisory business in 1992, Frankfurt School has successfully designed, managed, and implemented over 1000 development finance projects in more than 100 countries all over the globe.
The Common Good Companyworks with civil society and entrepreneurship support organizations to strengthen strategy, sustainability, and service offerings. Our tailored consulting and capacity-building approach supports intermediaries and enablers to grow sustainably, engage their communities, and create locally-driven impact.
The VC4A online platform strengthens the global startup community by connecting entrepreneurs creating innovative and scalable businesses with the knowledge, network, and funding they require to succeed. Entrepreneurs have access to the VC4A Startup Academy, mentorship opportunities, and the ability to raise capital. Program partners engage members with their entrepreneurship programs, competitions, and services. Investors are able to discover great companies, research opportunities, and follow up with founders directly. Mentors are able to browse through mentorship requests and connect with founders to support their journey.
For more information please open this link
Apply Here
How to Stop Missing Deadlines? Follow our Facebook Page and Twitter !-Jobs, internships, scholarships, Conferences, Trainings are published every day!