APPLY FOR THIS OPPORTUNITY! Or, know someone who would be a perfect fit? Let them know! Share / Like / Tag a friend in a post or comment! To complete application process efficiently and successfully, you must read the Application Instructions carefully before/during application process.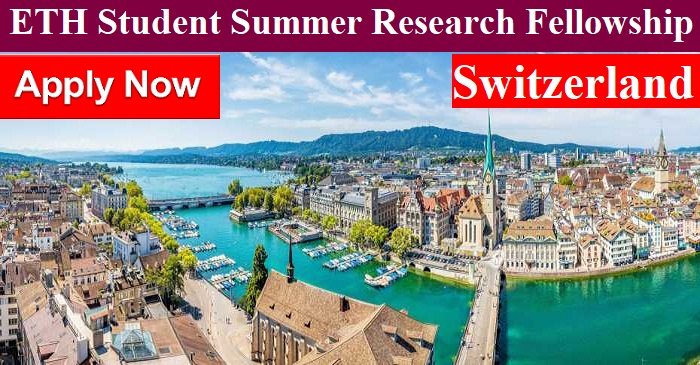 The Student Summer Research Fellowship (ETH SSRF) programme offers undergraduate and graduate students the opportunity to gain their first research experience in an area of their choice. The fellowship provided by the Computer Science Department of ETH takes place during two summer months and is open to all students worldwide. The department is committed to increasing diversity in the computer science area.
Call for applications – ETH SSRF Programme 2022. (PDF, 1.1 MB)vertical_align_bottom
The main part of the Student Summer Research Fellowship programme at ETH Zurich is devoted to doing research in one of the available areas.
Time frame: 1 July – 31 August. Please note that the time and duration of the fellowship is fixed to cover the full two months of July and August.
Eligibility. Bachelor's and master's students worldwide with an
expected graduation date earliest during the spring semester the year after the 2-​month fellowship.
Research experience. Fellows will pursue a research project that aligns with a chosen area of their interest as part of a research group in our department. This includes interacting and collaborating with group members.
Networking and socialising. A number of on-​site socialising events will help fellows to get to know people outside their respective research groups, including current ETH students at both undergraduate and graduate levels.
Stipend. Fellows at ETH Zurich will receive a monthly allowance of about CHF 1.750 to cover housing and living expenses. Travel and visa expenses will be covered as well. Students can claim the travel costs against receipts at the beginning of the program.
Accommodation. Affordable housing during the research stay will be organised, once a candidate is accepted into the program. We will also provide information regarding visa applications (where required).
Switzerland. Fellows have the opportunity to explore the vibrant culture of Zurich in the summer as well as the beautiful mountainous landscape of Switzerland in their free time.
How to apply
Main content
Please read the information below carefully and prepare all required documents before submitting your application online.
Accordion. Press Tab to navigate to entries, then Enter to open or collapse content.
How to Stop Missing Deadlines? Follow our Facebook Page and Twitter !-Jobs, internships, scholarships, Conferences, Trainings are published every day!