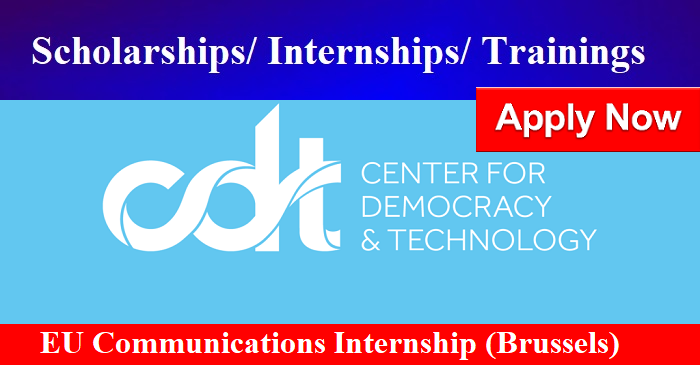 CDT is offering a Communications Internship position in its Europe office, based in Brussels. The role is offered under the Belgian "Convention d'immersion Professionnelle" framework, providing a unique opportunity to obtain job experience in the area of EU tech policy and law, human rights and democracy. The position is offered for a period of 6 months with the possibility for renewal.
About CDT Europe
The Centre for Democracy and Technology, based in Washington, D.C. and Brussels, is a leading technology policy organisation that advocates for an open, innovative, and free internet. As a non-profit organisation, we promote the protection of fundamental rights in EU Digital policy by prioritising equality, participation and platform accountability. We champion policies, laws, and technical designs that protect freedom of expression and non discrimination, and advocate against invasive, exploitative uses of new technologies and government surveillance. We use our in-depth tech policy knowledge to build capacity and, in turn, learn from other civil society partners on issues such as the discriminatory impact of algorithms and participation in online debates.
CDT's mission to bring together thought leaders to build consensus and to find innovative and practical solutions to the policy challenges surrounding the Internet is founded in our values of amplifying voices, and protecting and promoting human rights. We value diversity and experience, and continually work to embed our commitment to equity, participation and an intersectional approach to our advocacy. We strongly encourage applicants from underrepresented, historically marginalised groups.
Responsibilities
The Communications Intern will primarily provide support to the Advocacy & Communications Assistant (Officer) and Advocacy Director for Europe. Specific tasks will include:
Supporting the implementation of CDT Europe Office Communications Strategy;
Participating in and providing inputs in Editorial meetings;
Drafting social media content and supporting in the management of social media channels;
Supporting the development of website content such as blogs and newsletters;
Monitoring relevant EU policy developments;
Taking minutes of working groups and coordination meetings;
Providing event management support.
Qualifications
Understanding of and interest in digital/internet technology policy and human rights;
Relevant experience in managing social media channels and developing social media content;
Familiarity with or experience of communicating policy positions to wider audiences;
Excellent written and spoken English is essential; other European languages are an advantage;
University degree or relevant experience in European Studies, International Relations, Economics, Law or Political Science;
High level of creativity, energy and motivation;
Good organisational skills and attention to detail;
Ability to cooperate with colleagues, both in Brussels and Washington, D.C.
Candidates must have an existing permit to work and live in Belgium and the European Union.
Compensation
This is a paid position for a minimum period of 6 months, with the possibility of renewal, with a salary of up to EUR 1200/month depending on the candidate's situation under the "Convention d'immersion Professionnelle" framework.
To Apply
Please submit a cover letter explaining your interest in interning at CDT, and your current resume to hr@cdt.org.
All selected applicants will be interviewed by telephone, during which time we may ask interviewees to submit references or a writing sample.
Due to the large number of applications we receive, only applicants selected for interviews will be contacted.
The Center for Democracy & Technology is an equal opportunity employer, and does not discriminate on the basis of race, gender, ethnicity, sexual or gender orientation, religion, or disability.
For more information please open this link
Apply Here