Istoricul grec Strabo şi cronicile armene susţin că partea de vest a teritoriului modern al Azerbaidjanului până în secolul V a fost populat de armeni, iar partea de est de albanezi. Azerii orinal erau nomazi turci care treptat s-au stabilit pe câmpiile din Caucaz. Contactul dintre populaţia băştinaşă albaneză şi triburile turci stabilite a avut loc începând cu secolul IV, dar amestecul acestor populaţii a început doar în secolul XI.
The map of Orontid (Yervaduni) Armenia – during 4-th – 3-th centuries B.C.
Din secolul VI î. Hr. Teritoriul Armeniei şi Azerbaidjanului de astăzi au fost ocupate pe rând de persani, grecii lui Alexandru Macedon (sec. IV î. Hr.) sau romani (sec. I î. Hr.) .
În secolul XVII şi la începutul secolului XVIII, Imperiul Otoman a luptat în numeroase războaie împotriva Imperiului Persan pentru controlul Caucazului. După 1722 a avut loc dezintegrarea dinastiei Savafide şi Caucazul a intrat în sfera de influenţă otomană.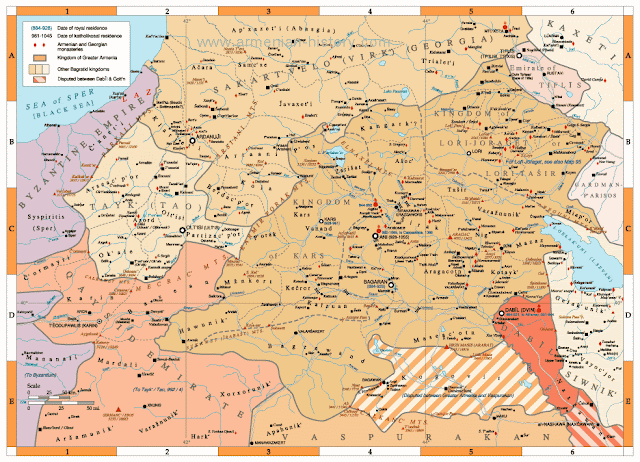 La mijlocul secolului al XVIII-lea , Azerbaidjanul trecea printr-o fragmentare feudală fiind împărşită în hanate independente. Karabahul de Munte era parte a hanatului azer Karabah, suprapus peste teritoriul dintre Kura şi Araks. Problema acestor hanate era că se aflau în mijlocul luptelor de influenţă în Caucaz, exercitate de Rusia Ţaristă, Iranul şi Imperiul Otoman.
Armenian Kingdom of Cilicia 1199-1375
Karabahul a fost schimbat între arabi, turci, mongoli şi persani până în secolul al XIV, dar populaţia regiunii a rămas în mare parte armeană. În secolul XIV, un lider armean a dobândit din partea dinastiei Safavid un statut de autonomie pentru acesată zonă.
Dorinţa Rusiei de a domina regiunea caucaziană a determinat cucerirea mai multor hanate între 1806-1809, fapt ce a determinat cele două războaie ruso-persoane (1812-1813 şi 1825-1826). Tratatele de pace de la Gulistan şi tratatul de pace de la Turkmenchaz din data de 10 februarie 1828, partea de nord a Azerbaidjanului a fost anexată la Rusia iar sudul a rămas Iranului. Înfrângerea Rusiei în războiul Crimeei a revigorat pentru o bună perioadă de timp Imperiul Otoman, aspect care putea pune în pericol graniţa Caucaziană.
Karabakh ethnic map
Armenii erau percepuţi ca aliaţi naturali ai ruşilor, pe când azeri ca un potenţial rival, Rusia a iniţiat campania de mutarea masivă a armenilor în regiunea Karbahului de Sus locuit de azeri în majoritate, acest proces de strămutare a fost făcut din cauza neîncrederii Rusiei în musulmani în special după războaiele turco-ruseşti din 1855-56 pentru a stabiliza controlul său asupra regiunii Rusia a încurajat schimburile de populaţii şi după războiul ruso-turc din 1877-1879 s-a făcut o strămutare mai largă a populaţiei armene din Imepriul Otoman şi Persan stabilidu-se în regiunile Caucazului dominate de ruşi.
Du
pă revoluţia bolşevică din 1917 a fost înfiinţată federaţia Transcaucaziană sprijintă iniţial de grupurile politice dominante din cele trei ţări, care şi-a proclamat independenţa în aprilie 1918. După o scurtă perioadă era evident că interesele că interesele celor 3 populaţii nu pot fi îmbinate, la 28 mai 1918, Azerbaidjanul şi Armenia şi-au declarat independenţa. Conferinţa de Pace de la Paris a recunoscut dreptul Azerbaidjanului asupra Karabahului, odată cu recunoaşterea independenţei celor trei republici din Caucazul de Sud, Azerbaidjan, Georgia şi Armenia.
La 7 iulie 1923, guvernul azer a adoptat un decret care aproba formarea unei regiuni autonome cu centrul administrativ în Hankendi, în zona armeană a Karbahului, apoi la 16 iulie s-a hotărât lărgirea teritoriului regiunii autonome, cu includerea oraşelor Şuşa şi câteva zone din Karabahul de Jos, la 18 septembrie 1923, centrul administrativ a fost numit Stepanakert.
Numele este un amestec azero-persană: ,,gara'' înseamnă negru în azeră, iar ,, bakh'' semnifică grădină în persană, terminaţia ,,bah'' fiind doar o rusificare din perioada sovietică, iar cea dea doua parte Nagorno înseamnă în rusă muntoasă.
Limba azeră ca şi alte limbi turcice până la cucerirea rusă nu a avut un nume propriu. În perioada medievală populaţia turcică din Azerbaidjan se numeau ,, tucii'' în timp ce turcii contemporani erau cunoscuţi ca ,, otomani'' . Limba turcă vorbită în Turcia de azi şi limba azeră fiind reprezentatele familiei limbilor altaice, fac parte din ramura oguză a limbilor turcice. După ocupaţia Caucazului, ruşii au numit populaţia turcofonă din sud-esstul regiunii ,, tătarii caucazieni''. După revoluţia rusă din 1905 inteligenţa azeră a avut grijă de reanimearea etnonimului ,, turc'' sub forma de de ,, turca azerbaidjană'', pentru a nu se face confuzie cu turca otomană. Având în vedere fenomenul Republica Azerbaidjanul ( 1918-1920), încerca să introducă etnonimul azeri sau azerbaidjeni ca denumire a populaţiei turcice din Azerbaidjan. Proclamarea Republicii Turciei şi renunţarea de către Ataturk la etnonimul ,, otoman'' a provocat o confuzie.