APPLY FOR THIS OPPORTUNITY! Or, know someone who would be a perfect fit? Let them know! Share / Like / Tag a friend in a post or comment! To complete application process efficiently and successfully, you must read the Application Instructions carefully before/during application process.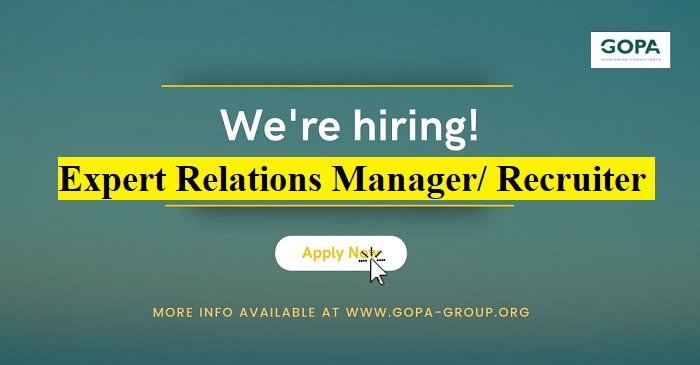 As leader in development consultancy, we, GOPA Worldwide Consultants, implement projects in developing and transition economies on behalf of national and international development partners, national authorities, industry representatives and civil society organisations. We understand that behind each development project there is a human story. For this reason, our people-centred approach ensures that the projects we implement deliver the best possible outcome in terms of socially inclusive growth and poverty reduction and have a sustainable and measurable impact on peoples' lives.
To strengthen our team in our Governance and Economic Development department we are looking for a
Expert Relations Manager/ Recruiter (m/f/d) in international development cooperation
with primary responsibility for managing the implementation of the Policy Support Facility Framework Contract Lot 3 (Trade and market access)
to start as soon as possible at our Headquarters in Bad Homburg or home based.
EU trade policy operates in a global trading environment that is evolving constantly. An increasing number of developments present challenges to the rules-based, multilateral trading system. In response to this changing international trading environment, and in accordance with EU foreign policy, the European Commission presented a new trade and investment strategy in October 2015.
In this context, the Service for Foreign Policy Instruments (FPI) launched the Framework Contract (FWC) "Policy Support Facility for the Implementation of EU Foreign Policy". This FWC provides expertise for the implementation of EU foreign policy pursuing EU or mutual interest. The objective of the FWC is to provide – through individual assignments, defined and contracted through specific contracts – expertise that can be mobilised at short notice. GOPA was contracted to provide expertise in the area of trade and market access (Lot 3).
As Expert Relations Manager/ Recruiter you are responsible for the day-to-day management of all processes related to the recruitment of experienced candidates for vacant positions and calls of proposals from our international clients.
Your tasks include:
You identify and approach the winning candidates, using different sourcing channels and applying your communication skills
You evaluate CVs vs the personnel requirements in the Terms of Reference
You explain the projects and work of GOPA and "win over" potential experts
You negotiate fees & contracts
You contribute to drafting methodologies
You communicate with and coordinate Consortium Partners and their inputs
You develop a basis of trust and maintain contact with potential experts, building up a network
You keep the database of experts up to date
You advise your colleagues throughout the recruitment process
You contribute to recruitment efforts on other GOPA tenders/ ongoing projects
What we offer:
Team & culture: You will join dynamic, multi-cultural and multilingual team members who enjoy working together and who support each other.
Responsibility: You join a company committed to being environmentally responsible wherever we operate.
Development: Our annual career development and performance review process will help you to set clearly defined goals and objectives. As a new employee, you will be part of a mentorship system.
Location: GOPA is located close to Bad Homburg´s railway station, enabling quick and easy access to Frankfurt's cultural activities and events.
Fringe benefits: GOPA offers an RMV job ticket and job-bike leasing, as well as subsidies for a fitness studio and day care for your children, to mention a few.
Flexibility: We enable flexible work arrangements, including flexible working hours, mobile or telework.
Your profile:
You like to work and interact with people in different teams in an international environment
You have a good feeling for the applicant market and can put yourself in the shoes of our target groups
You have an academic degree in social sciences, international relations, economics, human resources or equivalent
You have work experience in recruiting business in an international environment, preferably with active sourcing (experience in the field of International Technical Assistance/ Development Cooperation is an asset)
You have excellent oral and written communication skills in English and a very good command of French and/ or Spanish
You are well organized with the ability to keep track of tasks under a high workload
You bring along a high level of consulting and customer orientation as well as a confident manner and professional communication style
You are proactive, eager to learn and you like to take initiative and responsibility
For information on GOPA Worldwide come visit us on our Homepage https://gopa.de/ .
You´d like to know more abouth GOPA Group? Then have a look at https://www.gopa-group.org/.
We are looking forward to receiving your online application, including your possible commencement date and salary expectation.
For more information please open this link
Apply Here
https://www.perbit-job.de/jobs/gopa/gopa/anzeige.php?anz_id=286
How to Stop Missing Deadlines? Follow our Facebook Page and Twitter !-Jobs, internships, scholarships, Conferences, Trainings are published every day!