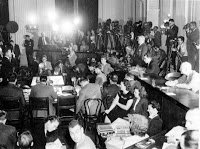 In May 1938, Congressmen Martin Dies and Samuel Dickstein created the House Committee on Un-American Activities (HUAC) to investigate Communist and Nazi activities in the United States. The committee was originally known as the 'Dies Committee' after its chairman, and was the latest in a series of government bodies that conducted similar investigations since 1918. Dickstein co-chaired one of these committees between 1934 and 1937, but ironically he was later revealed to be a Soviet agent.
In 1945, Congress passed a law that made HUAC a standing committee with the New Jersey Representative, Edward J. Hart, as its first chairman. HUAC was mandated to investigate communist subversion of American society. As the paranoia of the Cold War took hold, the committee began to turn its attentions to the entertainment industry after hearing the testimony of various movie industry figures, including Walt Disney and Ronald Reagan, then president of the Screen Actors Guild.
HUAC drew up a witness list of forty-three Hollywood professionals suspected of being or having been members of the American Communist Party. Nineteen of those listed declared that they would not be prepared to give evidence. The committee called eleven of these to answer their questions, but only the German playwright Bertolt Brecht co-operated.
The remaining group of screenwriters and directors were or had been members of the Communist Party. Since such membership was not illegal, they cited their First Amendment rights to free speech and public assembly as justification for their non-compliance. HUAC took a different view and accused the "Hollywood Ten" of being in contempt of Congress, and instituted proceedings against them.
On 25th November 1947, the House of Representatives voted 346 to 17 to cite
Alvah Bessie, Herbert Biberman, Lester Cole, Edward Dmytryk, Ring Lardner Jr., John Howard Lawson, Albert Maltz, Samuel Ornitz, Adrian Scott, and Dalton Trumbo for contempt of Congress. Film industry executives held a meeting the next day at the Waldorf-Astoria hotel in New York. The president of the Motion Picture Association of America then issued a press release that declared that the ten would be fired or suspended without pay and would not be able to work in the US film until they were cleared of the charges against them and had sworn that they were not Communists.
Early in 1948, the "Hollywood Ten" were convicted of contempt and sentenced to serve one year in prison. They began their incarceration in 1950 following a series of unsuccessful appeals and a Supreme Court decision against reviewing the case. In September of that year Edward Dmytryk was released following his announcement that he had once been a Communist and was now prepared to testify before HUAC.
Meanwhile, the Hollywood blacklist grew: in June 1950 right-wing journal Counterattack published a pamphlet entitled Red Channels, which listed 151 entertainment professionals engaged in Communist subversion of the industry. Some of those listed were denied employment as were many others who were accused of being Communists over the following decade. The blacklist effectively ended in 1960 when director Otto Preminger announced that Dalton Trumbo (one of the "Hollywood Ten") was the screenwriter of his forthcoming film Exodus, and Universal Pictures announced that he would be credited as a screenwriter of Spartacus.