APPLY FOR THIS OPPORTUNITY! Or, know someone who would be a perfect fit? Let them know! Share / Like / Tag a friend in a post or comment! To complete application process efficiently and successfully, you must read the Application Instructions carefully before/during application process.
How to apply?
Register, upload the required documents,
submit your application to be part of INVEST YOUR TALENT IN ITALY
OPENING March 3, 2021 until March 26, 2021.
Visit the section DOCUMENTS to find:
Call for application/FAQ/Regulations of the IYT Scholarship.
REGISTRATION
HOW TO APPLY
Before applying, please check that
1) You have already applied to one of the Invest Your Talent in Italy courses
YES
2) Your Country is part of the current edition of Invest Your Talent in Italy (show all)
YES
3) Applications are open (starting from March 3, 2021 till March 26, 2021)
YES
4) In this page you can find the answers to the most frequently asked questions about the IYT Program FAQ
YES
Fill the form and upload the following documents
1) Final transcripts of all previous exams as well as the final grade (Bachelor's Degree).
2) English Language Certificate (B2-level within the Common European Framework of Reference for Languages).
3) Italian Language Certificate – proof of proficiency in Italian is not mandatory, but it will be taken into consideration in the selection process.
4) Application essay video in English language – MAX 1 minute/10 Mbyte – for good quality, we suggest 1,5 Mbps bitrate – talk about yourself, why you want to be part of the Programme and your motivation to study and connect with Italy.
5) Updated CV – Resume
6) Passaport

You can save your application and edit it later. When ready, submit it!
Notifications to candidates will be sent by the end of June 2021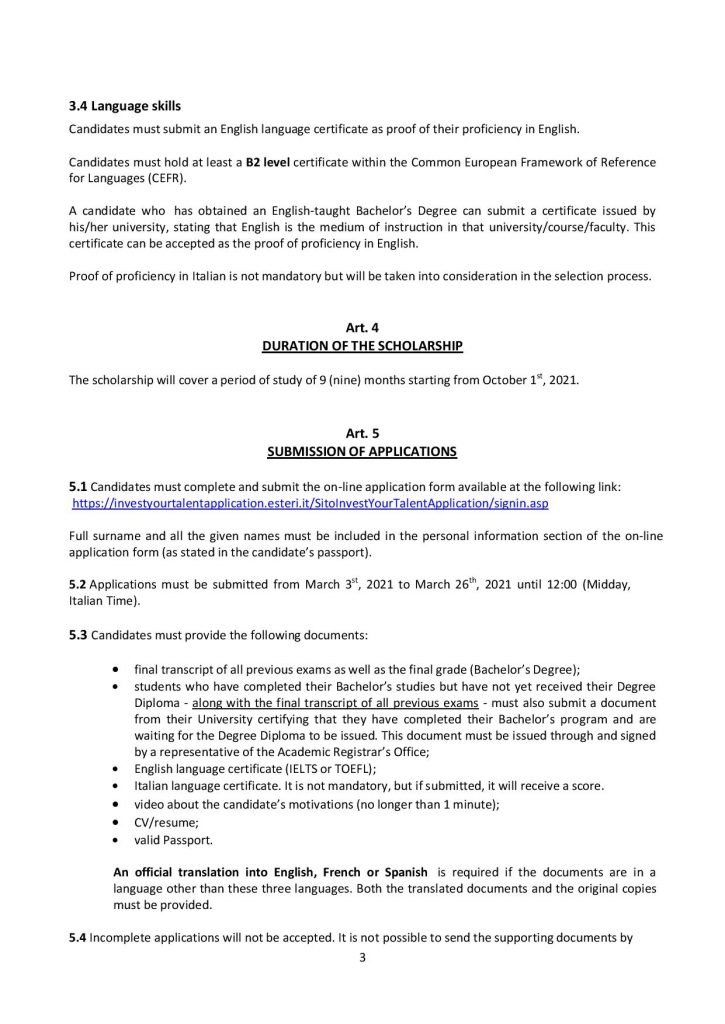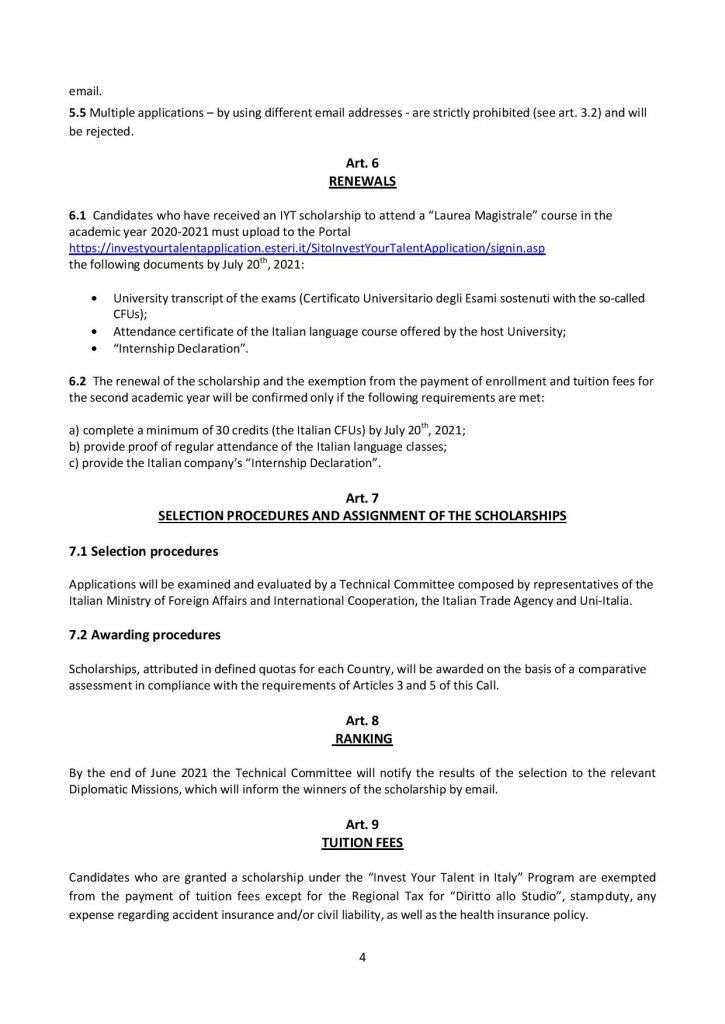 For more information please open this link
https://investyourtalentapplication.esteri.it/SitoInvestYourTalentApplication/progetto.asp
How to Stop Missing Deadlines? Follow our Facebook Page and Twitter !-Jobs, internships, scholarships, Conferences, Trainings are published every day!