APPLY FOR THIS OPPORTUNITY! Or, know someone who would be a perfect fit? Let them know! Share / Like / Tag a friend in a post or comment! To complete application process efficiently and successfully, you must read the Application Instructions carefully before/during application process.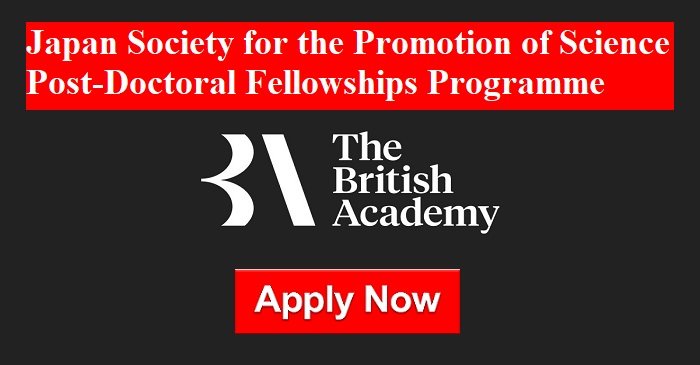 This scheme is open to applications
JSPS Post-Doctoral Fellowships Programme: This programme is open to application and will close 9 March 2022 at 3pm UK time.
The scheme, which is funded by the Japan Society for the Promotion of Science (JSPS), provides the opportunity for highly qualified early career researchers to conduct cooperative research with leading research groups in universities and other Japanese institutions. The Royal Society is provided with a quota for this scheme by JSPS.
Am I eligible to apply?
Research must be within the Royal Society's remit of natural sciences, which includes but is not limited to biological research, chemistry, engineering, mathematics and physics. For a full list, please see the breakdown of subject groups and areas supported by the Royal Society.
Applications for research in the social sciences should apply through The British Academy.
You can apply for this scheme if you:
have a PhD, or will have a PhD by the time the funding starts
have not received your PhD more than six year prior to application
are a UK resident and citizen of a country that has diplomatic relations with Japan
have a research proposal agreed with a Japanese host scientist
The scheme is not open to applicants who have previously been awarded a fellowship under the JSPS Postdoctoral Fellowship Programme for Foreign Researchers (excluding the Postdoctoral Fellowship Programme (Short Term Award) for North American and European Researchers and the Summer Programme).
Before applying, please ensure that you meet all the eligibility requirements, which are explained in the scheme notes.
What is the scheme's value and tenure?
The scheme provides funding for between 12 months and two years, covering:
a round-trip air ticket
a monthly maintenance allowance of 362,000 yen (approximately £2,500)
a settling-in allowance of 200,000 yen (approximately £1,400)
overseas travel accident and sickness insurance coverage
a research grant, "Grant-in-Aid for Scientific Research" (Tokubetsu Kenkyuin Shorei-hi) is available to cover cooperative research-related expenses. Application for these grants is made by the Japanese host researcher through their institution
What is the application process?
Applications should be submitted through the Royal Society's grants and awards management system Flexi-Grant®.
Applications are initially reviewed by panel members with the most appropriate scientific expertise. Following this a shortlist is drawn up which is sent to JSPS for a final decision.
Applicants will be notified of the result by JSPS.
Please note that this scheme is offered by JSPS and is subject to their terms and conditions. Applicants should read through all the information offered on the JSPS website before applying to ensure they fully understand the terms of the award.
The Royal Society recognises that diversity is essential for delivering excellence in science, technology, engineering and mathematics (STEM). The Society wants to encourage applications from the widest range of backgrounds, perspectives and experiences to maximise innovation and creativity in science for the benefit of humanity. We regularly review and revise processes to help ensure that all talented applicants have an equitable chance to succeed as per the assessment criteria. This includes ensuring all panel members are briefed on unconscious bias in decision making as part of the assessment process.
Support for applicants with disabilities
The Royal Society welcomes applications from scientists with disabilities and provides adjustments to ensure that they can participate fully in the selection process. If you need an adjustment when accessing the application form, attending interviews, or for any other part of the application process, please contact the Grants team on international.jsps@royalsociety.org or +44 20 7451 2666. Adjustments can include, but are not limited to:
extension of the deadline
additional support to complete the application form.
For more information regarding the scheme, please contact the Grants team on international.jsps@royalsociety.org or call us on +44 20 7451 2666.
For more information please open this link
Apply Here
https://royalsociety.org/grants-schemes-awards/grants/jsps-postdoctoral
How to Stop Missing Deadlines? Follow our Facebook Page and Twitter !-Jobs, internships, scholarships, Conferences, Trainings are published every day!