APPLY FOR THIS OPPORTUNITY! Or, know someone who would be a perfect fit? Let them know! Share / Like / Tag a friend in a post or comment! To complete application process efficiently and successfully, you must read the Application Instructions carefully before/during application process.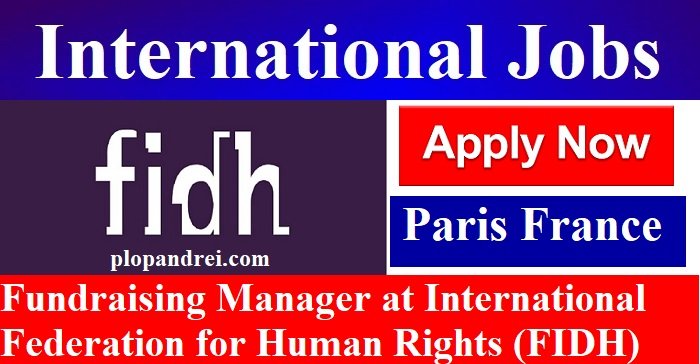 FIDH (International Federation for Human Rights) is an international human rights NGO. Since 1922, we have been committed to the defence of all civil, political, economic, social and cultural rights defined in the Universal Declaration of Human Rights.
We are a federation of 192 members organisations, present in 117 countries. We believe that the transformation of societies is first and foremost the responsibility of local actors. Our activities aim to strengthen their influence and capacity for action.
The FIDH International Secretariat is a people-centered organisation (45 employees in Paris and 14 employees in several countries abroad) and composed of an international and highly committed team. Our Paris office is located in a lively and central area of Paris (near the Bastille and the Gare de Lyon).
We are recruiting for the Fundraising Department :
A FUNDRAISING MANAGER (M/F)
FIDH has invested significantly in its fundraising team to increase income from new sources, better manage existing donors and funders, and work more closely with key internal stakeholders with the aim of improving existing systems and processes.
General objective of the position :
Under the supervision of the Director of Fundraising, within a team of 4 employees with you, the Fundraising Manager stewards existing institutional funders, obtains new funding from large foundations, institutional funders and companies, and will help FIDH grow its major gift funder base in Paris in the lead up to our centenary in 2022, which represents an exciting time in the evolution of FIDH.
This role is a critical position and is instrumental in influencing FIDH's economic model strategy. The Fundraising Manager works in close collaboration with FIDH's Programmes, Advocacy, Finance and Communications Departments, as well as with the CEO and Deputy CEO.
Primary duties and responsabilities
1. Business development (60 % of the time) : identify and solicit new funders aligned with FIDH's multi-year strategic plan, and in particular within the framework of the FIDH Centenary in 2022.
2. Funder stewardship for his.her portfolio (25 % of the time) :
• Establish strong working relationships. Ensuring smooth internal coordination and joined-up communications ;
• Ensure consistency between the activities described in proposals to funders and the budget submitted. Ensure compliance standards and contract implementation. Ensure the successful preparation and timely submission of reports and submissions ;
• Contribute to analysis of success/rejection of proposals to improve programme quality and donor management ;
• Coordinate external evaluations related to funding.
3. Cross-cutting activities (10 % of the time) :
• Contribute to the strategic reflection on fundraising and the evolution of the FIDH economic model ;
• Contribute to the programming and prioritisation of fundraising activities, as well as reporting and evaluation ;
• Promote FIDH interests : participate, represent FIDH at meetings, events and within relevant forums ;
• Contribute to the development of fundraising marketing materials and campaigns ;
• Support advocacy toward funders.
4. Contribute to capacity building within FIDH (5 % of the time) :
• On project design and intervention logic, as well as other relevant fundraising tools, of MEL tools (Monitoring Evaluation and Learning) in partnership with the Deputy Director of Programmes ;
• Be a mentor within the fundraising team and contribute to the development and strengthening of a donor-centred fundraising culture within FIDH.
Profile
You have imperatively at least 6 years of professional experience (excluding internships) to a similar position in fundraising, preferably within an international organisation. You have a donor-centred approach in complex multi-stakeholder partnerships. You have a proven expertise of at least 4 years in project and programme design, intervention logic, Theory of Change.
You have excellent collaboration, negotiation and problem-solving skills. Excellent written and communication skills. You are fluent in written and spoken French (C2) and English (C1). Knowledge of Spanish is desired.
Previous experience with major human rights funders (European development agencies and governments, international private foundations) would be a strong advantage. Master's degree level of education in human rights, international affairs, social sciences or similar is an asset.
You like working in a team and are flexible in helping your colleagues. You know how to work in a rush and manage priorities. You are rigorous and organized. Knowledge of Salesforce and Open Office is desired.
The candidate must be in total agreement with the values at work in the FIDH International Secretariat (professionalism, respect, commitment, equality, honesty, participation, audacity), as well as with FIDH's fight for the defence of human rights for all, everywhere in the world, as explained in our statutes and through its publications accessible on our website : www.fidh.org
FIDH seeks diversity and is committed to equality by not discriminating in our hiring practices, without distinction of any kind, based on race, religion, age, disability, sex, marital status, sexual orientation, gender identity, health status or any other situation protected by French and international human rights law.
For people with disabilities, please advise in writing of special needs at the time of application. Reasonable accommodation will be made so that qualified persons with disabilities may participate in the application process.
What we offer
Full-time permanent contract. Status Cadre. Position based in Paris. Gross annual salary from 39 K€ over 13 months, according to experience. 25 days of paid vacation + 24 RTT days per year. Complementary health care covered 80% by FIDH. Restaurant vouchers with a face value of € 9, covered at 60% by FIDH. Support for 50% of the public transport subscription.
You will have the opportunity to collaborate with grassroots human rights activists around the world.
Start date : as soon as possible.

Do you fit the profile ?
Send your CV and a letter explaining your motivation for this position to recrutement@fidh.org mentioning the reference in object RESP.FUNDRAISING-0721 at the latest August 29th to Lisa SMITH, Fundraising Director.
Only candidates whose applications have been selected will be contacted.
https://www.fidh.org/en/com/recruitment/
How to Stop Missing Deadlines? Follow our Facebook Page and Twitter !-Jobs, internships, scholarships, Conferences, Trainings are published every day!