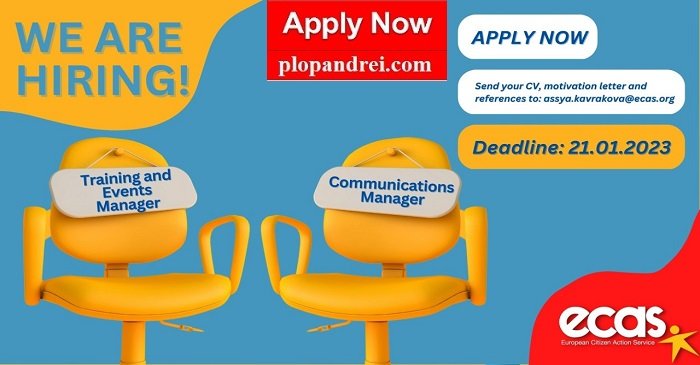 Job location: Brussels
Base salary: 2000€ per month
Date posted:January 06, 2023
Valid through: January 21, 2023
Description of the Job
The successful candidate will coordinate the implementation of ECAS' training and events' agenda in its EU RIGHTS and EUROPEAN DEMOCRACY focus areas and its promotion during the European Year of Skills (2023).
ECAS' events target diverse audiences, such as civil society organisations, public authorities, decision makers, experts, citizens etc.
ECAS' training activities take place both online and in the form of offline events in Brussels and in the EU Member States.
ECAS' Training and Events' Manager should have an excellent understanding of the European Values, European citizenship issues and an ambition to ensure diversity and inclusion of underrepresented groups in ECAS' activities.
Commitment to ECAS' mission and values is a must.
Responsibilities
Reporting to the Director of ECAS and working in close collaboration with ECAS' team members, the
Candidate will:
Support the implementation of ECAS' training and events' agenda.
Coordinate ECAS' training and awareness raising events.
Consolidate and digitalise ECAS' training experience and expertise.
Design new training modules.
Recruit training and events' participants.
Develop and manage ECAS' online courses.
Promote ECAS' Training Center through a tailor-made campaign during the European Year of Skills.
Knowledge and Experience
University or Master's Degree in Law, International Relations, Political Science, European Studies or any other relevant field.
At least 5 years of professional experience in training and/or events' organisation.
Excellent knowledge of the EU decision-making process.
Excellent knowledge of European Values, European citizenship, EU Rights and European Democracy – related issues.
Experience in training management and delivery, including KPIs -related reporting.
Experience in designing/managing online courses.
Public speaking experience.
Skills Required
English language proficiency – written and oral.
Events' management skills.
Excellent written and verbal communication skills.
Excellent organisational skills.
Friendly, social, proactive.
Innovative and result-orientated.
Team worker but capable of performing tasks independently.
Capable to working under pressure and observing strict deadlines.
Capable of multitasking.
Contract
The position is based in Brussels. The successful candidate will be offered a one-year contract with a possibility of transforming it into a permanent employment contract after a performance review evaluation. The salary depends on the experience of the candidate. The starting salary is EUR 2,000 net, including benefits. Food vouchers are provided in addition.
Deadline for Applications
Applications – CV and Motivation Letter including references – should be submitted by 21 January 2023 to Ms. Kavrakova by email entitle "Training and Events' Manager Application" to: assya.kavrakova@ecas.org.
ECAS is an equal opportunity employer which seeks to further diversify its staff in terms of gender, culture and nationality.
Only shortlisted candidates will be contacted for an interview
For more information please open this link
Apply Here