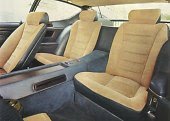 Espada was the only 4-seater that Lamborghini had ever produced. Based on an all-new semi-monocoque chassis, it was long enough to accommodate 2 more adults with comfort, that made it the roomiest GT.
Apart from space, its drivetrain also gave it advantages over rivals from Ferrari and Maserati. Engine came from the familiar 400GT, which displaced 3.9 litres and mounted in front rather than rear as the prototype. In debut, 320 hp was available, but a couple of years later it was improved to 350 hp by raising compression ratio from 9.5 to 10.7 to 1. Power transferred to a slick changing ZF five-speed box. As a whole, these combinations provided a healthy 52:48 front-to-rear weight distribution. Therefore the Espada was praised for powerful, relatively easy to operate and had a good road manner, while the only drawback was the Italian-styled driving position.
Espada was the second most successful classic Lamborghini in terms of sales. 1,217 Espadas were built between 1968 and 1978. If not hit by the company's financial crisis, it would have survived longer.
Year of production
All series: 1968-78
Layout, gear box
Front-engined, Rwd, 5M
Chassis
Central monocoque + subframes
Engine
V12, dohc, 2v/cyl.
Capacity
3929 c.c.
Power
350 hp
Torque
290 lbft
Weight
1685 kg
Top speed
150 mph*
0-60 mph
6.9 sec