APPLY FOR THIS OPPORTUNITY! Or, know someone who would be a perfect fit? Let them know! Share / Like / Tag a friend in a post or comment! To complete application process efficiently and successfully, you must read the Application Instructions carefully before/during application process.
Am o întrebare la deputatul Constantin Codreanu…
Costel, românii din R. Moldova te-au ales deputat în Parlamentul României, deci tu ar trebui să ne reprezinți pe toți, nu doar un grup de unioniști rătăciți care lovesc în Blocul ACUM. Pentru că în Blocul ACUM sunt o mulțime de români care te-au votat să-i reprezinți în Parlamentul României.
Te-am ales în Parlamentul României pentru că Traian Băsescu a fost garantul Partidului Mișcarea Populară, nu pentru că ai fi meritat în vreun fel.
Din câte știu, PUN a decis, citez: "împreună cu colegii şi cu preşedintele de onoare al PUN, domnul Traian Băsescu, că o participare a noastră în aceste alegeri ar afecta şi ar pune sub semnul întrebării o victorie clară a forţelor pro-europene. Vom sprijini colegii ACUM cu toate puterile noastre pentru că, la acest moment sunt cei care au cele mai mari şanse să învingă actuala putere".
Pe scurt, Traian Băsescu a declarat că susține Blocul ACUM.
Tu ce cauți și pe cine reprezinți în alegerile parlamentare din 24 februarie?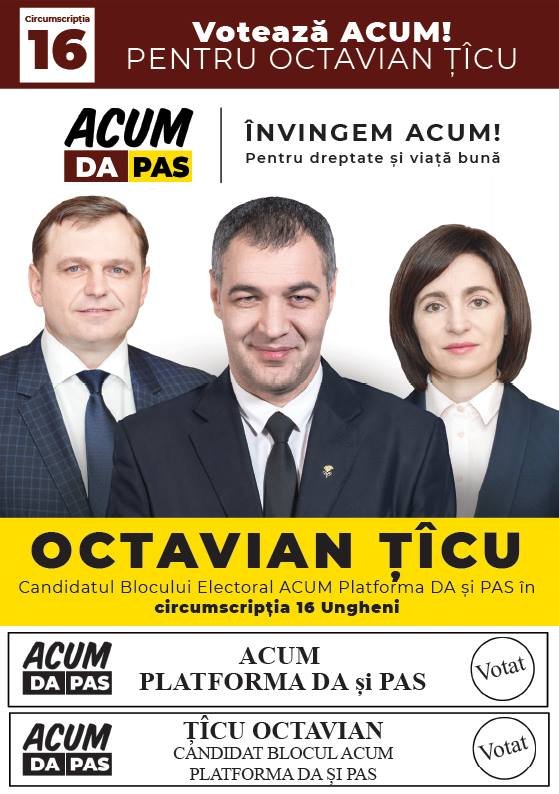 6 – Octavian Țîcu
Apartenența politică:
Independent
Anul nașterii:
1972
Locul nașterii:
Costuleni, Ungheni
Cercetător-coordonator, Institutul de Istorie, Academia de Ştiinţe a Moldovei
Conferenţiar Universitar, Facultatea de Istorie şi Filosofie, Universitatea de Stat din Moldova
Ex-ministru al Tineretului și Sportului al Republicii Moldova, 2013
De 7 ori

campion

național la Box în Republica Moldova
Studii de doctorat, Universitatea Alexandru Ioan Cuza, Iași, România, 1994-2000
Licență în Istorie, Universitatea Alexandru Ioan Cuza, Iași, România, 1989-1994
How to Stop Missing Deadlines? Follow our Facebook Page and Twitter !-Jobs, internships, scholarships, Conferences, Trainings are published every day!