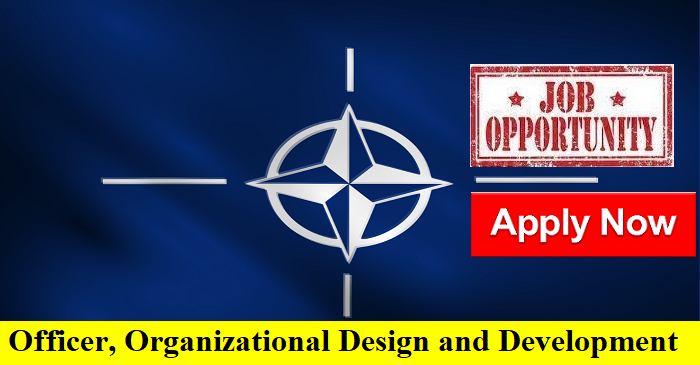 Primary Location-
Belgium-Brussels
NATO Body
–
NATO International Staff (NATO IS)
Salary (Pay Basis)
:
6,211.72
Euro (EUR)
Monthly
:
1.       SUMMARY
Within the Executive Management Division (EM), NATO's International Staff (IS) Human Resources (HR) Directorate is comprised of four pillars: Talent Management and HR Integration (TMHRI); Staff Services (pay and benefits, personnel support);  HR Policy and Strategy Coordination (IS and NATO-wide HR policy); and the Medical Service. The TMHRI Section is responsible for Talent Acquisition, Talent and Organizational Development and HR Business Partnership.
As part of Talent and Organizational Development within TMHRI, the incumbent will provide expertise, consultancy, support and advice in the area of Organizational Design and Development (ODD) for NATO International Staff. In addition, s/he will participate in the review and improvement of existing organisational processes and procedures to implement cutting-edge practices in close collaboration with clients and HR Advisors (HRAs).
Furthermore, s/he will support management studies, contribute to reform and change management initiatives from an organisational design and development subject matter expert angle.
2.       QUALIFICATIONS AND EXPERIENCE
ESSENTIAL
The incumbent must:
possess a university degree;

have at least 5 years of relevant experience in Human Resources Management, Business Analysis, Performance Audit, Consulting; or any other relevant fields;

have experience in conducting qualitative and quantitative research and analysis;

have demonstrated analytical and conceptual thinking;

have experience in client facing roles;

have minimum two years of experience in people management; and

possess the following minimum levels of NATO's official languages (English/French): V ("Advanced") in one; II ("Elementary") in the other.
DESIRABLE
The following would be considered an advantage:
a graduate degree (Masters or Ph.D.) in a related field;

experience in a broad range of project management activities related to Human Resources Management;

a higher level of the second official language;

experience in a field of NATO core business (international relations, political affairs, defence, security…) and/or a functional area of other HR clients (e.g. IT, finance, construction and general services, etc.).
3.       MAIN ACCOUNTABILITIES 
Expertise Development
Remain abreast of the latest developments in ODD, including HR trends, new business models and technology applicable to the field. Establish the ODD team as key subject matter experts for organisational change initiatives and workforce planning through coaching. Continuously improve, with the ODD team, the frameworks and models underlying the core ODD work. Analyse and assess staffing related requests and organisational change proposals, including potential budgetary impact.  Interpret ODD related policies, provide advice and recommendations on establishment levels, job classification, organisational structures, working methods and management processes.  Propose, discuss, and implement initiatives to improve the work and expertise of ODD team. Oversee the work of the ODD team in terms of objective, constructive and practical advice to line managers concerning post descriptions and other ODD related changes. Participate in broader NATO-wide studies affecting job classification methods and advise other NATO bodies as appropriate.
People Management
To further develop the ODD function within the Organization, provide in depth mentoring to a team of specialists through sound and inclusive management practices.  In alignment with TOD, create a learning, development and growth culture within ODD. Keep the team aligned and clear in terms of Organizational, Divisional, Directorate and Section objectives, and make performance feedback and continuous improvement a part of the team culture. Particularly in critical moments, be present, listen, and provide guidance and support. Provide regular and fair feedback on performance, informally as appropriate and via the HQ Performance Review and Development (PRD) system. Promote integrity, professionalism and accountability; be a role model.
Project Management
Manage the process for workforce planning exercises. Act as the subject matter expert in ODD related change initiatives.  Provide support to Head TOD in relation to large-scale projects and studies related to reforms, organisational effectiveness and efficiencies, and organisational design improvements. Design and deliver workshops on best practices, NATO IS ODD models and frameworks.
Stakeholder Management
Liaise with and support HRAs and line managers concerning their ODD queries and requests. Collaborate with and educate clients and other services in HR to ensure that ODD models and frameworks are understood and integrated into recruitment, learning and development, and performance management programmes.
Knowledge Management
Ensure that the IS establishment and headcount is properly documented based on data from involved stakeholders. Stay abreast of ODD developments, policy and technology, and share this knowledge with colleagues. Develop, implement and/or leverage the most agile knowledge management tools to effectively manage large sets of data.
Information Management
Develop, implement or leverage procedures and tools for post description creation, tracking, and dissemination, ensuring effective and efficient treatment.  Contribute to the optimisation of the information flow for TOD, particularly in relation to the further implementation of NATO's Enterprise Resource Planning (ERP) solution.
Perform any other related duty as assigned.
4.       INTERRELATIONSHIPS
The incumbent reports to the Head, Talent and Organizational Development and works in close coordination with staff in Talent Acquisition Service and HRAs, as well as the broader HR team. Therefore, coordination, collaboration, teamwork, customer service, and adaptability will be necessary. S/He will develop close working relationships with staff at all levels including Administrative and Executive Officers and line managers. S/He will provide expertise in support of HR Policy and Strategy Coordination work, and serve as a contact with other NATO bodies and national and international organisations on matters related to organisational development, organisational structure, job classification and grading issues.
Direct reports: 3
Indirect reports: N/a
5.       COMPETENCIES
The incumbent must demonstrate:
Analytical Thinking: Sees multiple relationships;

Achievement: Works to meet standards;

Clarity and Accuracy: Checks own work;

Conceptual Thinking: Applies learned concepts;

Customer Service Orientation: Takes personal responsibility for correcting problems;

Empathy: Is open to others' perspectives;

Impact and Influence: Takes multiple actions to persuade;

Initiative: Is decisive in a time-sensitive situation;

Teamwork: Solicits inputs and encourages others.
6. CONTRACT
Contract to be offered to the successful applicant (if non-seconded): Definite duration contract of three years; possibility of renewal for up to three years, during which the incumbent may apply for conversion to an indefinite duration contract.
Contract clause applicable:
In accordance with the contract policy, this is a post in which turnover is desirable for political reasons in order to be able to accommodate the Organisation's need to carry out its tasks as mandated by the Nations in a changing environment, for example by maintaining the flexibility necessary to shape the Organisation's skills profile, and to ensure appropriate international diversity.
The maximum period of service foreseen in this post is 6 years. The successful applicant will be offered a 3-year definite duration contract, which may be renewed for a further period of up to 3 years. However, according to the procedure described in the contract policy the incumbent may apply for conversion to an indefinite contract during the period of renewal and no later than one year before the end of contract.
If the successful applicant is seconded from the national administration of one of NATO's member States, a 3-year definite duration contract will be offered, which may be renewed for a further period of up to 3 years subject also to the agreement of the national authority concerned. The maximum period of service in the post as a seconded staff member is six years.
Serving staff will be offered a contract in accordance with the NATO Civilian Personnel Regulations.
NOTE: Irrespective of previous qualifications and experience, candidates for twin-graded posts will be appointed at the lower grade. Advancement to the higher grade is not automatic, and will not normally take place during the first three years of service in the post.
Under specific circumstances, serving staff members may be appointed directly to the higher grade, and a period of three years might be reduced by up to twenty four months for external candidates.  These circumstances are described in the IS directive on twin-graded posts.
7. RECRUITMENT PROCESS
Please note that we can only accept applications from nationals of NATO member countries.
Applications must be submitted using e-recruitment system, as applicable:
For NATO civilian staff members only: please apply via the internal recruitment portal (

link

);

For all other applications: www.nato.int/recruitment
Please note that at the time of the interviews, candidates will be asked to provide evidence of their education and professional experience as relevant for this vacancy.
Appointment will be subject to receipt of a security clearance (provided by the national Authorities of the selected candidate) and approval of the candidate's medical file by the NATO Medical Adviser.
More information about the recruitment process and conditions of employment, can be found at our website (http://www.nato.int/cps/en/natolive/recruit-hq-e.htm).
8. ADDITIONAL INFORMATION
NATO is committed to diversity and inclusion, and strives to provide equal access to employment, advancement and retention, independent of gender, age, nationality, ethnic origin, religion or belief, cultural background, sexual orientation, and disability. NATO welcomes applications of nationals from all member Nations, and strongly encourages women to apply.
Building Integrity is a key element of NATO's core tasks. As an employer, NATO values commitment to the principles of integrity, transparency and accountability in accordance with international norms and practices established for the defence and related security sector. Selected candidates are expected to be role models of integrity, and to promote good governance through ongoing efforts in their work.
Due to the broad interest in NATO and the large number of potential candidates, telephone or e-mail enquiries cannot be dealt with.
Applicants who are not successful in this competition may be offered an appointment to another post of a similar nature, albeit at the same or a lower grade, provided they meet the necessary requirements.
The nature of this position may require the staff member at times to be called upon to travel for work and/or to work outside normal office hours.
The organization offers several work-life policies including Teleworking and Flexible Working arrangements (Flexitime) subject to business requirements.
Please note that the International Staff at NATO Headquarters in Brussels, Belgium is a non-smoking environment.
For information about the NATO Single Salary Scale (Grading, Allowances, etc.) please visit our 
website
. Detailed data is available under the Salary and Benefits tab.
For more information please open this link
Apply Here