APPLY FOR THIS OPPORTUNITY! Or, know someone who would be a perfect fit? Let them know! Share / Like / Tag a friend in a post or comment! To complete application process efficiently and successfully, you must read the Application Instructions carefully before/during application process.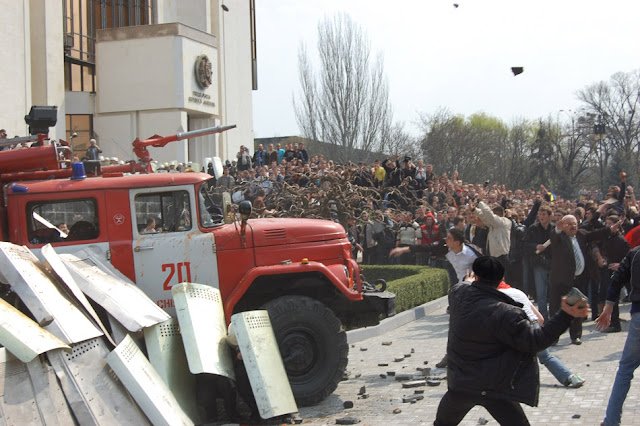 Ștefan cel Mare:

Am văzut cadoul primit de Plahotniuc de la Erdogan și am râs în hohote! Pentru că imediat mi-am adus aminte de 7 aprilie și de autospecialele trimise de Voronin împotriva tinerilor! Cei care au dorit să sperie protestatarii cu autospeciale au primit pietre și pumni inclusiv și din partea fetelor! După ce Voronin și-a scos autospecialele, foarte rapid aceste autospeciale au fost călărite de către tineri dornici de libertate! Moldovenii nu sunt turci! Moldovenii au un spirit de luptă mult mai bun decât turcii! Cel puțin eu nu cunosc ca Moldovenii să fii pierdut vreun război cu turcii având același număr de soldați pe câmpul de luptă! I-am bătut pe 120 000 turci cu 40 000 de moldoveni! Moldovenii sunt mult mai creativi și le-ar trebui 30 de minute ca să-i întoarcă cu roțile în sus autospecialele sultanului! Atunci când Plaha va hotări să scoată să utilizeze aceste autospeciale vă asigur că și femeile o să arunce în aceste autospeciale ce o să găsească prin gențile lor! Iar noi moldovenii știm, că în gențile femeilor găsești de toate! Moldovenii nu vor fugi de tunurile de apă ale sultanului! ]n toat[ istoria Moldovei am pierdut doar atunci când am fost trădați din interior sau când toate resursele erau epuizate și eram în număr inferior contra unor imperii!


Am râs de cadoul lui Erdogan pentru că se observă frica lui Plaha de o nouă revoluție în RM. Indiferent ce ar zice unii, însă pentru mine ziua de 7 aprilie este o zi a libertății! Este o zi în care am demonstrat că prin venele noastre mai curge sânge de Ștefan! Este o zi în care au ieșit peste 40 000 de tineri și strigau toți jos comuniștii! Nu voi uita niciodată imaginea în care fetele luptau alături de băieți împotriva regimului comunist! Sunt mândru de acea generație! Însă nu pot să accept faptul că după ce s-au dezamăgit de așa numitele partide pro-europene, acea generație de tineri au renunțat foarte ușor! Să nu mai lupte în continuare pentru Republica Moldova! Sunt tineri care mai luptă însă nu sunt 40 000 tineri! Știu că sunt foarte mulți tineri dezamăgiți de toata clasa politică din RM! Unii ar zice că toți sunt niște panarame! Unii ar zice că aștia care vor veni, vor face la fel ca precedenții! Că nu avem ce să alegem! Că oricum nu contează ceea ce zic eu! Unii ar zice – mai bine stau și îmi caut de treburile mele! De ce trebuie eu să risc!Si nu ai ce să le reproșezi acestor tineri! Pentru că prea mulți când au ajuns la putere au trădat această țară! Însă asta nu înseamnă că trebuie să cedăm! Să le dăm pe tavă Moldova otomanilor, rușilor, arabilor… etc! Știu că în Moldova a crescut o nouă generație de tineri! Însă foarte mulți tineri au plecat din țară și sunt utili în țările unde au fost ,,adoptați" ! Sunt prețuiți și respectați mai mult decât în Moldova!!! Mă adresez către acei tineri care sau dezamăgit însă care iubesc foarte mult Moldova avem nevoie de ajutorul vostru! Mă adresez către militari, polițiști care doresc un alt viitor pentru Moldova avem nevoie de ajutorul vostru! Avem nevoie de ajutorul vostru ca să-l alungăm pe Plahotniuc cu șuturi în fund din Moldova!



Ideal ar fi să-l inchidem în pușcărie și să aplicăm ,,pumnul justiției" sau să fie pusă în aplicare o justiție care nu este coruptă, însă cer scuze pentru greșeala mea în materie de drept, însă prespun că majoritatea din voi v-ați dat seama la ce m-am referit! Scriu ideal că ar fi să-l închidem în Moldova, pentru ca atunci când Plaha va simți că miroase a libertate în Moldova va zbura din RM cu primul avion la Poartă! Noi, cetățenii Republicii Moldova trebuie să transformăm casa lui Plaha într-un muzeu al corupției! Noi avem curaj, iar de răbdare nu avem nevoie! Nu putem să răbdăm ca să fim umiliți în continuare!
Cine este de acord ca să alungăm această guvernare cu șuturi în fund să dea un like/share! Vreau să cred că adunam 40 000 de like/share! Presupun că v-ați dat și voi seama de ce 40 000!


Replici și citate de Ștefan Cel Mare
How to Stop Missing Deadlines? Follow our Facebook Page and Twitter !-Jobs, internships, scholarships, Conferences, Trainings are published every day!