APPLY FOR THIS OPPORTUNITY! Or, know someone who would be a perfect fit? Let them know! Share / Like / Tag a friend in a post or comment! To complete application process efficiently and successfully, you must read the Application Instructions carefully before/during application process.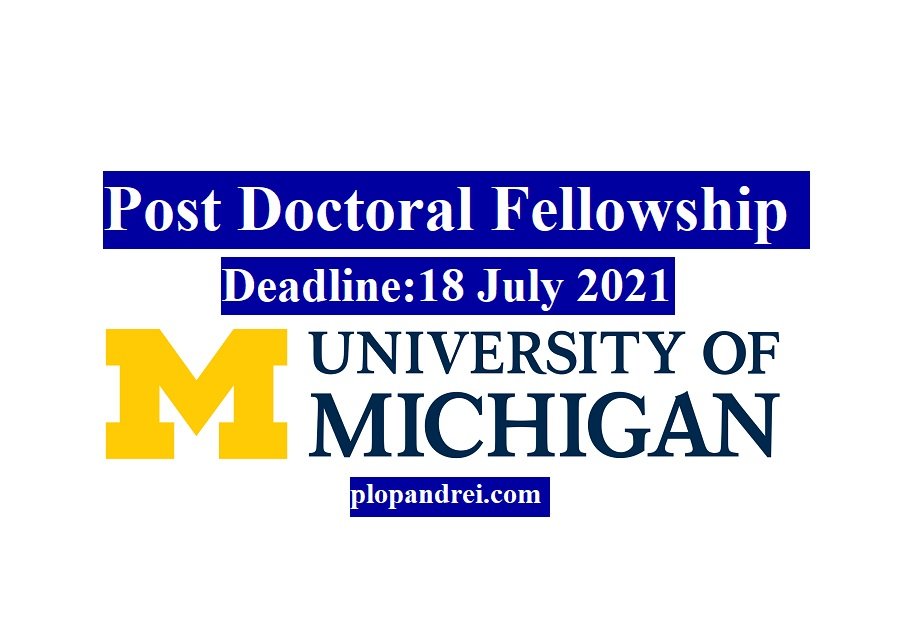 Clicking "Apply Now" opens the link in a new window.
How to Stop Missing Deadlines? Please Follow our Telegram channel https://t.me/PlopAndreiCom ( @plopandreicom)
How to Apply
The application deadline is July 18, 2021.
Applicants should prepare the following materials:
Cover letter describing your qualifications related to the position and research accomplishments
Curriculum vitae
Contact information for three professional references
Two representative publications
Please contact Mary Ogdahl at ogdahlm@umich.edu with inquiries regarding this position or if further information is needed.
Job Summary
A postdoctoral fellowship is available for a highly qualified individual to join the Cooperative Institute for Great Lakes Research (CIGLR, ciglr.seas.umich.edu/).  The successful candidate will work with the climate modeling team at the NOAA Great Lakes Environmental Research Laboratory (GLERL) to improve our ability to simulate climate change and variability in the Great Lakes region. In particular, the candidate will work on the Great Lakes Earth System Model (GLESM) project to use the climate model outputs from the Geophysical Fluid Dynamics Laboratory to drive the Great Lakes coupled ice-lake model (FVCOM_ice model). The postdoc will be expected to maintain a strong record of scholarly publication, and also of presentation at scientific conferences and public meetings.
The successful applicant's appointment will be with CIGLR, which is part of the University of Michigan's School for Environment and Sustainability located in Ann Arbor, Michigan. CIGLR's mission is to lead research, develop applications and products, and engage with stakeholders to achieve environmental, economic, and social sustainability in the Great Lakes. CIGLR is a collaboration between the University of Michigan and NOAA that brings together experts from academia and government research labs to work on pressing problems facing the Great Lakes region. The fellow will spend the majority of their time at the NOAA Great Lakes Environmental Research Laboratory in Ann Arbor (with current accommodations for the coronavirus pandemic) and work in close collaboration with colleagues at the University of Michigan.
The University of Michigan is consistently ranked among the top American public research universities, and Ann Arbor is routinely ranked as one of the best places to live in the U.S. due to its affordability, natural beauty, preservation of wooded areas, vibrant arts program, and lively downtown.
This position offers a highly competitive salary plus benefits. The initial appointment is for one year, with opportunity for extension based on performance, need, and availability of funds.
Required Qualifications*
A Ph.D. in physical oceanography, atmospheric sciences or a similar field, with a strong background in ocean or/and ice modeling is required. Familiarity with data analysis and visualization in a scripting environment using R, Python, or similar software is also necessary. Experience with running simulations on supercomputer or cluster computing environment is preferred. Strong communication skills are needed, and a demonstrated ability to work both as a team and independently, as well as lead the development of manuscripts for refereed journal publication.
Desired Qualifications*
Preference will be given to candidates that have strong experience with an ocean model(s) such as FVCOM, POM, ROMS, MITgcm, or any other ocean model. Preference will also be given to candidates with a demonstrated ability to analyze data and publish results in a timely manner.
Application Deadline
Job openings are posted for a minimum of seven calendar days.  The review and selection process may begin as early as the eighth day after posting. This opening may be removed from posting boards and filled anytime after the minimum posting period has ended.
U-M EEO/AA Statement
The University of Michigan is an equal opportunity/affirmative action employer.
Benefits at the University of Michigan
In addition to a career filled with purpose and opportunity, The University of Michigan offers a comprehensive benefits package to help you stay well, protect yourself and your family, and plan for a secure future. Benefits include:
Generous time off
A retirement plan that provides two-for-one matching contributions with immediate vesting
Many choices for comprehensive health insurance
Life insurance
Long-term disability coverage
Flexible spending accounts for healthcare and dependent care expenses
Eligibility for benefits is based on your job group, your appointment percentage and the length of your appointment. Learn more about employee benefits and eligibility and download the Comprehensive Benefits for Faculty and Staff flier.
Time Away from Work
Generous paid time off for vacation, holidays and sick time, as well as paid maternity and parental leave. The amount of time you accrue is based on your position, length of service, and where you work.
University observed holidays:
New Year's Day
Memorial Day
Independence Day
Labor Day
Thanksgiving Day
Day After Thanksgiving
Christmas Day
Most areas offer the flexibility to substitute holidays when needed or when the nature of your job requires work on a designated holiday.
Retirement Plan
The university offers a generous two-for-one match of employee contributions to the 403(b) Basic Retirement Plan, with the option to save more through a 403(b) Supplemental Retirement Account (SRA) and a 457(b) Deferred Compensation Plan. SRA and 457(b) contributions can be made on a pre-tax or after-tax (Roth) basis. Employees can choose to invest with TIAA or Fidelity Investments, or both.
Health Insurance
As an employee, you have immediate access to health insurance and prescription drug coverage beginning on your first day of employment. The university regularly reviews all plans to ensure quality and value.
The University of Michigan offers a choice among several plans and plan types, including comprehensive major medical, HMO and preferred provider organization (PPO). Coverage also is available for dependents who meet age and other guidelines.
Employees can pair any U-M health plan with a pre-tax healthcare Flexible Spending Account.
Prescription Drug Plan
All eligible participants in university health plans plans are automatically enrolled in the U-M Prescription Drug Plan, which covers most prescription drugs with no deductible. The plan offers a nationwide network of retail pharmacies, as well as a convenient mail order service with reduced copays.
Dental Plan
The University of Michigan Dental Plan is administered through the Delta Dental of Michigan. The plan offers a choice of three coverage levels.
Vision Plan
Vision coverage is offered to eligible staff through Davis Vision, a preferred provider organization (PPO). As a plan participant, you receive one eye examination and one pair of eyeglasses every year.
Workplace Health and Well-being
U-M is a workplace where healthy living is encouraged and supported. MHealthy, the university's health and well-being program, helps U-M faculty and staff be at their best—physically, mentally and emotionally.
Learn more about MHealthy and our commitment to a community of health.
For More Information
Learn more about our generous and competitive benefits package.
How to Stop Missing Deadlines? Follow our Facebook Page and Twitter !-Jobs, internships, scholarships, Conferences, Trainings are published every day!