APPLY FOR THIS OPPORTUNITY! Or, know someone who would be a perfect fit? Let them know! Share / Like / Tag a friend in a post or comment! To complete application process efficiently and successfully, you must read the Application Instructions carefully before/during application process.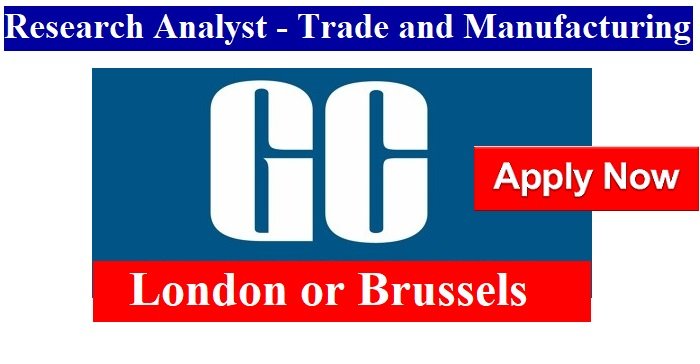 Research Analyst – Trade and Manufacturing (UK/EU)
Global Counsel (GC) is hiring a Research Analyst to support its growing Trade Policy and Manufacturing Practice.
This is an initial 12-month contract from January 2022 with the possibility for the position to become a permanent role.
The successful candidate will support GC client work across a range of international clients, including consumer goods, retail, life sciences, manufacturing and services sectors. We are inviting applicants with a strong interest in trade, public policy, global business, political economics and international affairs. This is an exciting opportunity for intelligent, politically astute and commercially aware recent graduates and young professionals who have exceptional research, analytical and written communication skills and are seeking a career in public policy, political risk and analysis and business.
The role will focus on monitoring, researching, and writing on highly political and topical policy themes impacting goods and services trade as well as evolving cross border regimes globally for IP protection, investment and more sustainable international trade. This includes identifying and analysing challenges facing EU and UK trade such as border checks and controls and regulatory divergence between the two markets, as well as understanding the impact of geopolitical trade tensions, US-China decoupling, supply chain due diligence legislation and the Covid-19 crisis on global supply chains.
The successful candidate will provide research support to the trade and manufacturing team and contribute to developing practical strategic advice to clients on the trade-related policy developments in the EU and UK, and evolving global market access regimes, relevant regulatory frameworks and the political pressures for reforming them. It is an opportunity to further develop expertise at the interface between business, politics and the system of international trade rules.
Examples of GC work in this area can be found in the analysis and blog sections of our website.
Role and responsibilities
​The role will entail a broad range of work including:
Undertaking high quality analytical research and monitoring on a wide range of relevant policy, political, and regulatory developments in support of regular GC written products such as slide decks, flash analysis on key events, longer deep-dive research reports, and succinct e-mails tailored to the client.
This includes identifying the implications from policy developments and changes to cross-border trade and investment regimes for clients supply chains and investments.
Presenting information clearly and compellingly in writing and through the visualisation of relevant data.
Supporting business development efforts by researching the market for GC services and potential new clients.
Providing some administrative support related to event planning, CRM inputs and business development efforts.
Providing wider support to members of the team, and other ad-hoc tasks as and when required.
Building a network of contacts among policymakers, regulators, trade associations, and other key stakeholders.
Skills and profile
We seek curious and analytical individuals interested in policy and politics and how they interact with commercial interests and who enjoy research and writing.
Degree level qualification in economics, political science, international political economy, business, journalism or a related discipline, or can demonstrate commeasurable work experience.
Excellent written English and comfort in quickly learning and using core software for data interpretation and visualisation, including PowerPoint, Microsoft Excel and Tableau. Strong editorial and data visualisation skills as well as experience with CRMs are a plus.
0-1 years research experience on trade-related policy issues in government, international institutions, think tanks, consultancies, media, political campaigns or the in-house policy team of a company.
Demonstrated interest and/or experience in EU, UK, US, China and WTO policymaking, particularly regarding EU-UK trade relations.
Robust understanding of – or evidence of the ability to quickly master – key trade policy areas. These include (but are not restricted to), SPS measures and technical barriers to trade, trade-related intellectual property protection, market access, supply chain due diligence, sustainable international trade, digital trade and the role of mutual recognition and equivalence frameworks in trade policy.
Strong interest in the practical application of the above concepts and legal frameworks to key economic sectors, including food and drink, consumer goods, retail, pharmaceuticals, manufacturing and services.
A motivated self-starter who works well independently and as part of a team.
The GC team speaks more than 25 languages across our five offices. We highly value strong foreign language skills, but excellent English (native or near native) is essential.
What's in it for you?
The research analyst will learn about how a strategic advisory like GC operates and will develop skills pertaining to how to tackle difficult questions asked by its clients, how to go about business development and how to create content that is easily digestible for an audience of public affairs leads and executive committee members.
A competitive London-based salary with 20 days' holiday allowance plus bank holidays, 5 hybrid days, summer parties and discretionary Christmas office closures.
A full package of benefits including pension, health and dental insurance, as well as company social activities, and EAP and wellbeing support.
Access to our London office and high-quality IT and ergonomic support for remote working.
A strong professional development program including a personal training budget. This includes supporting the research analyst's efforts to build their professional network as well as support in developing their thought leadership by publishing blogs and other content.
The chance to learn from world-class advisers and political experts in a fast-growing firm.
This is a full-time role based in London or Brussels with the possibility for work travel.
The role is initially a 12-month contract with potential to become a permanent post.
How to apply
Please submit your CV and cover letter, outlining your suitability for the role, for consideration by 17:00 GMT on Friday 3 December 2021 through the web form.
Successful candidates will be invited to further selection stages, including a written exercise and a virtual / face-to-face interview.​
Details
VA61
Research Analyst – Trade and Manufacturing (UK/EU)
UK
UK/EU
0-1 years
03 Dec 2021
Global Counsel is committed to equal opportunities, respect and wellbeing for all staff and applicants for employment. We are committed to building a team that genuinely reflects the diversity of the places we work. We are committed to achieving a culture where there is regard for all and there is no place for discrimination and harassment of any type.
Our aim is for GC to be a company where all our staff have the opportunity to grow, develop, succeed and be their authentic selves whatever their sex, race, colour, class, religion, age, national origin, disability status, genetics, sexual orientation, gender identity or expression. This policy applies to all terms and conditions of employment, including recruiting, hiring, placement, promotion, termination, redundancy, leaves of absence, salary and training.
For more information please open this link
Apply Here
https://www.global-counsel.com/about-us/careers/VA61/research-analyst—trade-and-manufacturing-uk-eu
How to Stop Missing Deadlines? Follow our Facebook Page and Twitter !-Jobs, internships, scholarships, Conferences, Trainings are published every day!