APPLY FOR THIS OPPORTUNITY! Or, know someone who would be a perfect fit? Let them know! Share / Like / Tag a friend in a post or comment! To complete application process efficiently and successfully, you must read the Application Instructions carefully before/during application process.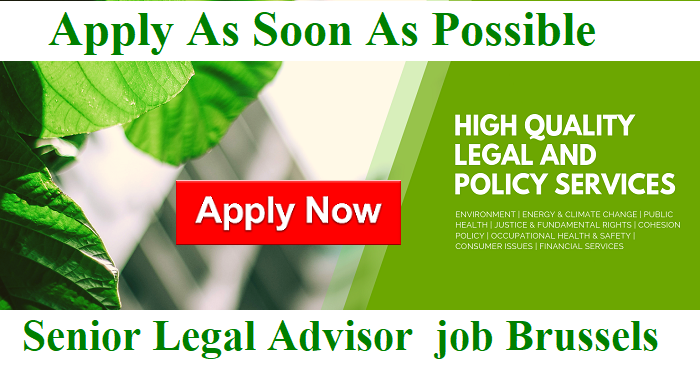 Senior Legal Advisor (Home Affairs and Justice)
Brussels, Belgium | Full-time
Do you want to be part of this dynamic and passionate multi-cultural team? Are you an experienced project manager with a proven legal background? We are looking for a full-time Senior Legal Advisor with a background in EU law and expertise in home affairs and justice related matters, for an immediate position to join our busy team.
In this position you will get the chance to work on and lead projects for different European Commission DGs and agencies, including DG HOME, DG JUSTICE and Consumers and FRA for which we hold several framework contracts. Our recent work includes projects on security issues, criminal and procedural criminal legislation, migration and asylum, consumer protection, company law.
Key tasks for this position will include the following:
• Management of projects – including complex comparative legal and policy studies, such as compliance assessments of transposition and implementation of EU directives, review of case-law, identification of policy options – from their inception to their completion, involving:
o liaising with clients as well as internal and external experts
o ensuring that work deliverables meet the client's requirements and our quality standards
o ensuring that deadlines are met
o financial oversight
o taking responsibility for collaborative work opportunities, project delivery and project profitability
• Provision of substantive assistance in conceptualising and writing project reports
• Conceptualising and writing project proposals, setting up a project team and structuring budgets
• Mentoring and development of in-house junior lawyers
• Contribute towards the strategic vision of the business
The key qualifications required for the position are:
• At least a Masters' degree in law from an EU university, preferably with a specialisation in area(s) linked to the portfolio of DG HOME/DG JUSTICE
• At least 8 years of previous project management experience, preferably for the EU institutions or EU service providers
• Proven expertise in at least one EU country's legislation
• Familiarity with policy analysis approaches, including evaluations and regulatory impact assessment, would be a strong asset
• An independent, self-starting personality with a commitment to quality
• The ability to think like a leader but act like a peer
• Strong organisational ability and excellent attention to detail
• Strong computer skills, including Microsoft Word
• Clear, concise and accurate writing skills in English, including the ability to review and edit the work of others
• Knowledge of other EU languages is an asset.
What you will find at Milieu:
• English as a principal working language;
• A very informal, supportive and collaborative working environment;
• A minimum of hierarchy and internal bureaucracy;
• A strong dedication to public policy;
• Highly professional and a strong commitment to quality in what we do;
• A dynamic multi-cultural atmosphere with some 25 nationalities;
• A stimulating working environment;
• A relaxed dress code – except when we are meeting our clients;
• Regular company barbeques, training lunches, end of month meetings, weekly yoga classes; and
• Biennial company weekend retreats. (these last 2 to resume when we return to normal working conditions)
Milieu Consulting would like to fill this position as soon as possible.
Only short-listed candidates will be contacted.
Milieu Consulting is an Equal Opportunity Employer.
Please ensure you have read our Privacy and Cookie Policy before submitting your application https://www.milieu.be/company-overview/privacy-policy/
How to Stop Missing Deadlines? Follow our Facebook Page and Twitter !-Jobs, internships, scholarships, Conferences, Trainings are published every day!