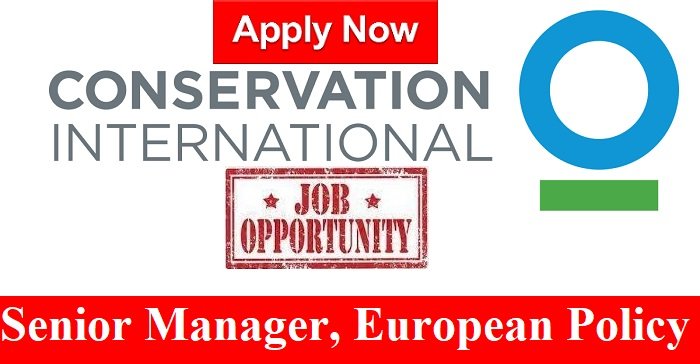 The COVID-19 pandemic continues to be a global challenge. Due to the fluidity of the situation, we periodically reassess our plans to reopen our offices. For the safety of our employees, our approach is tailored to the situation in each of the 30 countries we operate in. Travel is only conducted when absolutely necessary and safe to do so. Hiring managers will provide guidance on remote, hybrid, or on-site work arrangements in accordance with country-specific safety policies.
Conservation International (CI) has been protecting nature for the benefit of all for over 30 years. Through science, policy, and partnerships, CI is helping build a healthier, more prosperous, and more productive planet.
POSITION SUMMARY
The Senior Manager for European Policy leads CI's European strategic engagement on land use, land-use change, and forestry including deforestation, as well as on biodiversity and climate change policies with key decision-makers. They provide input on European policy to relevant teams across CI as well as to CI's leadership. They will contribute to the development of CI position papers and other outreach materials that are relevant/targeted for policymakers. They will gather strategic intelligence on EU policies, programs, and funding priorities of the European Union in support of CI's policy and fundraising objectives and will monitor relevant evolutions within the EU-ETS as well as the pursuit of article-6 partnerships in Europe.
They will report to the VP, European Partnerships, CI Europe, with a dotted line to the Global Policy Center.
The Senior Manager leads policy engagement with the European Union, select EU and non-EU governments. This includes consultations with European negotiators to the CBD and UNFCCC and maintaining relationships with key stakeholders within the European Commission, Parliament, Council, individual member states, NGOs, and other centers of influence as appropriate.
To achieve CI's strategic priorities, they will:
actively leverage CI's on-the-ground and scientific track record, to influence European policy; and
contribute to shaping CI's European strategy.
provide regular analysis of European policy state of play/positions at international, EU, and national levels in relation to:
sustainable production of agriculture commodities
land use, land-use change, and forestry.
deforestation; as well as development cooperation.
RESPONSIBILITIES
Engage with European governments and EU negotiators to integrate CI's policy objectives related to the UNFCCC and UNCBD led processes:
Supporting the Policy Center in developing positions and messaging
Integrating CI's international policy positions within European policies
Preparing for / participating in technical meetings, particularly within Conferences of the Parties (COPs)  as well as for other relevant international events
Advocating for international policy priorities where needed
Lead long-term policy engagement in Europe:
Building partnerships with key governments as well as public-private partnerships and advocate for CI's expertise.
Supporting European governments in designing ambitious policies on land use, land-use change, and forestry, including deforestation, biodiversity loss as well as related policy processes, and forming partnerships with relevant stakeholders – NGOs, companies, etc.
Ensure policy coherence across the Europe "node".
Increase the synergies between policy and fundraising:
Cooperate with public fundraising teams on their policy engagements to achieve CI's fundraising targets
Participate in proposal development to support policy work in Europe
Support country offices in engaging with donors'/governments' representations on the field
WORKING CONDITIONS
This is a full-time permanent position, based in Brussels, Belgium.
Candidates should be EU nationals or have a valid work permit in Belgium.
QUALIFICATIONS
Required
A Bachelor's degree-level qualification in public policy, international affairs, or similar.
Technical knowledge and understanding of international and European policies related to biodiversity, climate change, natural resource management, poverty alleviation, and international development.
5 to 7 years of professional experience demonstrating knowledge and understanding of government processes and the European political environment as it relates to Conservation International's strategic priorities.
An existing professional network of contacts in key European partner entities including the European Union institutions and EU member state governments as well as key European institutions such as think tanks, industry bodies, private sector actors, and NGOs.
Proven ability to engage with a variety of external partners and key stakeholders in governments, bilateral and multilateral institutions, development organizations, and NGOs.
Proven ability to implement policy engagement strategies to influence policy positions by developing and cultivating partnerships with government agencies.
Experience in project and/or campaign implementation and demonstrated ability to meet deadlines and manage time.
Proven ability to work in a culturally diverse environment
Ability to work under pressure and deadlines without compromising working standards and high-quality results.
Excellent communications and interpersonal skills. Proven skills in problem-solving and adapting to change.
Excellent command of English.
Preferred
The capacity to work in at least two other languages in addition to English (French, Spanish, German, Portuguese) will be appreciated.
To apply for this position please submit a resume and cover letter.
Application Deadline: January 15, 2022 (11:49 PM EST)
See all Conservation International Career Opportunities HERE
Equal Opportunity Employer Minorities/Women/Vets/Disabled
Apply Now
For more information please open this link
Apply Here
https://phh.tbe.taleo.net/phh04/ats/careers/v2/viewRequisition?org=CONSERVATION&cws=39&rid=1660