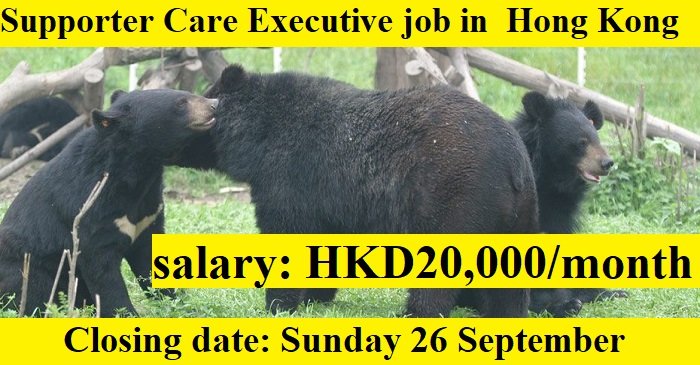 HKD20,000/month
Supporter Engagement at Animals Asia is expanding, providing a rare chance to join our incredible team.
Here at Animals Asia, supporters are not seen as external to the organisation – they ARE the organisation.  As Supporter Care Executive your job is to ensure they know how integral they are and that being part of Animals Asia family provides an exceptional, enriching experience that adds as much value to the donors' lives as they add to us. Gaining and maintaining their loyalty will be the very heart of your role.  2021 will be an enormously exciting year as we launch the final stages that will see us achieve one of our founding goals and bring bear bile farming in Vietnam to an end.
You'll be part of a busy, passionate and talented global team and will be in charge of updating supporters on our progress, and processing gifts. You'll work with a wide range of people, efficiently gathering and providing information as well as responding to whatever queries or situations may arise. This includes maintaining the fundraising database and implementing key steps on the supporter journey. You will work hand in glove with a high-performing Gift Processing Team, sharing best practice knowledge to ensure we provide a seamless, first-class end to end experience for our loved and cherished supporters and to ensure that donations are processed accurately and on time.
You'll be well-organised, self-motivated and display a high level of accuracy, consistency and attention to detail to ensure data is handled appropriately. Customer care and building relationships will come effortlessly to you and you'll just love making people feel special.
If you have some experience in fundraising and a love for animals, this is an outstanding opportunity to join the team that people never leave.
If you are interested in this unique opportunity, please read the attached Candidate Pack for more details and application process.
Join our family… be part of the end game.
Closing date: Sunday 26 September
For more information please open this link
Apply Here
https://www.animalsasia.org/intl/about-us/careers/supporter-care-executive-hong-kong.html