APPLY FOR THIS OPPORTUNITY! Or, know someone who would be a perfect fit? Let them know! Share / Like / Tag a friend in a post or comment! To complete application process efficiently and successfully, you must read the Application Instructions carefully before/during application process.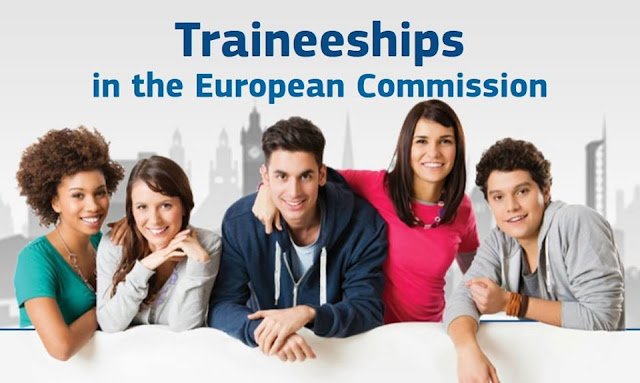 ABOUT
the Traineeship
Trainees work all over the European Commission, its services and agencies, mostly in Brussels, but also in Luxembourg and elsewhere across the European Union.
The nature of your work will depend on the service you are assigned to.
You may, for example, work in the field of competition law, human resources, environmental policy, etc.
What does the traineeship offer?
Insight into the processes and policies of the European Institutions;
The opportunity to contribute to the day-to-day work of the Commission's;
The opportunity to put academic theory into practice.
What does a trainee's daily work consist of?
Attending and organising meetings, working groups, and public hearings;
Researching, drafting end editing documentation – including reports and consultations;
Answering citizens' inquiries;
Supporting the management of projects.
What do we expect from you?
An open-minded approach to European issues;
An interest in learning about the Commission's working methods;
Willingness to work in a multicultural environment;
To contribute to the Commission's daily work from a fresh perspective;
A proactive attitude.
Scientific traineeships are also available at the European Commission's Joint Research Centre (JRC).
APPLICATION
procedure
The application procedure consists of three steps: register on EU Login, complete the application form, and submit.
Self-assessment
Estimate your chances to successfully pass pre-selection and enter the Blue Book –  the list of potential candidates for the upcoming traineeship session.
STEP 1: Register
Register on European Commission Authentication Service (EU Login) to begin your application.
If you are a new user:
EU Login
Click here to create an account
Fill in the sign up form
Click 'Submit'
Check your email account (including your spam folder) for confirmation
In the email, click 'create your password'
Click 'proceed' to the application form.
For all questions regarding your registration with EU Login (European Commission's authentication service) see the EU Login FAQ page
STEP 2: Complete your application
You do not have to fill in everything in a single session.
You can save and log back in any time to complete your application.
STEP 3: Submit your application
Please do THE BLUE BOOK TRAINEESHIP
plopandrew.blogspot.com
How to Stop Missing Deadlines? Follow our Facebook Page and Twitter !-Jobs, internships, scholarships, Conferences, Trainings are published every day!