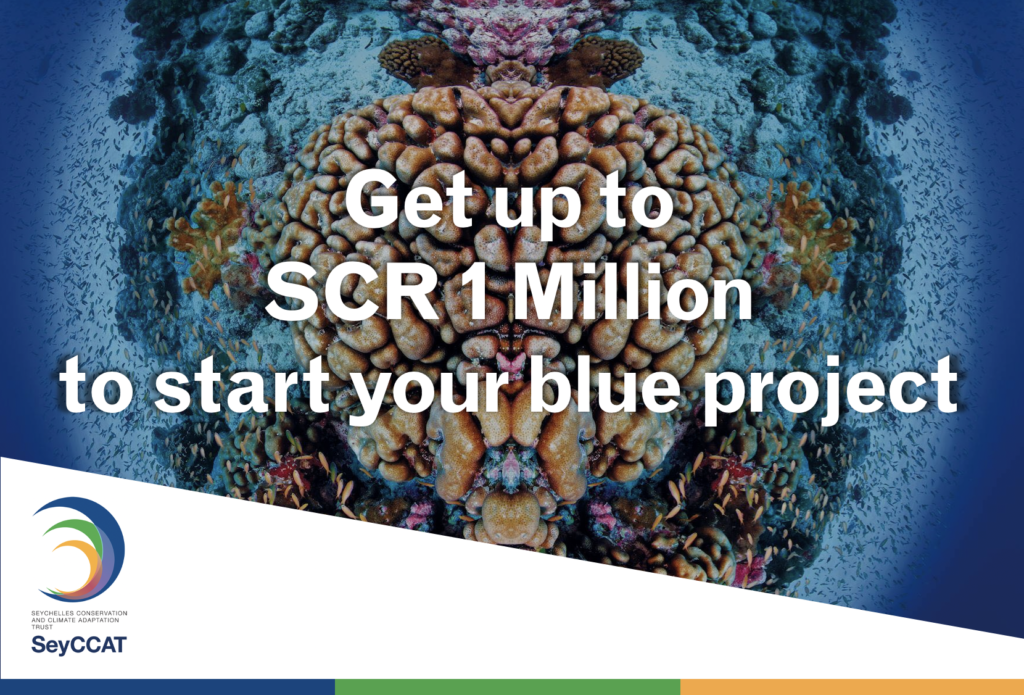 How to Apply
Blue Grants Fund #4 opens on the 6th of July
Find out what types of projects are elibigle for funding this year: English version or Creole version
A step-by-step guide to the Blue Grants Fund
Please use the standard application template for your application to be accepted.
Step 2: Whether you are applying for a small-medium or a large grant, submit a concept note and an itemised budget
You can apply in Creole! SeyCCAT-Concept Note (Creole)
You can submit using SeyCCAT's online platform OR submit the Microsoft Word file of the Concept Note
Step 3: Make sure you have prepared all the documents
You must submit all the documents, you can also attach them on the online platform:
Deadline to submit your application is August 14, 2020, 5 PM
Need help with the application?
Here are the resources we provide to help prepare your application:
Regional crash courses on how to prepare your project application.
Blue Finance How to Apply Manual
a
Blue Grants Fund 4 – English
SeyCCAT's "Request for Proposal" (RFP) for the Blue Grants Fund #4 will support projects aligned to its strategic objectives 1, 2 and 5.
Support new and existing marine and coastal protected areas and sustainable use zones
Empower the fisheries sector with robust science and knowhow to improve governance, sustainability, value, and market options.
5. Trial and nurture business models to secure the sustainable development of Seychelles' blue economy.
Noting that, SeyCCAT can finance research and development, policy and advocacy and education, training and outreach projects across all three of the strategic objectives with particular emphasis on strengthening partnerships and multi-stakeholder engagements.
This year we will only be accepting applications for the following types of projects:
Strategic Objective 1:
+ Contribute to improving capacity to protected areas agencies and increasing ocean management effectiveness.
+ Provide inputs/research and/or contribute to the design and/or implementation of existing or proposed management plans for areas with a priority for protection.
+ Contribute to the development of indicators (biological, ecological and socioeconomic) for management plans and for evaluating effectiveness of marine protection areas.
+ Develop/contribute to baseline studies and monitoring tools/programmes for management areas (e.g. assessment of coral reefs) and indicators (biological/socio-economic research; (biological, ecological and socioeconomic) for management plans.
+ Develop knowledge to understand the roles that certain key species play in shaping their environment – keystone species (e.g. herbivores and predation).
+ Producing communications and educational tools and campaigns about the benefits of marine protection areas, marine management and ecosystem services.
+ Contribute or pilot tools for monitoring of uses, control and surveillance of marine protection areas.
+ Support for existing management bodies/authorities, in terms of capacity-building and engagement; through partnerships, capacity-building and stakeholder engagement.
Strategic objective 2
+ Contribute to the improving of the decision-making process of management through harvest strategies for data -poor fisheries.
– Investigate the potential of fisheries (or other user) access rights for areas and the piloting of the management measures to advance sustainable fisheries.
+ Contribute to the conservation and sustainable management of endangered and threatened species, through fisheries management (e.g. shark species).
+ Develop "best in class" sustainable tourism practices linked to fisheries campaigns and activities such as minimum size limits, daily bag limits, fish procurement policies (seasonality) & sustainably caught seafood on local menus.
+ Support and contribute to the implementation of the fisheries management plans and policies.
+ Study the potential impacts of climate change on critical ecosystem, goods and services (e.g. fisheries productivity) and make recommendations on how negative impacts could be addressed to safeguard sustainability.
+ Contribute to the international reporting, and monitoring and evaluation requirements of the Seychelles (e.g. SDG 14, High Level Political Forum).
+ Strengthening management structures and other bodies, including the strengthening of fishers' associations, to better engage in governance.
+ Taking fisheries through/into market-based certification and labelling schemes.
+ Support for the existing management structures/bodies or the public in terms of capacity-building and education; through partnerships, stakeholder engagement and educational tools.
+ Providing avenues/space for discussions on co-management and governance of marine protection areas.
STRATEGIC OBJECTIVES 5
+ Projects aimed at fostering innovation and partnerships to advance the blue economy; and advance solutions to pressing environmental challenges.
+ Test your latest idea in post-harvest fisheries sector (value chain performance, market development and address fish waste), sustainable tourism, renewable energy, environmental services, ocean waste management
+ Prepare business plans, market development opportunities and feasibility studies, product development of your next big idea to address post-harvest fisheries sector, and environmental services.
+ Address marine pollution through education, capacity building and campaigns and in particular to tackle abandoned, loss of discarded fishing gear.
+ Contribute to making tourism more sustainable through improvements to establishments or the sector.
+ Support local investors to research and concept development; (e.g. the concept – how are they going to get products to markets, branding and labelling).
+ Support through capacity-building for approved aquaculture development projects.
+ Develop and access opportunities associated with the aquaculture master plan (land-based and inshore business development).
+ Development of tools and capacity on creating and/or strengthening sustainable business models in the blue economy.
+ Showcasing key partnerships required to change business practice- E.g. changing your business practice to fit with certification – existing, look at your sourcing, waste, traceability systems, etc.
+ Investigate sustainable financing mechanisms for ocean governance and the MSP – this could build on the proposed mechanisms in the MSP implementation costing analysis.
– Investigating/developing innovative financing mechanisms through the development of business models for ocean management, sustainable use and implementation.Apply Now
Or you can submit your 1. SeyCCAT_ConceptNote_July2020 using Microsoft Word format.
** We do not accept hard copies. Send 1. SeyCCAT_ConceptNote_July2020 to info@seyccat.org.
For more information please open this link