Mercedes-Benz (MB) has launched a product specifically designed as a vehicle head of state, namely S 600 Pullman. This car is more accurately described as a limousine because the size is the length, 6356 mm. It can also be said to be a bunker run because it uses the system of protection with the highest security standards, namely B6/B7.
With such a safety standard, S 600 Pulman assessed as a car that can keep the passengers from the anti-terrorist attacks. Not only terrorists armed with pistols, hand grenades as well.
MB accidentally launched this car in particular in order to celebrate the anniversary of Pullman to-80. Previously, Pullman, based in Stuttgart, known as a maker of specialty vehicles for heads of state in the world (including Germany).
Luxury and Comfort
Like other famous luxury cars, the S 600 Pullman made with a very large interior. The goal, to provide top level of comfort to passengers while in the car. Relief shown the interior of the wheel axis distance which reaches 4315 mm.
With a total length of 6356 mm, this car's interior can be used for meetings. Made very luxurious interior amenities and fun. Because it also included all means of entertainment and other advanced communications systems.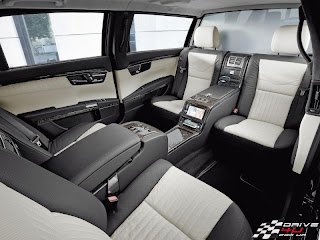 Safety
The security system on the S 600 Pullman is not an addition or made after the car left the factory. But it has been designed from the outset. MB calls it, a high level of integrated security systems. By default the same as those used for military defense. Including the system of protection from bullets that are released from a rifle, a safety from shrapnel and other explosive materials. Body's defense system and the glass, impenetrable by bullets with twice the speed of revolvers.
An additional safety feature is the "run flat tire" or a tire that can still be mengelinding though deflated, fuel tanks with special insulation and fire extinguishing systems. Also used high-quality specialty paints as part of a security system, plus a protective corrosion as used Mercedes-Benz on other products.
To support the security of the material car, also utilizing MB Desai. Among others, by making the roof behind the car higher making it easier for passengers to enter it. In addition, the space above the passenger's head is made of relief.
To ensure high standards of security levels, Pullman rally his spesalis who have decades of experience making safety systems in cars built by Pullman.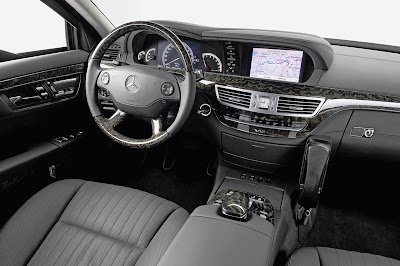 Interior only for four passengers partition equipped with the driver. The luxurious passenger seats, facing each other position. Layout as it has become the hallmark of Pullman.
According to MB, this car can be serviced at MB workshops around the world. For this, the MB will provide a special service with higher standards.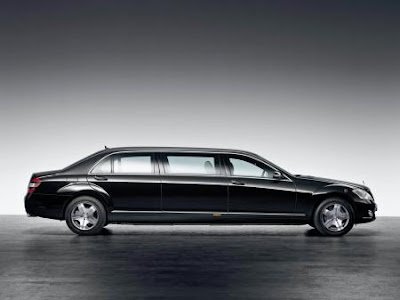 With his big, powerful engine limousine is equipped large. According to MB, the engine was developed from the engine Mercedes-Benz S 600, V12, 5513 cc, power Biturbo with 380 kW (517 PS) and 830 Nm of torque.
The presence of S 600 Pullman adds line of cars with high safety standards for the head of state who made the previous Pullman. The company makes cars with integrated protection system, ie limousines "Nurburg" 460 (W08) as its first product in 1928. Furthermore, in early 1930, was born 770 (W07) "Grand Mercedes", a car designed with special protection for Emperor Hirohito.
Description: The Mercedes Benz S600 Pullman Guard , Presidential Limousines
Rating: 5
Reviewer: 76 User
Item Reviewed: The Mercedes Benz S600 Pullman Guard , Presidential Limousines