APPLY FOR THIS OPPORTUNITY! Or, know someone who would be a perfect fit? Let them know! Share / Like / Tag a friend in a post or comment! To complete application process efficiently and successfully, you must read the Application Instructions carefully before/during application process.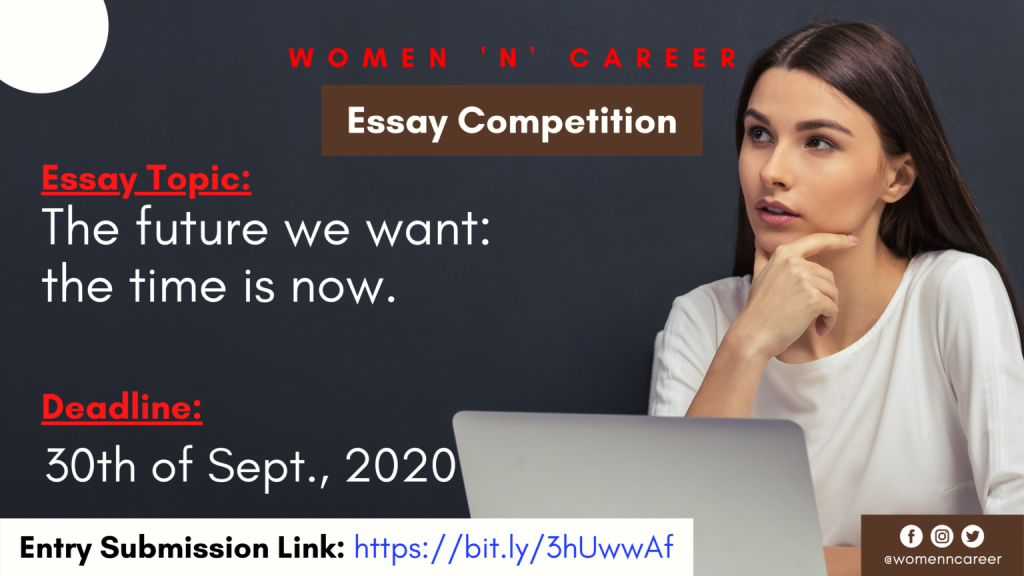 Are you a young girl between 12-19 years?
Do you have an opinion on what your future should be like?
Can you lend your voice towards creating a sustainable future for yourself and other generation of young girls?
Here is your chance to make this happen!
Women and Career Organization is organizing an essay competition for young girls out there.
All you have to do is write on the topic:
The Future We Want: The Time is Now
The WnC Essay Competition, organized by Women and Career Organization, is an opportunity for Secondary School girls between the ages 12-19 to share their ideas and viewpoints with the world at large.
Sounds like an opportunity to you?
All you need to do to stand a chance of winning cash prizes, motivational books accompanied with free mentorship sessions is to submit your essay of no more than 700 words in English on or before 30th September, 2020.
Ensure you read through the guidelines thoroughly, to avoid disqualification.
Incase of any question, send an email to chiamakaadinnu1@gmail.com
Guidelines for Participation:
• The competition is opened to girls between the ages of 12-19 years.
• The essay should not exceed 700 words (maximum)
• Essay must be in Word or PDF Format.
• Attach a recent passport photograph.
• Selected finalists will be required to provide a means of identification (School Identity Card, National ID Card, Birth Certificate or any other means of identification) and also a 1-2 minutes video on why they should be selected.
Note: Emerging winners will be announced on the 11th of October, 2020 which is the International Day of the Girl Child (IDG2020).
Prizes:
Overall Winner: $50
1st Runner-up: $30
2nd Runner-up: $20
Winners will also get a free hardcopy of the Be Fearless Book by Jane Egerton-Idehen
Deadline:
30th of September, 2020.
For more information please open this link
How to Stop Missing Deadlines? Follow our Facebook Page and Twitter !-Jobs, internships, scholarships, Conferences, Trainings are published every day!