APPLY FOR THIS OPPORTUNITY! Or, know someone who would be a perfect fit? Let them know! Share / Like / Tag a friend in a post or comment! To complete application process efficiently and successfully, you must read the Application Instructions carefully before/during application process.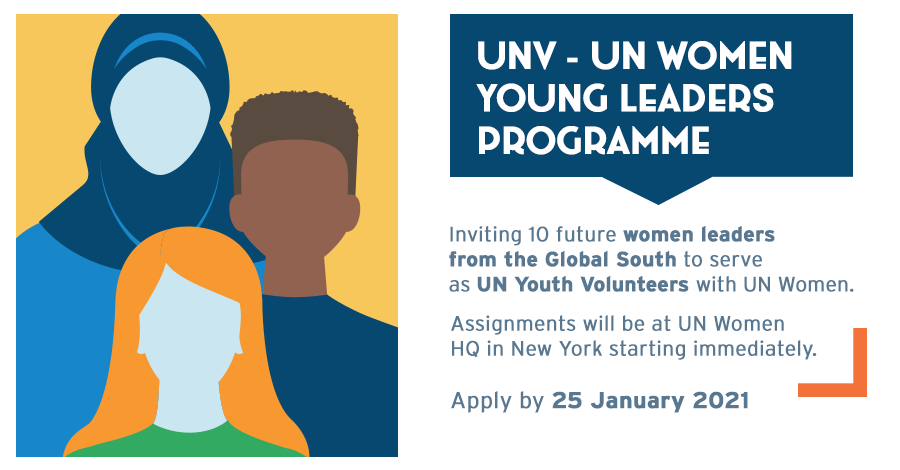 Eligibility criteria
Candidate age: between 18 and 29 throughout the entire duration of their assignment. Nationals of the country of assignment are not eligible, except the assignments in Headquarters duty stations.
Description of task
The Young Women Leaders Programme is an opportunity for 10 young women from the global South to bring their voices, passion and commitment to Gender Equality by learning and contributing across UN Women's operations in New York City for one year.
Each UN Youth Volunteer under the Young Women Leaders Programme will work closely under the supervision of an experienced UN Women subject matter expert, to develop a work and learning plan.
A specific set of tasks mutually agreed upon between the Young Women Leader (YWL) and supervisor will be drawn from the following broad areas of work taking into consideration career aspirations, individual motivation and organizational needs.
Candidates will be matched with one of the available positions in the area below based on their expression of particular interest.
Please find here a list of general functions and responsibilities that a YWL may be assigned. Based on the selected areas below in which the YWL will be working (as specified below), the supervisor and YWL will develop a more detailed description of assignment
Project Management:
Provide inputs to, compile and analyze information related to project or initiative within area of interest
Monitor, coordinate and draft reports on activities
Raft new proposals or ideas
Policy development
Perform background research
Provide technical inputs to documents and policies
Knowledge management
Provide inputs to knowledge management products
Draft briefing notes and presentations
Gather and analyze data
Draft training materials and organize training sessions
Administration and Operations
Develop templates and forms and gather inputs as needed
Maintain and databases
Respond to queries
Provide suggestions for business and operations improvements
Communication and Advocacy
Draft, provide input to and disseminate communication materials
Maintain and update webpages, intranet pages or other communication channels
Partnerships
Reach out to Regional Office and Country Office focal points as needed
Respond to queries from stakeholders
Participate in internal and external working groups
Candidates will be matched with one of the available positions in the areas below based on their expression of particular interest
Administration – Degree in Business & Administration.
The Division of Management and Administration is responsible for the operational support and management of financial, and administrative resources including information communications and technology, the effective and efficient delivery of essential operations services in UN Women, continuous development and improvement in operations, policies, and methods to align with UN Women and stakeholders' evolving business needs and advisory support.
Communications & Advocacy – Degree in communications, public relations, journalism, media, public relations
The Communications & Advocacy Section is responsible for proactively advancing the strategic positioning of UN Women and its mandate in this context through effective outreach through its strategic communications capacity and function. UN-Women has increasingly and with measurable success and impact used campaigns to drive awareness and engagement on gender equality issues; these are conceptualized and spearheaded by the Communications and Advocacy Section which consists of a team with various communications backgrounds in amongst others, media relations, social media, video and photography, digital content, publications and editing.
Partnership & Resource Mobilization – Degree in economics, business management, social sciences, public administration, international relations, communications, women's studies
The Resource Mobilization (RM) Section, which is part of the Strategic Partnerships Division leads the development of Resource Mobilization strategies to reach the targets for voluntary contributions in support of the UN Women Resource Mobilization and Partnership Strategy 2018-2021 to deepen and broaden the donor base in order to secure the resources required to fulfil UN Women's mandate in line with the Strategic Plan. Funding sources include governments, the private and voluntary sector, National Committees and other UN entities.
Strategic Planning – Degree in international development or public administration, economics
The Strategy, Planning and Resources and Efficiency Division (SPRED) is responsible for advising Senior Leadership on integrating corporate strategy with the resources and setting measurement standards to ensure the organization is working toward achieving the goal of Gender Equality and Women's Empowerment (GEEW) in line with the SDG's, the 2030 Agenda and the UN Women Strategic Plan. The Division monitors compliance with the standards and safeguards for the risks that have been identified to improve decision-making and achieving results while increasing transparency and accountability to its Governing Bodies and Stakeholders. Specifically, the Division 1) formulates policies and procedures aligned to the corporate objectives, internal controls and risk management 2) coordinates strategic, programme and budget plans, 3) manage resource allocation from all sources and 4) monitors and reports on corporate programme and budget implementation in line with the UN Women Strategic Plan
UN Coordination – Degree in international development, public administration, public policy, or other relevant social science field
The UN System Coordination Division leads, coordinates and promotes the accountability of the United Nations system in its work on gender equality and the empowerment of women" at the global, regional and country levels, including the coordination of gender Equality and Women's Empowerment dimensions of the 2020 agenda, facilitating the UN SWAP implementation at System and Country Level, mainstreaming gender across the UN System and providing capacity development support to other agencies as needed
Policy Support – Degree in social sciences, human rights, gender/women's studies, international development
The Policy, Programme and Intergovernmental Division (PPID) provides global support to UN Women offices at Headquarters and in all field locations to deliver results in support of UN Women's Strategic Plan 2018-2021 and internationally agreed goals on gender equality and women's empowerment, including the Beijing Platform for Action and the 2030 Agenda for Sustainable Development. The Division provides intellectual and strategic leadership on normative support and the delivery of integrated policy and program advice, including through policy analysis and gender mainstreaming. UN Women leverages innovation, knowledge management, and cutting-edge technical expertise to support UN Women programmes and to build the capacity of partners to deliver results on gender equality and women's empowerment.
UN Women provides Policy support in the areas of Economic Empowerment, Ending Violence Against Women (EVAW), Humanitarian Action, Leadership and Governance, Peace and Security, and Research and DataQualifications/RequirementsRequired degree level: Bachelor degree or equivalentEducation – Additional Comments:
Bachelor's degree (with two years of experience) or Master's degree (with minimum one year of experience) in a related field is required:
Administration –Business & Administration
Communications & Advocacy –communications, public relations, journalism
Partnership & Resource Mobilization –economics, business management, social sciences, public administration, international relations, communications, women's studies
Strategic Planning –international development or public administration, economics
UN Coordination –international development, public administration, public policy, or other social science
Policy Support – social sciences, human rights, gender/women's studies, international development
Required experience: 12 MonthsExperience remark:
Demonstrated commitment to Gender Equality and 1 year of experience with Master's Degree; 2 years of experience with Bachelor's Degree.Language skills:
English(Mandatory), Level – Fluent
Area of expertise: Other development programme/project experienceArea of expertise details:
Knowledge of gender equality and women's rights issues;
Strong IT literacy in standard applications is mandatory (Excel, Word, PowerPoint,etc)
Analytical and interpersonal skills
Language skills
Fluency in spoken and written English is required. Working knowledge of another UN Official language (e.g. Arabic, French, Spanish) is desirable.
Core Values and Guiding Principles
The UN Volunteer will adhere to the UN Women's core values, integrity, professionalism and respect for diversity, as well as its core competencies related to Awareness and Sensitivity regarding gender issues, accountability, creative problem solving, effective communication, inclusive collaboration, stakeholder engagement, leading by example.
Please visit this link for more information on UN Women's Values and Competencies Framework: https://www.unwomen.org/-/media/headquarters/attachments/sections/about%20us/employment/un-women-values-and-competencies-framework-en.pdf?la=en&vs=637
UN Women has a zero-tolerance policy on sexual exploitation and abuse, and on any kind of harassment, including sexual harassment, and discrimination. All selected candidates will, therefore, undergo rigorous reference and background checks.
Core Values:
Respect for Diversity
Integrity
Professionalism
Core Competencies:
Awareness and Sensitivity Regarding Gender Issues
Accountability
Creative Problem Solving
Effective Communication
Inclusive Collaboration
Stakeholder Engagement
Leading by Example
Driving license: NoApplication procedure:
Please apply via the link below. You can then either log in if you already have an account or register via 'Candidate Signup'.
Application deadline: 25 January 2021
Eligibility criteria
Applicants for the Young Women Leaders Programme must be nationals of the Global South and no older than 29 years old throughout the entire duration of the assignment.
Applications from women with disabilities, LGBTQI, gender non-conforming individuals, and other marginalized groups are especially encouraged to apply.
For more information please open this link
Apply Here
https://www.unv.org/calls/USAR000088-8509
How to Stop Missing Deadlines? Follow our Facebook Page and Twitter !-Jobs, internships, scholarships, Conferences, Trainings are published every day!