APPLY FOR THIS OPPORTUNITY! Or, know someone who would be a perfect fit? Let them know! Share / Like / Tag a friend in a post or comment! To complete application process efficiently and successfully, you must read the Application Instructions carefully before/during application process.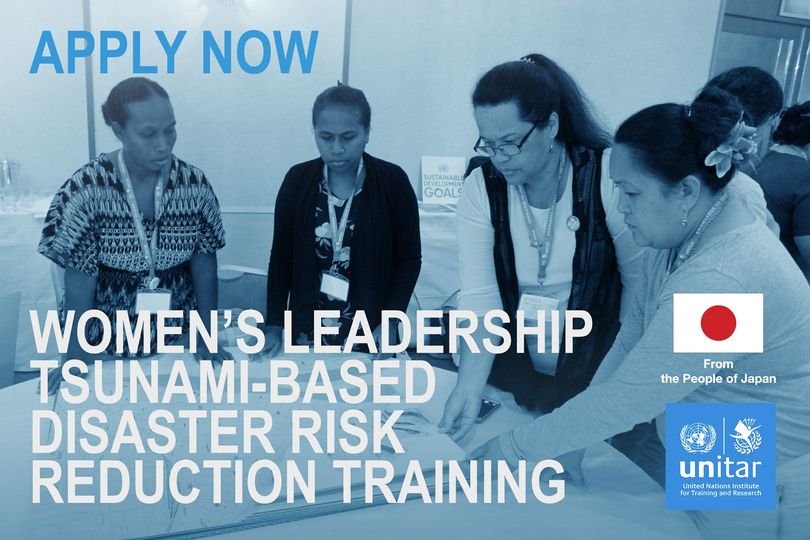 Opens
Sep 11 2020 00:00 (JST)
Deadline
Oct 20 2020 23:59 (JST)
---
CategoriesDisaster Risk ReductionHiroshima OfficeWomen's Empowerment
UNITAR Hiroshima is launching an online training programme for women in Pacific Ocean SIDS countries, focusing on building resilience and enhancing security of the region through the inclusive Disaster Risk Reduction (DRR) approach.
The Women's Leadership in Tsunami-based Disaster Risk Reduction is designed to encourage participants to gain knowledge in DRR, including Sendai Framework, Sustainable Development Goals, Gender Responsive DRR, Multi-stakeholder Coalition in DRR, Community Based DRR, etc. and finally to develop an "inclusive country DRR Plan" that is contextualized for each country with consideration of both natural and biological hazards.
The target audience are 100 passionate women living in or from 14 Pacific SIDS (Cook Islands, Micronesia, Fiji, Kiribati, Nauru, Niue, Palau, Papua New Guinea, Marshall Islands, Samoa, Solomon Islands, Tonga, Tuvalu, and Vanuatu).
In order to gain insight from a diverse range of stakeholders as well as to effectively reflect the various perspective in DRR planning, participants will be selected from various backgrounds.
Please read this Call for Application for more information (PDF 1.4MB) – Call for Application
The programme is being conducted with the financial support of the Government and the People of Japan.
Application Process
To apply for this programme, you will need to complete the below steps:
Create a SurveyMonkey Apply account (if you do not have one already)
Complete the Eligibility Criteria Survey
Start, complete and Submit your Application Form
Eligibility Criteria
Participants will be selected through an open call for applications based on specific criteria including:
Female and aged over 18 years old;
Geographical and sectoral representation within the country;
Deep interest in Disaster Risk Reduction (DRR);
Internet connectivity throughout the programme
Good oral and written English skills; and
Keen passion to learn by doing and highly motivated to succeed to provide positive impact to the society.
The application process is open to anyone living inside and from the target countries, however, preference will be given to locally situated nationals of the target countries.  Pacific SIDS nationals living abroad are encouraged to apply. The programme will be delivered in English and carried out 100% online, incorporating asynchronous on-demand courses and series of webinars delivered by expert facilitators, through online platforms.
For more information please open this link
https://apply.unitar.org/prog/DRR_2020/?fbclid=IwAR3uDjgXX_lIcN6lBw2cWK7_JKP_NOwSx2OHgjGkZiUv7e-CVLp16Vi4JbU
How to Stop Missing Deadlines? Follow our Facebook Page and Twitter !-Jobs, internships, scholarships, Conferences, Trainings are published every day!