APPLY FOR THIS OPPORTUNITY! Or, know someone who would be a perfect fit? Let them know! Share / Like / Tag a friend in a post or comment! To complete application process efficiently and successfully, you must read the Application Instructions carefully before/during application process.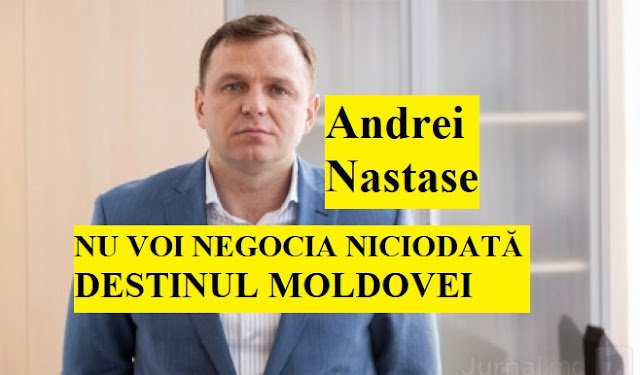 Andrei Nastase Nu voi negocia NICIODATĂ destinul MOLDOVEI, cu atât mai puțin cu cei care și-au bătut joc de EA!

Abia încheiate, alegerile parlamentare au definit cu limpezime modul în care unii încearcă să nu permită transferul legitim al puterii către popor. Noi, cei din blocul ACUM, sprijiniți de validarea publică a principiilor esențiale ale democratiei, ne-am propus să scoatem Moldova din captivitatea regimului oligarhic hibrid, Plhotniuc – Dodon, de o toxicitate ireplicabilă pentru țară și pentru oamenii ei.

Înțeleg, nu este deloc comodă abordarea noastră pentru cei care nu știu decât a negocia și tranzacționa puterea, a-și împărți funcții, zone de interese, fuxuri financiare și proprietățile statului în folosul lor și al acoliților. Blocul ACUM aparține unei alte zodii politice. Are alte priorități și abordări, esențial diferite de ale oligarhilor și mafioților, iar viziunea și proiectele noastre de resetare a societății sunt unele racordate în profunzime valorilor și principiilor europene.

Respectul față de cetățean, consecvența, transparența, asumarea, responsabilitatea și onoarea sunt valori pe care Plahotniuc, Dodon, Șor și toți cei care au jefuit, sărăcit și umilit Moldova nu le înțeleg. Este evident faptul că gândim diferit, vorbim diferit, acționăm diferit. Nu am si nu voi avea vreodată nici un motiv rezonabil pentru care, personal, să renunț, de dragul unor false oportunități politice, la ceea ce sunt, la valorile și principiile mele, la propria mea conștiință.

Am spus de atâtea ori în ultimii ani și am accentuat și în campania electorală recent încheiată un lucru extrem de important. Dacă Moldova ar fi fost o țară normală și dreaptă cu oamenii ei, dacă ar fi fost condusă de oameni onești, decenți și rezonabili, eu, ca om politic, nu aș fi existat. Aș fi fost în continuare un avocat și apărător al drepturilor omului, aș fi profesat și mi-aș fi crescut și educat copiii în liniște și siguranță, alături de soția mea.

Îmi doresc ca din ce în ce mai mulți oameni din Moldova să înțeleagă că politica nu este ceea ce Plahotniuc și Dodon și alții ca ei fac de atâta vreme în Parlement, Guvern și în toate instituțiile statului. Politica înseamnă cu totul altceva. Nu este o goană disperată după putere, după funcții, nu e o paradigmă toxica de agregare a spațiului public și mediatic.

Politica înseamnă, dragii mei prieteni, VALORI ȘI PRINCIPII ESENȚIALE. Înseamnă, înainte de toate, sinceritate și asumare. Consecvență, determinare și altruism. Mai înseamnă ETICĂ și nenegociabil respect față de cel care te-a ales, față de încrederea pe care acesta o investește în acțiunile viitoare ale celui ales.

Așa sunt eu, nu altfel. Așa gândesc eu, nu altfel. Fac parte din categoria celor care au încredere în viitor, își țin cuvântul dat, nu mint niciodată, nu înșeală, au onoare și rușine. Nu am de gând să tranzacționez, pentru nimic in lume, încrederea cu care oamenii m-au onorat. ÎNCREDEREA OAMENILOR E INESTIMABILĂ.Nici eu și nici colegii mei nu vom face acest lucru. NICIODATĂ! Noi nu suntem ca ei, suntem împotriva lor!

Suntem astăzi aleși în Parlamentul Republicii Moldova pentru că sute de mii de oameni au decis că suntem cei care le putem reprezenta aspirațiile și dorințele legitime. Suntem astăzi aleși în Parlamentul Republicii Moldova pentru că am promis oamenilor că vom elibera Moldova din captivitatea regimului Plahotniuc – Dodon, dar nu că vom face alianţe cu ei. Iar oamenii pentru asta ne-au votat, pentru dreptate și viață mai bună!

Având în vedere toate acestea, spun încă o dată că știm ce avem de făcut și că vom face ceea ce trebuie să facem. DREPTATE, MAI ÎNTÂI DE TOATE!

Închei, precizând încă o dată că ceea ce spun în spațiul public în aceste zile spun de ani de zile, fără ezitare și cu responsabilitate maximă.

Am spus-o în campania electorală prezidențială din 2016, am repetat aceleași lucruri și în 2018, în campania pentru primăria Chișinău. Nimic altceva. Și, am vorbit despre ceea ce foarte puțini au curajul să vorbească. Despre ETICA POLITICĂ și despre convingerea mea că fără aceasta nimic nu se poate face pentru Moldova și pentru oamenii ei.

Nu voi negocia NICIODATĂ destinul MOLDOVEI! Cu atât mai puțin cu cei care și-au bătut joc de EA!
How to Stop Missing Deadlines? Follow our Facebook Page and Twitter !-Jobs, internships, scholarships, Conferences, Trainings are published every day!