APPLY FOR THIS OPPORTUNITY! Or, know someone who would be a perfect fit? Let them know! Share / Like / Tag a friend in a post or comment! To complete application process efficiently and successfully, you must read the Application Instructions carefully before/during application process.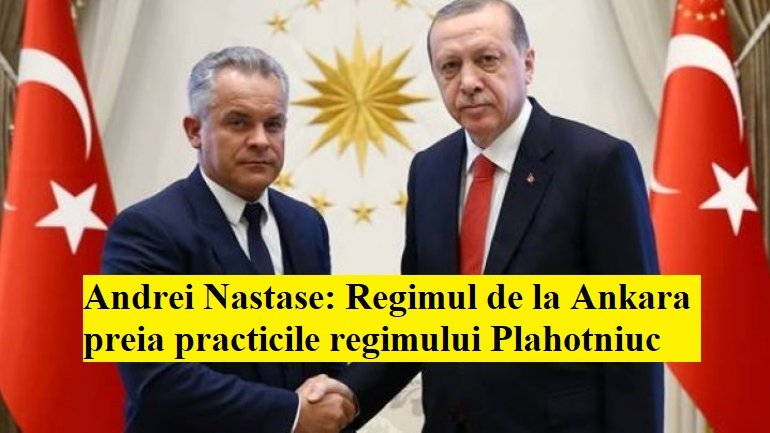 După ce mijloacele regimului criminal Plahotniuc au devenit comune partenerilor săi de peste Prut la înăbușirea protestelor împotriva corupției, a injustiției, a nedreptății, acestea sunt preluate și de regimul de la Ancara, furnizorul de mașini Toma regimului Plahotniuc, contra cost, contra unor suflete și destine omenești, contra unor profesori de exceptie care au educat generații întregi de copii, inclusiv progeniturile mafioților de la guvernare.
Consiliul suprem electora

l din Turcia a invalidat rezultatele alegerilor municipale de la Istanbul pentru pretinse nereguli şi a dispus ca alegerile să fie reluate, așa cum au solicitat partidul de la guvernare şi preşedintele.
Dincolo de propaganda oligarhică, dincolo de linșajul mediatic și de intoxicarea zilnică cu minciună prin intermediul presei monopolizate din Moldova, se cuvine să înțelegem cu toții că de frica venirii la putere a opoziției democratice, a unor oameni integri, regimurile dictatoriale procedează la fel.
În Moldova, pentru invalidarea alegerii unui Primar de formație democratică, reformatoare, anticorupţie, pe lângă serviciile instituțiilor electorale și ale justiției aservite, regimul Plahotniuc, cu complicitatea vasalului său Dodon a implicat și serviciile candidatului lor comun, susținut oficial de PSRM.
Nefuncționalitatea parlamentului, de competența exclusivă a căruia este și deciza cu privire la organizarea alegerilor locale, nefuncționalitate artificială, provocată arbitrar pe baza înțelegerii lui Plahotniuc și Dodon, face parte din aceeași operă: neadmiterea la putere a unor oameni de factură nouă, pentru care mai presus de sine și de interesele personale sau partinice este interesul național, drepturile și libertățile oamenilor, inclusiv la o viață decentă acasă.
După eșecul de la scrutinul din anul trecut, în prezent Plahotniuc și Dodon caută cu disperare pretexte, inclusiv de natura pretinselor "nereguli legislative" pentru a face imposibilă alegerea de către oameni a primarului Chișinăului.
Plahotniuc, Dodon de ce vă este frică? De ce vă temeți de oameni?
Chișinău și Istanbul, "două inimi gemene"…
Asemănări: în ambele cazuri, dictatorii care conduc aceste 2 state – Plahotniuc și Erdogan – au anulat alegerile pentru funcția de primar. Un atac frontal asupra democrației indiferent de motivația măsurii.
Deosebiri:
1) Diferența de voturi raportată la numărul de alegători. Diferența între câștigătorul scrutinului din Istanbul și cel care a pierdut (reprezentantul partidului lui Erdogan AKP) este de circa 13 mii de voturi; într-un oraș de 10 milioane de votanți. Diferența între câștigătorul scrutinului din Chișinău și cel ce a pierdut este la fel de circa 13 mii de voturi; într-un oraș de 600 mii de votanți. Simțiți diferența?
2) Spre deosebire de Chișinău, anularea alegerilor în Istanbul va fi urmată de noi alegeri. Ideea lui Erdogan e probabil următoarea: fac alegeri până câștigă cine trebuie. Dar totuși e mai bine decât pur si simplu să le anulezi și să nu le mai faci deloc…
Concluzie – Plahotniuc l-a întrecut până și pe Erdogan la gradul de "bespridel" antidemocratic la care a recurs! Anterior Plahotniuc îl surclasase și pe Putin care, după ce a pierdut alegerile în Ekaterinburg, l-a lăsat pe primarul ales să-și ducă mandatul până la final, iar, după asta, a decis ca funcția de primar în general să nu mai fie una electivă…
Da, mai este și a treia deosebire între cazul Chișinău și Istanbul. Chișinău e capitală, Istanbul e capitală doar în mintea lui Dodon
Video/ Andrei Nastase: Regimul de la Ankara preia practicile regimului Plahotniuc
How to Stop Missing Deadlines? Follow our Facebook Page and Twitter !-Jobs, internships, scholarships, Conferences, Trainings are published every day!