APPLY FOR THIS OPPORTUNITY! Or, know someone who would be a perfect fit? Let them know! Share / Like / Tag a friend in a post or comment! To complete application process efficiently and successfully, you must read the Application Instructions carefully before/during application process.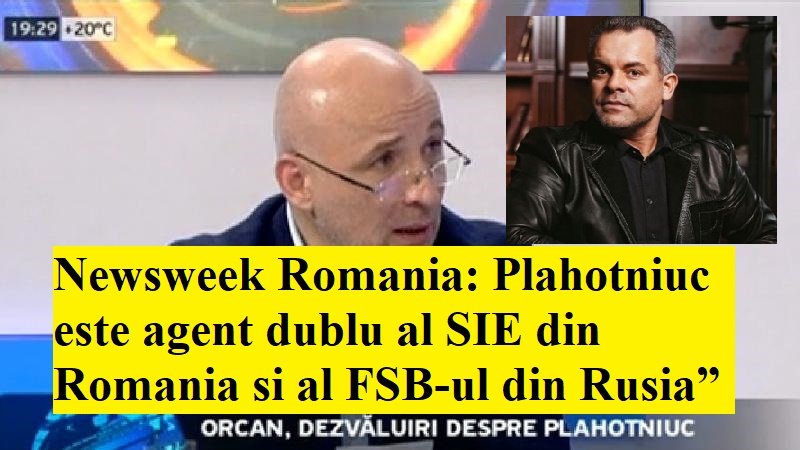 Newsweek Romania , Sabin Orcan : "Domnul Plahotniuc este un mafiot. Este agent dublu al SIE din Romania si al FSB-ul din Rusia"
Situatia foarte grea în care a ajuns Comcereal Vaslui, cea mai importantã firmã agricolã din zona Moldovei, a ajuns în atentia oficialilor de la Bucuresti. Directorul revistei Newsweek România, Sabin Orcan, sustine cã "lui Plahotniuc i-au reusit toate schemele ilegale, tocmai pentru cã ar fi agent al serviciilor secrete de peste Prut", referindu-se la cazul Comcereal. Declaratiile lui Orcan au fost fãcute în editia din urmã cu câteva seri a talk-show-ului "Ora expertizei" si nu au fost comentate, deocamdatã, de cãtre seful PD.
"Stiu foarte multe despre domnia sa si despre cum, mai nou, trage tepe în România. Dupã ce a tras în Moldova, a terminat de tepuit pe aici, trage tepe în România. Facem, dar nu suntem singurii. Mai fac si altii. Am vãzut cum colegii de la Rise Project Moldova au publicat o anchetã despre afacerea asta. Domnul Plahotniuc ia deja subventii europene, milioane de euro pe an, dacã nu stiati, pentru cã a devalizat una dintre cele mai mari afaceri agricole din România, a luat-o cu japca, cum se zice în popor, grupul Racova, al lui Adrian Porumboiu. Acum se judecã în justitia din România, nu stiu cât o sã dureze procesul ãsta. Între timp, domnul Plahotniuc, mã rog, interpusii lui încaseazã milioane de euro subventii agricole pentru terenuri.
Nu le dã însã si la tãranii de la care au luat terenuri în arendã. E un mare scandal pe tema asta", afirmã Sabin Orcan. Directorul Newsweek România sustine cã dispune de mai multe informatii, potrivit cãrora din banii furati în cadrul jafului bancar din Republica Moldova, celebrul miliard de dolari, Vladimir Plahotniuc si-ar fi dorit sã-si cumpere afaceri peste Prut, probabil si la Vaslui:
"INFORMATIILE PE CARE LE AVEM, SI O SÃ SPUN DOAR ASTA PENTRU ÎNCEPUT SI LA CARE SÃPÃM, SUNT CÃ DOMNUL PLAHOTNIUC DE FAPT A VENIT ÎN ROMÂNIA SÃ CUMPERE ASSET-URI, CUM ZICE ENGLEZUL, SÃ CUMPERE COMPANII, AFACERI CU BANII DIN MILIARDUL FURAT DIN REPUBLICA MOLDOVA, DAR PENTRU CÃ ÎNTRE TIMP S-A DECLANSAT CELEBRA ANCHETÃ LA CARE EU CRED CÃ LUCREAZÃ SI ALTE TÃRI, NU DOAR AUTORITÃTILE DIN REPUBLICA MOLDOVA NU I-A MAI IESIT TREABA, CÃ S-A DECLANSAT SCANDALUL SI ATUNCI A RÃMAS ASA, CA ÎN POM. I-A LUAT AFACEREA LUI PORUMBOIU, N-A PLÃTIT BANII, REUSESTE SÃ ÎNCASEZE SUBVENTIILE EUROPENE", MAI SPUNE JURNALISTUL.
"Domnul Plahotniuc este un mafiot"
Sabin Orcan explicã si de ce seful PD ar fi ales sã-si directioneze banii anume în România: "Pãi, avea cetãtenie românã, a avut pânã l-am deconspirat noi când lucram la Adevãrul si un pasaport pe un alt nume, pe numele mamei lui – Vlad Ulinici domnul Plahotniuc. Deci, un pasaport fals conform legii din România si din orice tarã. Nu poti sã ai un pasaport pe un nume în România si pe un nume în Moldova. Dacã îl oprea vreunul pe vreun aeroport din Monaco, unde se duce el des, sã nu aparã pe computer acolo, Plahotniuc beculetul rosu. Sã zicã, eu sunt altcineva, domnule cã nu-i cerea nimeni amprentele". Dar mai este un detaliu important, sustine Orcan: "Domnul Plahotniuc este dupã pãrerea mea, dacã mai existã libertate de exprimare, în afarã de faptul cã e un mafiot, dupã pãrerea mea, dar tot dupã pãrerea mea, domnul Plahotniuc este agent al Serviciului de Informatii Externe, adicã Serviciul de spionaj al României, a fost racolat de Serviciul de spionaj al României, crescut ca sã fie de partea bunã, sã nu fie cu rusii, dar eu cred cã domnul Plahotniuc este agent dublu si cât iubeste SIE din România, domnul Plahotniuc iubeste si FSB-ul din Rusia. Eu nu cred cã domnul Plahotniuc are o agendã politicã, eu cred cã are o agendã de oligarh. La sfârsitul zilei, tragi linie si trebuie sã iasã cu plus la bani în conturi. Asta este singura politicã a domnului Plahotniuc, sã spunã câte milioane a mai luat de la fraierii ãstia".
"DOMNUL PLAHOTNIUC NU PUTEA SÃ AIBÃ ACESTE VISE DE MÃRIRE FÃRÃ SPRIJIN NEMIJLOCIT DE LA O PARTE DIN SERVICIILE SECRETE DIN ROMÂNIA, NU PUTEA SÃ AIBÃ O DUBLÃ IDENTITATE CU NUME FALS, NU PUTEA CA DOSARUL LUI DE LA DIICOT SÃ FIE TRANSFERAT DE LA BUCURESTI, CÃ E TOTUSI CETÃTEAN ROMÂN, LA CHISINÃU, ADICÃ ÎN CURTEA LUI. DAR PRACTIC PROCURORII ROMÂNI AU SPUS NOI NE-AM PREDAT, ÎL DÃM ÎN MOLDOVA. PÃI, CE SE VA ÎNTÂMPLA ÎN MOLDOVA? PÃI, STIM CE SE VA ÎNTÂMPLA ÎN JUSTITIA LUI PLAHOTNIUC. NU SE PUTEA ASTA DACÃ PLAHOTNIUC NU AVEA PE CINEVA LA BUCURESTI. SÃ STITI CÃ MAI E O PLÂNGERE DIICOT. VÃ FAC ACUM O DEZVÃLUIRE: PLÂNGEREA DOMNULUI PORUMBOIU LA DIICOT ÎMPOTRIVA DOMNULUI PLAHOTNIUC SI A OAMENILOR LUI DE ÎNCREDERE", A MAI SPUS JURNALISTUL ROMÂN.
Numele lui Plahotniuc a figurat într-un documentar al unui post privat de televiziune de la Bucuresti despre preluarea celor mai mari companii din agricultura româneascã si a mii de hectare de pãmânt. În film apare afaceristul vasluian Adrian Porumboiu, oligarhul moldovean Vladimir Plahotniuc si omul sãu de încredere, plimbat prin Emirate, Vaja Jhashi. Nici acest documentar nu a fost comentat de cãtre Plahotniuc, care anterior l-a dat în judecatã pe Adrian Porumboiu si a cerut sã nu-i mai rosteascã vreodatã numele, dar Tribunalul Vaslui i-a respins cererea, calificând-o drept aberantã.
Newsweek Romania: Plahotniuc este agent dublu al SIE din Romania si al FSB-ul din Rusia" Sabin Orcan : "Plahotniuc este agent dublu al SIE din Romania si al FSB-ul din Rusia"
How to Stop Missing Deadlines? Follow our Facebook Page and Twitter !-Jobs, internships, scholarships, Conferences, Trainings are published every day!