APPLY FOR THIS OPPORTUNITY! Or, know someone who would be a perfect fit? Let them know! Share / Like / Tag a friend in a post or comment! To complete application process efficiently and successfully, you must read the Application Instructions carefully before/during application process.


Ziua Libertății Presei, marcată printr-un flashmob: Șor, Năstase și Candu, pe panoul "Inamicii presei"

Mai multe ONG-uri au organizat un flashmob în care au afișat un panou cu inamicii presei, printre aceștia sunt mai mulți deputați ai partidului Șor, socialiști, democrați dar și doi membri ai blocului politic ACUM


Andrei Năstase a declarat : "Respect deosebit pentru presa din Republica Moldova și pentru cei care critică comportamentul politicienilor, deoarece politicienii sunt obligați la mai multă toleranță și răbdare, chiar și cu cei care adesea uită ce înseamnă deontologie și jurnalism adevărat. Sunt onorat că după 9 ani de linșaj mediatic la adresa mea, am ajuns să fiu criticat pentru faptul că am atenționat o jurnalistă din holdingul lui Plahotniuc că manipulează.".


Independenţa mass-mediei este strâns legată de democraţie. "Nu poţi avea o cultura politică democratică fără a avea o mass-media transparentă şi un acces liber la informaţie". (Ellen Hume) Pe mine m-a amuzat azi flashmob-ul din fața Parlamentului. Unii ONG-iști, involuntar și fără rea intenție, omogenizează regimul cu cei care luptă cu el, spre satisfacția plahotniucilor.
Dacă e să mă refer la jurnaliștii din Republica Moldova există, dar, cu regret, îi poți numără pe degete, jurnaliști care riscă și pătimesc în urma investigațiilor făcute pe crimele regimului. Anume aceștia au dreptul azi să se numească jurnaliști adevărați, anume ei reprezintă presa liberă și, ciudat lucru, anume pe ei nu i-am văzut înghesuindu-se printre participanții la acest flash-mob.
Pe tinerii participanți i-ar trezi la realitate, dacă ar încerca o investigație jurnalistică contra regimului, dacă ar primi prima citație în judecată sau vizită a procurorilor în urma celor scrise sau dacă ar încerca să scrie măcar un text în limitele adevărului înainte de a manifesta pentru "libertatea presei", care le pare virtuală și teoretică. Unii dintre ei au demonstrat cum naivitatea e o altă fațetă a prostiei. Eu m-am așteptat azi să văd scris cu litere de o șchioapă: "NU presei aservite!" și "DA codului deontologic!"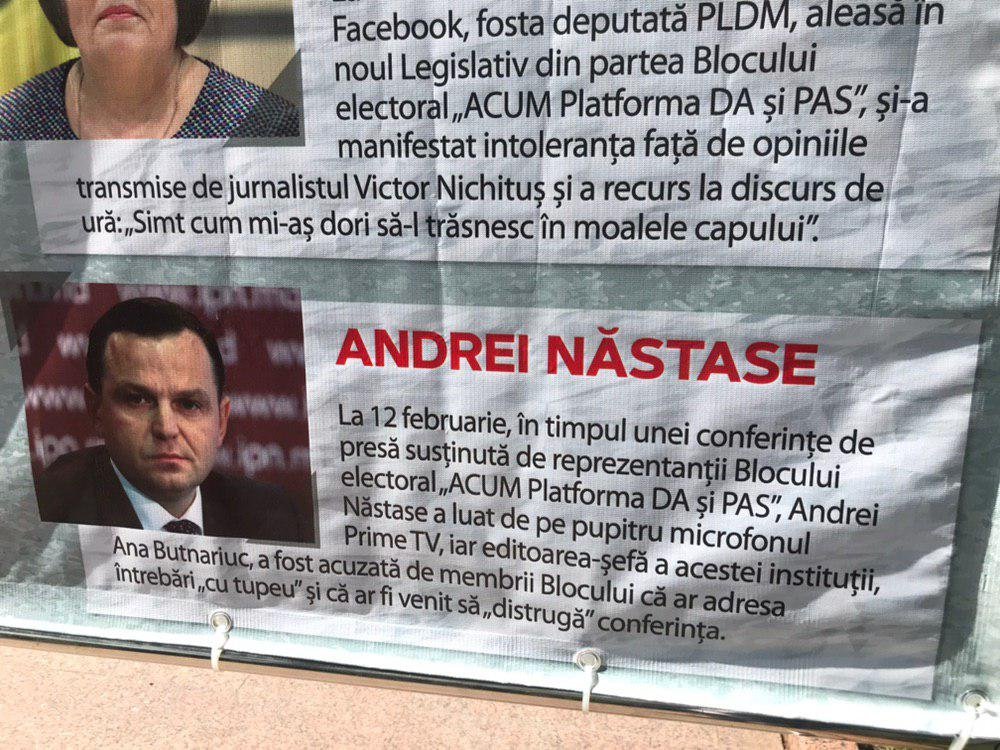 Flashmob în fața Parlamentului: Șor, Năstase și Candu, pe panoul "Inamicii presei"
How to Stop Missing Deadlines? Follow our Facebook Page and Twitter !-Jobs, internships, scholarships, Conferences, Trainings are published every day!