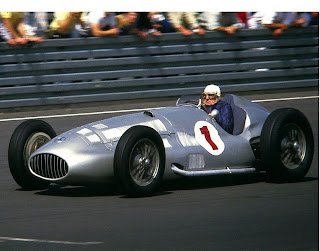 The Mercedes-Benz W154 was a Grand Prix racing car designed by Rudolf Uhlenhaut. The W154 competed in the 1938 and 1939 Grand Prix seasons and was used by Rudolf Caracciola to win the 1938 European Championship.
The W154 was created as a result of a rule change by the sports governing body AIACR, which required supercharged engine capacities to be limited to 3000cc. Mercedes' previous car, the W125 used a 5700cc engine and was therefore ineligible to be entered. Mercedes decided that a new car, designed from the outset to comply with the new regulations would be preferable to modifying the existing car and thus designed the W154.
Although using the same chassis design as the 1938 car, a different body was used for the 1939 season and the M154 engine used during 1938 was replaced by the M163. As a result of the new engine, the 1939 car is often mistakenly referred to as a Mercedes-Benz W163.