APPLY FOR THIS OPPORTUNITY! Or, know someone who would be a perfect fit? Let them know! Share / Like / Tag a friend in a post or comment! To complete application process efficiently and successfully, you must read the Application Instructions carefully before/during application process.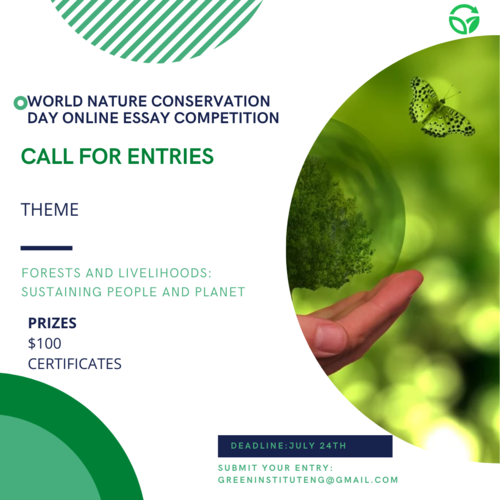 Forests and Livelihoods: Sustaining People and Planet
DEADLINE: JULY 24, 2021
CATEGORY: AGE 17-30
 Rules and Guidelines of the Essay Competition
1.1 The Competition is open to youths between the ages of 17-30 years
1.3 Only one paper per participant. However, Collaborator papers of up to two persons are also welcome.
2. PROCEDURES FOR THE WRITTEN SUBMISSIONS
2.1 The Written submissions have to be sent, latest by 24th July 2021, in electronic format to greeninstituteng@gmail.com.
2.2 Previously published essays are not allowed. Only original essays will be considered for the competition. Any form of plagiarism will result in the disqualification of the essay.
2.3 Length of Essay: The essay shall be no longer than 2000 words, references included. There is no down limit, although papers shorter than 1500 words are not encouraged.
 2.4 Format Requirement.
2.4.1 Typed on an A4 size electronic page
2.4.2 Font size shall be 12 points Time News Roman
2.4.3  1.5 interlinear space
2.5 Cover of the written submissions
2.5.1 It should include the name of the Participant, Address, E-mail ID, Contact Number, Name of the College/University with address and email id.
2.5.2 The title of the document shall be super-scribed on the external cover
2.5.3 List of References and List of Abbreviations shall also be submitted along with the written submissions.
For more information please open this link
How to Stop Missing Deadlines? Follow our Facebook Page and Twitter !-Jobs, internships, scholarships, Conferences, Trainings are published every day!