APPLY FOR THIS OPPORTUNITY! Or, know someone who would be a perfect fit? Let them know! Share / Like / Tag a friend in a post or comment! To complete application process efficiently and successfully, you must read the Application Instructions carefully before/during application process.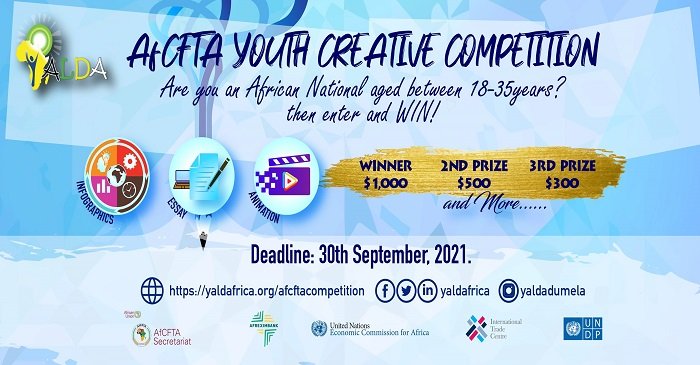 ABOUT THE COMPETITION
The Youth Alliance for Leadership and Development in Africa (YALDA) in collaboration with the African Continental Free Trade Area (AfCFTA) Secretariat, African Export-Import Bank (Afrexim Bank), United Nations Economic Commission for Africa (UNECA),  the International Trade Centre (ITC) and United Nations Development Programme (UNDP) invite all youth who are nationals of African countries, as well as those in the diaspora to participate in the YALDA AfCFTA Youth Creative Competition on the topic; "The African Continental Free Trade Area (AfCFTA): What is in it for young Africans?". The competition seeks to deepen African youth understanding of the AfCFTA's instruments and how African youth can drive the AfCFTA agenda from their perspective. By ensuring youth are active participants in the popularization and raising awareness of the AfCFTA.
The competition is in three parts.  If you believe you can make a difference and want to help educate young people about the African Continental Free Trade Area (AfCFTA), join our essay, infographics and animation competition. We are looking for contents created by you that informs and educate young people about the AfCFTA and the tremendous benefits for Africa's teeming youth population.
ELIGIBILITY
Contestants must;
Be a national of an African Union Member state
Submit a national ID as proof of above
Be residing permanently or temporarily on the continent or the diaspora
Be aged between 18 and 35 years
Be passionate about Africa's development and deeper understanding of the AfCFTA
SUBMIT BY DEADLINE OF 30 SEPTEMBER, 2021 AT 23:59hrs CAT or 21:59hrs GMT
JURY
All materials submitted will be assessed by a panel of judges selected from YALDA and its partners including the Afrexim Bank, AfCFTA Secretariat, UNECA, ITC, UNDP and the private sector. The essays will be assessed against set criteria to select 3 winners in each category.
Winners will be announced November 2021.
Which category would you like to compete in? 
Click below to find out more about each and to enter
For more information please open this link
Apply Here
https://yaldafrica.org/afcftacompetition
How to Stop Missing Deadlines? Follow our Facebook Page and Twitter !-Jobs, internships, scholarships, Conferences, Trainings are published every day!