APPLY FOR THIS OPPORTUNITY! Or, know someone who would be a perfect fit? Let them know! Share / Like / Tag a friend in a post or comment! To complete application process efficiently and successfully, you must read the Application Instructions carefully before/during application process.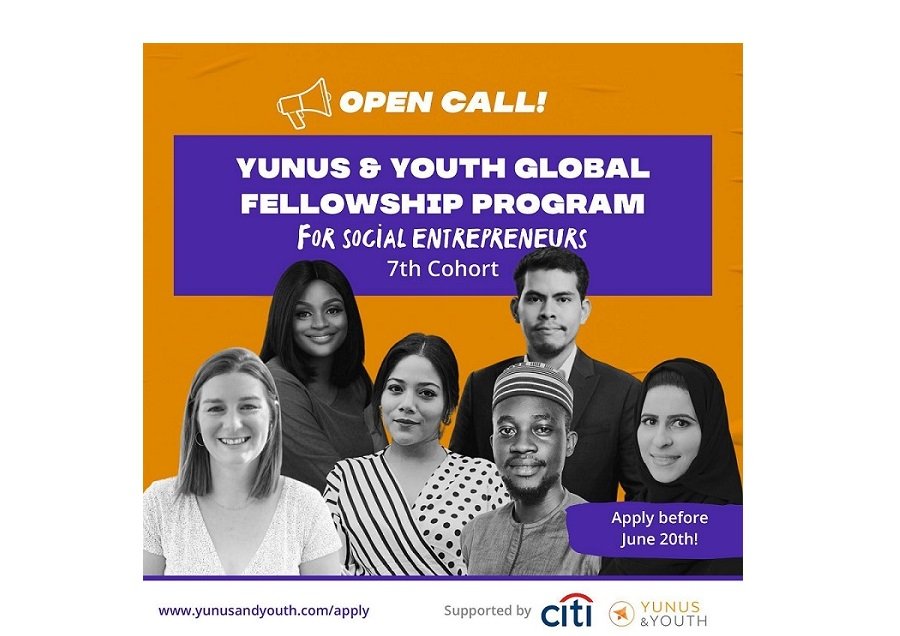 Are you a passionate young social entrepreneur with an early-stage social business?
The Yunus & Youth Global Fellowship (Y&Y Fellowship) is a virtual, six-month program that is designed specifically for operating social businesses. The program is free, with no fee or equity stake required, and the application season is now open for the seventh global cohort.
Deadline: June 20, 2021 11:59 PM (GMT-3)
We offer Y&Y Fellows a high-quality experience that includes access to our online training platform, interactive projects, mentoring with Fortune 500 professionals, and access to top thinkers and institutions around the world. The experience culminates in a final pitch competition with a panel of impact investors.
The Y&Y Fellowship gives you the skills you need to achieve financial sustainability, plan how to scale your business, and measure your impact.
Long after you graduate, you will be part of the Y&Y community. The relationships you build will transform your social business and ultimately help promote sustainable global development and economic growth for our world.
Program overview
Before beginning your application, we strongly encourage you to read the following guide. It will help you fully understand the Y&Y Fellowship Program and prepare a thorough and thoughtful application. We suggest referring to it early and often. It includes answers to FAQs.
What does the Yunus & Youth Global Fellowship include?
Y&Y Fellows access training on an online platform, including interactive assignments designed to help Fellows build a strong business plan.
The Y&Y team works closely with each Y&Y Fellow to connect them with the specialized tools and training they need.
Y&Y Fellows are matched with mentors from Fortune 500 companies, bringing know-how from the private sector.
Y&Y offers Fellows the opportunity to learn from top social business thinkers, such as Professor Muhammad Yunus and researchers from prominent institutions.
At the end of the program, Y&Y Fellows pitch to a panel of investors with deep knowledge of social businesses.
Y&Y Fellows become part of a network of social business leaders, building close ties that last long after their cohort graduates.
How do you select Y&Y Fellows?
We're looking for candidates who:
Lead an early-stage social business that solves a social or environmental issue aligned with the UN Sustainable Development Goals
Hold primary decision-making power in the growth and strategic vision of their social business, typically as a founder or managing director
Can dedicate at least 5 hours per week to the Y&Y Fellowship
Will contribute to the growth and development of the Y&Y community
Can communicate effectively in English
Are between the ages of 18 and 30, with exceptions for outstanding applicants outside that range
Frequently Asked Questions
Am I qualified?
We welcome applicants between 18 and 30 years of age who hold primary decision-making power in organizations created to solve a social or sustainable challenge in their community. We seek applicants who are committed to building a business strategy that makes your organization scalable, financially sustainable, and able to quantify your impact.
Can I apply if I have a social business idea, but my business isn't operational yet?
No. The Y&Y Fellowship supports organizations that are already operational. The program methodology includes hands-on activities. These activities presuppose that you already have tested your assumptions about the solution you created and the problem you wish to solve.
Can I apply if my organization is registered as a non-profit or traditional for-profit business?
Yes. We understand that only a few countries allow organizations to register as social enterprises, so many social entrepreneurs opt to register their initiatives as non-profits or traditional businesses. For Yunus & Youth, it is essential that you are committed to solving a social or sustainability problem, and are dedicated to developing a financial model that does not depend on grants or donations.
Can co-founders or other team members take part in the program as well?
Yes. Co-founders or other team members are welcome to join all activities conducted during the program.
How many Y&Y Fellows do you select each year?
We invite up to 35 young social entrepreneurs to join each cohort of the Y&Y Fellowship Program.
Y&Y GLOBAL FELLOWSHIP PROGRAM
Do I have to pay any fees for the program?
No. There are no financial costs associated with this program.
Does the program include in-person activities?
No. It is 100% online.
What language do you use in the Fellowship?
The Y&Y Global Fellowship is completely in English. Yunus & Youth also runs the same program in Spanish for Latin Americans. Subscribe here to be notified when applications open for the next Y&Y LATAM Fellowship.
Who will be my mentors?
The mentors are experienced business professionals from Fortune 500 companies who volunteer to help social entrepreneurs reach their full potential.
When does the program start?
The program runs once per year. The next cohort starts in late August 2021 and ends in April 2022.
Does the program provide financial support or investment?
No, our program focuses on offering training, tools and connections. We don't provide direct financial support or investment.
How much time should I dedicate to the program each week?
Though it varies throughout the program, the Y&Y Fellowship requires, on average, 5 hours per week. This can vary according to your own pace, the status of your social business, and the activity for that week. The time you invest will bring direct benefits to your social business. All the activities are designed to help your business become financially sustainable and scalable, and to measure your impact.
Can co-founders or other team members also participate in the program?
Only Fellows have full access to the entire program. Other team members are welcome to attend the webinars organized by Yunus & Youth.
What happens if I cannot follow through with my responsibilities?
We know that Y&Y Fellows contend with different circumstances, time zones and personal challenges, so we aim to keep communication open, trustworthy, flexible. Our approach is to reach agreement and be adaptable. However, if a Y&Y Fellow does not comply with what has been asked for, does not meet deadlines, and does not communicate proactively to find alternatives, we will remove them from the program and the Y&Y network. We won't share the information with other partners or save records to deny future opportunities, unless the social entrepreneur was removed for ethical or disciplinary reasons.
How will I be evaluated during the selection process?
We evaluate all applicants using the following five criteria: business model & social impact, time availability, communication skills, fit with Yunus & Youth, and diversity.
Do I receive any feedback if I am not accepted into the program?
No. We regret that due to the very large number of applications, we can't provide individual feedback.
How does the selection process work? Which dates are the most important?
The selection process includes three consecutive steps. Each step narrows down the pool of candidates. We have designed the process to be constructive and educational, and we provide resources to help you create the strongest possible application.
Step 1: Online Application Form
If you meet the minimum eligibility criteria described in Section 4 above, we invite you to apply for the 2021 Y&Y Fellowship at http://bit.ly/yyfellowship.
Candidates must submit their applications before Sunday, June 20, 2021 at 11:59 PM (GMT-3). Please confirm your local time zone here. Applications submitted after the deadline will be automatically disqualified.
Step 2: Motivation Challenge
We will contact approved applicants by email. In the email message, we will provide all the details you need to complete the Motivation Challenge, which is a 5-minute video that presents your motivations for joining the Y&Y Fellowship. We will include the submission deadline and instructions on how to share the video in the email.
Step 3: Finalist Interviews
We will invite a small group of finalists for online 30-minute interviews with the Yunus & Youth team by Friday, July 30, 2021.
After the selection process ends (in August 2021), we will communicate the final results individually to you via email.
If you are selected as a Y&Y Fellow, you have up to 24 hours to confirm your acceptance via email.
If you don't respond within 24 hours, you will forfeit the right to join the 2021 Y&Y Fellowship Program. In that case, we will notify an applicant on the waiting list, who will have 24 hours to confirm their acceptance.
What are the questions in the application form?
Before beginning your application, we strongly encourage you to thoroughly read the complete program overview we have prepared. It will help you fully understand the Y&Y Fellowship and prepare your application. You can download it here.
For more information please open this link
How to Stop Missing Deadlines? Follow our Facebook Page and Twitter !-Jobs, internships, scholarships, Conferences, Trainings are published every day!