APPLY FOR THIS OPPORTUNITY! Or, know someone who would be a perfect fit? Let them know! Share / Like / Tag a friend in a post or comment! To complete application process efficiently and successfully, you must read the Application Instructions carefully before/during application process.
Marile puteri au făcut tot posibilul şi imposibilul pentru a nu permite Rusiei să-şi consolideze poziţiile în regiunea Balcanică. În caz contrar ea avea să capete mult-dorita ieşire la Mediterana. Însă şi cercurile guvernante ale Imperiului Rus au săvîrşit cîteva greşeli grosolane în politica lor balcanică. Prima eroare este legată de răscoala eteriştilor, cînd ţarul Alexandru I iniţiind-o, a încetat ulterior să o mai susţină. De această gafă s-au folosit imediat Anglia, Austria şi Franţa care s-au declarat protectori ai creştinilor balcanici. După Războiul Crimeei, echilibrul de forţe stabilit de către Congresul de la Viena din anul 1815 a fost distrus iremediabil. A urmat tratatul de pace de la Paris. Prin retrocedarea celor trei judeţe sud-basarabene principatului Moldovei, iar a Deltei – Turciei s-a urmărit nu restabilirea unei dreptăţi istorice, ci îndepărtarea Rusiei de la gurile Dunării. Tot în aceeaşi ordine de idei se înscrie şi demilitarizarea Mării Negre. Visul secular al statului rus de a se dezenclaviza spre Mediterana prin intermediul Constantinopolului a rămas doar un vis. Ţarismul a încetat de a mai fi unicul protector al creştinilor din Imperiul Otoman. Asupra acestora a fost instituită o tutelă colectivă (şi din această cauză ineficientă) a şapte puteri-garant. Acestea, însă, nu erau cointeresate în satisfacerea aspiraţiilor naţionale ale popoarelor tutelate, ci dimpotrivă: sperau să-şi atingă propriile scopuri în această regiune de o mare importanţa stategică. Rusia redusă la rangul unei puteri de mîna a doua, prin cancelarul său Gorciacov, a început să ducă un joc politic pe arena internaţională care avea drept scop restabilirea statutului său antebelic. De aceea pentru a slăbi şi ai pedepsi pe foştii săi inamici, Imperiul Rus a păstrat o neutralitate binevoitoare faţă de Prusia lui Bismarck în lupta acesteia pentru unificarea Germaniei, permiţîndu-i să-şi zdrobească pe rînd inamicii austrieci şi francezi. Marea Britanie, deşi avea cea mai mare flotă militar-maritimă din lume, nu dispunea de o armată de uscat puternică şi fără aliaţi pe continent nu a putut influenţa prea mult mersul evenimentelor.
Plop Andrei/ Lucrarea de master/ – Rolul mass-media în reflectarea conflictelor geopolitice. Studiu de caz: Mass-media în Federaţia Rusă/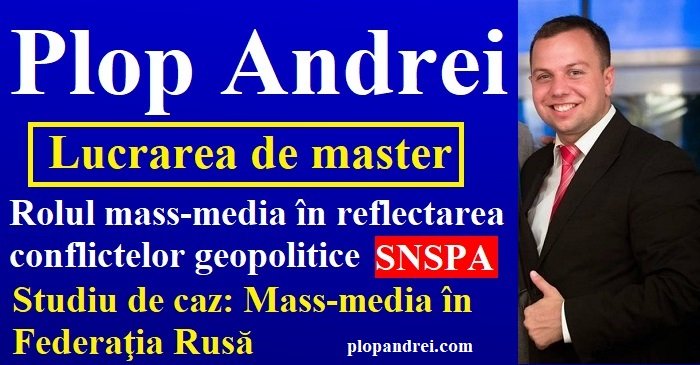 Plop Andrei: Update/ De ce are Moldova de o mobilizare generală și de o armată profesionistă! Maia Sandu este AGENTUL de influență al Kremlinului?!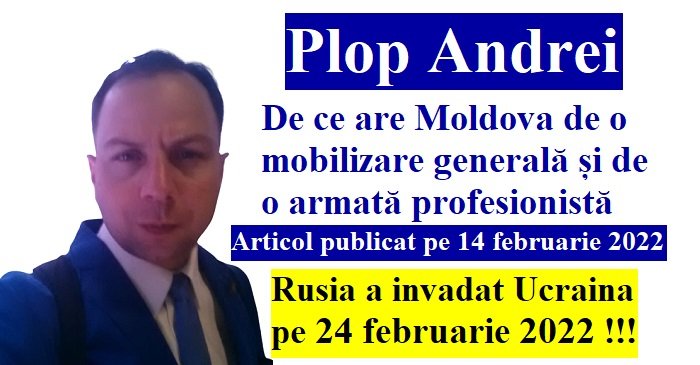 How to Stop Missing Deadlines? Follow our Facebook Page and Twitter !-Jobs, internships, scholarships, Conferences, Trainings are published every day!