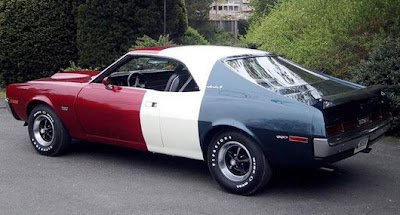 American Motors Corp. was formed in 1954 by the merger of Rambler, Nash and Hudson. By the 1960s Nash and Hudson were gone, and to most American buyers Rambler meant dowdy, compact cars. In the mid-1960s AMC sought to move upscale and compete with the Big Three. This was a tall order, and the company's oxymoronic advertising line, the "Sensible Spectaculars," only muddled the promotion.
The Javelin was the first of several exciting designs from AMC designer Richard Teague that finally gave American Motors something to talk about, an entry in the pony car category that included the Ford Mustang, Plymouth Barracuda, Mercury Cougar, Chevrolet Camaro and Pontiac Firebird. The base car was offered with a 232-cid six-cylinder in 1968, but the optional engine was a whopping 390-cid V8. For all this, the clean-lined Javelin was still in the shadow of the old Rambler, its quality unproven against the Big Three.
Faced with a product in which it believed and an unconvinced public, AMC did what any car company would do. It went racing. AMC entered Javelin in SCCA's Trans-Am series for production-based cars. By 1967 the series was a battleground, with factory teams from Ford, GM and Chrysler fighting it out for the manufacturers' championship, sometimes fist to fist. Mark Donohue, Parnelli Jones, Dan Gurney and Peter Revson, along with teams called Penske, Bud Moore and Carroll Shelby made Trans-Am one tough series.
The Javelin team had only two months to prepare cars for 1968, but then it surprised everyone with 10 top-fives, including six second places, for Revson and George Follmer. Camaro grabbed the title, but second place went down to the last race, with Javelin battling Mustang only to settle for third. Both Javelin drivers went to Ford for 1969, and the Javelin team carried on with little to show for it, but the cars were crowd favorites with their bold livery.
Roger Penske and Donohue stunned the racing world when they announced they would take over the AMC Trans-Am program for 1970 after winning the manufacturers' championship for Chevrolet in 1968 and 1969. Javelin was back at the top immediately, and Donohue narrowly finished second to Jones' Mustang for the title, with three wins and four seconds. Donohue was photographed beside AMC president William Luneburg with one of a handful of Javelin Trans-Ams built for the street.

Bill Scheffler of Westport, Connecticut, owns this Javelin Trans-Am street car. Only 100 were built in 1970; maybe 20 are extant. These cars had the 390-cid Go package, but every Trans-Am was equipped with tricolor paint, a Hurst four-speed, Ram-Air hood, spoilers, 140-mph speedometer, tach, power steering, front disc brakes, heavy-duty suspension and raised white-letter tires on mag-style wheels. The factory replicas were rated at 340 hp and 430 lb-ft.
Inside, a wide expanse of wood grain applique stretches across the dashboard. Optional Ventilair Vinyl seats are soft, but offer a surprising amount of support.
Driving this top-of-the-line SST (for supersonic transport) is also a flashback. The 390 starts and idles with a magnificent rumble. The power steering is lighter than expected. Clutch action is easy, but the brake pedal goes down a long way before anything happens. Push the accelerator, though, and all is forgotten. First and second gears are short; shift into third and fourth, and the car just pulls and pulls and pulls some more.
Yet the Javelin's most striking feature is its red, white and blue paint scheme running in wide bands front to back. Scheffler authenticated the originality of his car with the factory paint code, and by inspecting overspray of the three colors beneath the door sills. His Javelin, which was owned by a collector for nearly 30 years, shows 21,000 miles.
AMC carried on, winning the Trans-Am title in 1971. AMC had bought Jeep from Kaiser in 1970, then developed a series of groundbreaking 4wd passenger vehicles. Chrysler bought AMC in 1987, mostly to gain access to Jeep, and production of AMC car lines came to an end.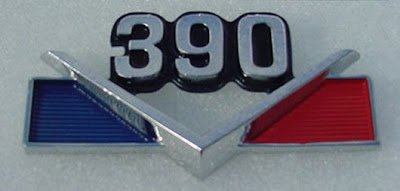 Important note:
100 Red, white & blue Trans Am Javelins were officially produced in Kenosha, WI. These will have a door code of 7079-7. Factory price was $3995.00, shipping weight was 3340 lbs. Most, if not all of the 1970 Trans Am Javelins will have the 00 paint code. This total of 100 is included in final production number of 19714 unit