APPLY FOR THIS OPPORTUNITY! Or, know someone who would be a perfect fit? Let them know! Share / Like / Tag a friend in a post or comment! To complete application process efficiently and successfully, you must read the Application Instructions carefully before/during application process.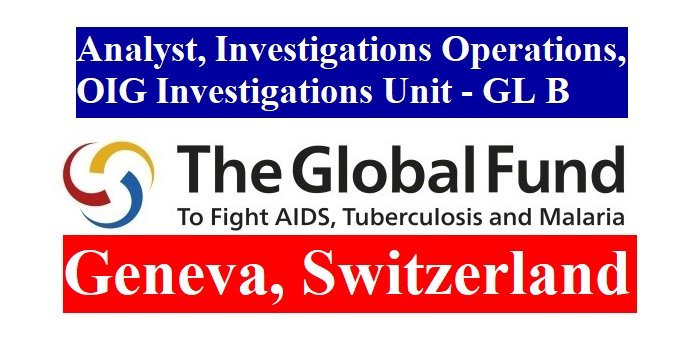 Analyst, Investigations Operations, OIG Investigations Unit – GL B

The Analyst, Investigations Operations contributes to the delivery of the primary business of OIG Investigations by developing high quality analysis of complex data, identifying patterns and potential fraud, abuse and misuse of funds in Global Fund programs.

Key Responsibilities

The Analyst, Investigations Operations will:

Develop analytical strategies on the most effective collection and structuring of evidence to progress an investigation, pre- and post-investigation evidence collection.

Manage the analysis of a wide range of intelligence and evidential material (including, but not limited to, social and other networks, financial, programmatic, supply chain data, subject and witness interviews, etc.) to identify patterns, establish links and associations and identify gaps and inconsistencies.

Assume the role of 'second interviewer' during investigations in reporter, witness and subject interviews; prepare Records of Conversation and/or Notes to File.

Analyze fraud risks, existing intelligence and trends and propose areas for proactive investigations.

Provide analytical input into root cause analysis, which will form the basis of agreed management actions to mitigate identified risks.

Clearly and concisely present analytical findings using all available analytical software and visualization tools.

Monitor and retrieve material from diverse data sources, including documents and data collected on mission, open sources and internal/external databases.

Perform other tasks, including:

Design terms of reference for and supervise external contractors providing analytical support for investigations.

Develop and/or amend OIG policies with analysis components, including Standard Operating Procedures (SoPs).

Provide cover for the Analyst(s), Investigation Intake during absences.

Update and maintain databases and data collection systems to optimize data quality, analysis and retrieval.

Ensure all analytical material is accurately documented, including the rationale and decisions that underpin the analysis.

Effectively manage workload by planning and prioritizing work to meet deadlines and achieve performance objectives.

In undertaking the above tasks, follow all internal OIG policies, guidelines and Standard Operating Procedures and relevant parts of the Conference of International Investigators Uniform Principles and Guidelines for Investigations.

Subject to change by the Inspector General at any time at their sole discretion.

Qualifications

Essential:

A university degree in social sciences or research field.

Desirable:

An advanced university degree in a relevant field of study, or additional professional qualifications relating to analysis.

Experience

Essential:

Advanced knowledge of research methodologies relevant to conducting administrative investigations and intelligence analysis and expertise in the use of appropriate information sources, including OSINT and HUMINT.

Experience of working in a sensitive environment and advanced understanding of principles and ability to handle confidential information and sources.

Ability to prepare high-quality analytical products that present analytical findings clearly and concisely, making optimum use of analytical software and visualization tools such as i2 and Tableau.

Experience creating analytical products for use by investigators when scoping, planning and reporting cases. Advanced knowledge of analytical techniques and expertise in approaches relevant to assembling and analyzing complex information from multiple sources.

Experience working in a multi-cultural environment.

Desirable:

A minimum of three years' experience working as an analyst in criminal and/or administrative investigations

Experience working on investigations related to development aid involving fieldwork in developing countries.

Experience working with multiple sectors, such as international organizations, governments, civil society and the private sector.

Experience in the conduct of interviewing complainants, witnesses and subjects.

Competencies

Languages:

An excellent knowledge of English and preferably a good working knowledge of French. Knowledge of other languages would be an asset.

Organizational Competencies: 

Global Fund awareness and mind-set

Service orientation

Drive for results

Collaboration

Interaction

Adaptability

Functional Competencies:

Disease knowledge

Business

Operational Policy

Procurement and Supply Chain

Finance

Risk

The Global Fund recruits top-tier talent for our open positions, in support of our mission to end AIDS, tuberculosis and malaria as epidemics.

Explore our vacancies and apply on the Global Fund Careers recruitment system.

More information on working at the Global Fund is available on the Careers section of our main website.

Job Posting End Date

03 February 2022
The Global Fund is a partnership designed to accelerate the end of AIDS, tuberculosis and malaria as epidemics. As an international organization, the Global Fund mobilizes and invests more than US$4 billion a year to support programs run by local experts in more than 100 countries. In partnership with governments, civil society, technical agencies, the private sector and people affected by the diseases, we are challenging barriers and embracing innovation.
For more information please open this link
Apply Here
How to Stop Missing Deadlines? Follow our Facebook Page and Twitter !-Jobs, internships, scholarships, Conferences, Trainings are published every day!